4 year warranty for every new Suzuki
New Suzuki Pro Warranty: 4 years warranty for every new Suzuki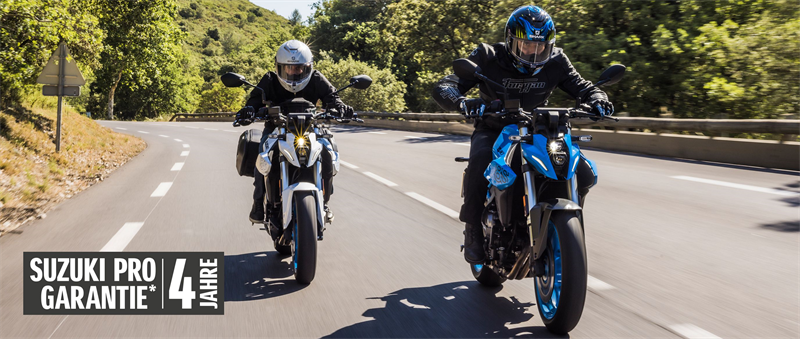 Photo: Suzuki
Since July 1, 2023, Suzuki has been offering a full four-year warranty on all new street-legal motorcycles from 300 cubic centimeters. This provides customers with an all-round carefree package that allows them to concentrate fully on the fun of driving their new machine.

Two plus two makes four: The new 4-year Suzuki Pro warranty can be summed up in this simple formula. It consists of the usual two-year factory warranty and a two-year follow-up warranty for new vehicles. This new protection was developed together with MENEKS AG, a leading provider of system guarantees.

Suzuki motorcycles are characterized by state-of-the-art construction processes and the highest quality of workmanship. In the event of damage due to a production or assembly defect that occurs during normal use, the new Suzuki 4-year warranty covers the cost of materials and labor - completely without excess.

The new Suzuki Pro warranty has been valid since July 1, 2023 for all newly purchased street-legal motorcycles and scooters with a displacement of 300 cubic centimeters or more.

In order for the new 4-year Suzuki Pro warranty to apply, the motorcycle must be purchased through an authorized dealer. And also all service work must be carried out regularly in a Suzuki authorized specialist workshop according to the maintenance schedule. The warranty covers a maximum mileage of 80,000 kilometers. The Suzuki 4-year warranty applies to privately used machines as well as those in commercial use.

A four-year warranty – this not only means worry-free driving, but also has a positive effect on maintaining the value of the vehicle. And this applies over the entire holding period up to a possible resale.

"We are proud to offer all homologated motorcycles and scooters from 300 cc with the Suzuki 4-year warranty," says Alexander Hild, General Manager Sales & Marketing Motorcycle at Suzuki Germany. "With this guarantee, we are reflecting our Suzuki quality promise in a concrete, value-adding benefit for the customer."