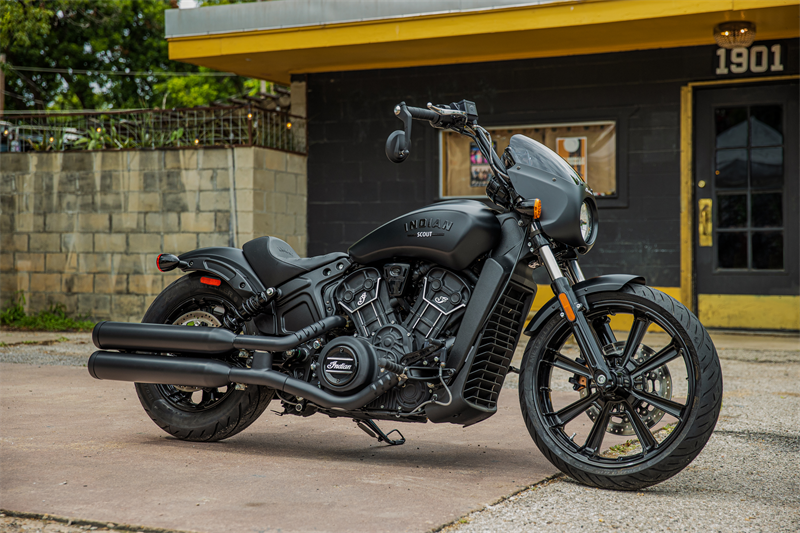 Photo: INDIAN MOTORCYCLE®
Strong, reliable, comfortable & manoeuvrable – the new Scout Rogue offers the most aggressive style and performance-oriented version of the legendary Indian Scout

Indian Motorcycle, America's First Motorcycle Company, today launched the most offensive version of the iconic Indian Scout with the launch of the new Scout Rogue. Thanks to its aggressive design and performance-oriented features, the Scout Rogue exudes strength.
With its combination of iconic design and contemporary style, the Scout Rogue catches the eye as a powerful statement: clear edge. This appearance gives it a number of new features: quarter-fairing, mini Ape hanger handlebars, sports seat, black fenders and valve covers, and a 19-inch front wheel. The proven drive provides snappy acceleration with massive power from the rev cellar.
"For many, motorcycling is an expression of a rebellious attitude – a commitment to freedom and individuality that brings like-minded people together. The Scout Rogue offers this to the highest degree," said Aaron Jax, Vice President at Indian Motorcycle. "An attitude that you can only live on a motorcycle. It creates a very unique level of cohesion and community, and that's what the Scout Rogue is all about."
With the introduction of the Scout Rogue, another Scout model is introduced that stands out from the crowd. With a low centre of gravity, low seat height and handy wheelbase, the Scout Rogue immediately conveys confidence and offers excellent handling for all drivers – regardless of experience and ability.
For riders who want to customize their bike, a wide selection of Indian Motorcycle accessories are available, with which performance, style and comfort can be adapted to personal taste.
Performance Accessories
The adjustable piggyback shock absorbers with longer travel provide a smoother, more comfortable ride. Compression and rebound damping can be easily adjusted via rotary knob.
Style & driving information
For even more individual styling and sportiness, a complementary rev counter with shift flash is available. It is mounted next to the standard instrument and
allows the driver to keep an eye on the engine speed. As usual in racing, an LED switching indicator lights up at the moment of the perfect shift point.
Comfort accessories
Whether you are traveling alone or with a passenger/pillion, explore a city
or want to reel off kilometers, Indian Motorcycle offers extensive
Comfort and touring accessories. The ergonomics of the Scout Rogue
customize yourself with the Rider Comfort Seat. The Syndicate-2-Up
Seat and the Syndicate low-profile pillion backrest provide additional
Comfort for the passenger.
If you pack for the long distance, you can supplement the black saddlebag. A solo luggage rack and a black, waterproof solo luggage bag are also available.
New accessories
The Scout Rogue's standard Quarter Fairing and Sport Style Solo seat are also available as accessories for Scout and Scout Bobber – also colour-matched for Scout Rogue, Scout models from 2015-2022 and Scout Bobber models 2018-2022.
The fairing encloses the headlight and complements the aggressive yet classic style.
In addition to long-distance comfort, the Syndicate solo seat also offers a defined seating position that keeps you firmly in the saddle even when accelerating hard. The interior upholstery offers an ideal blend of comfort and support, and the black, leather-like vinyl seat cover ensures long, weatherproof durability. Available as an accessory for the Scout Bobber models 2018-2022.
In addition to the Scout Rogue, there is a corresponding clothing and equipment collection. It embodies the blacked-out styling and was designed for men and women looking for simple clean lines in black and grey tones.
The Scout Rogue generates 70 kW (94 hp) from the liquid-cooled, 1133 cc (69 cubic inch) V-twin engine and is available in Sagebrush Smoke, Black Smoke Midnight and Stealth Gray.
For newcomers, the Scout Rogue will also be available in an A2-compliant version.
Note: Fig. shows North American models and may be equipped with accessories. International models may vary.
More information about Indian Motorcycle on www.indianmotorcycle.de.