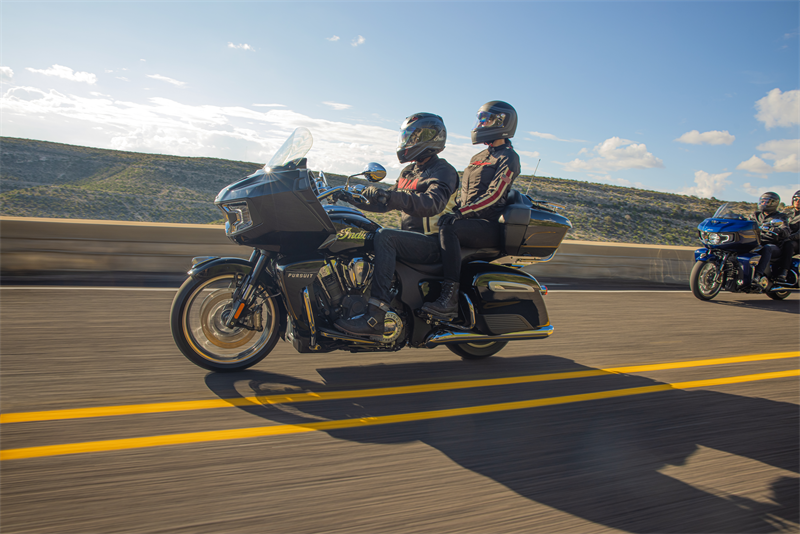 Photo: Indian Motorcycle
The next generation of American V-twin touring performance is here – the Indian Pursuit 2022 with best-in-class performance, all-day comfort and seamlessly linked driving optimisation technology.
Indian Motorcycle, America's First Motorcycle Company, today unveiled the next generation of American V-Twin Touring performance with the launch of Indian Pursuit. Equipped with the liquid-cooled PowerPlus engine, seamlessly linked, ride-optimizing technology, a frame-proof fairing and a variety of touring amenities, the Indian Pursuit sets itself a high standard: to be the most convincing American touring machine today.
The Indian Pursuit is designed for optimal comfort on long journeys. The frame-mounted fairing provides lighter steering and is less affected by the wind. The adjustable windshield and ventilated bottom fairing provide excellent protection from the elements and a greater degree of flexibility to adapt to weather and temperature conditions. Integrated driving lights in the lower fairings improve visibility at night and in colder weather, heated handles keep hands warm, while the Pursuit's new heated touring comfort seat offers unparalleled comfort.
The high-quality luggage compartment and the spacious saddlebags together provide over 133 litres of storage space. So you can really pack everything that is needed for longer trips.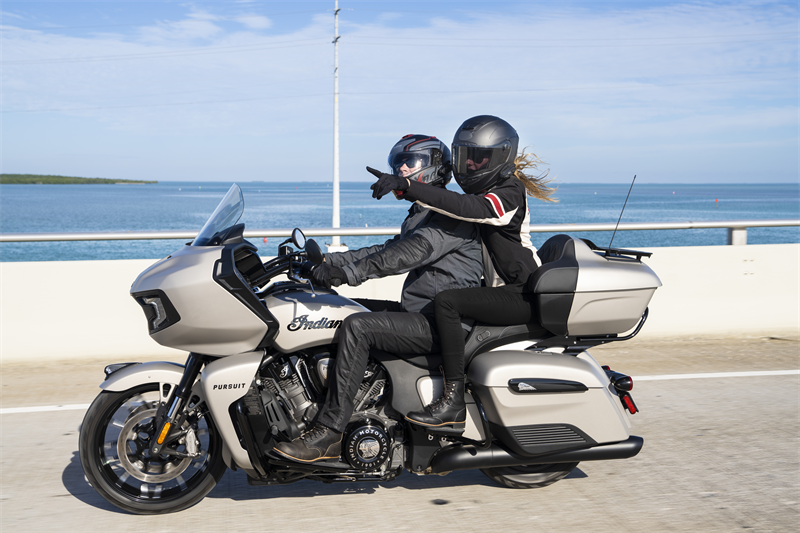 Photo: Indian Motorcycle
The Pursuit is equipped with a glove-friendly, industry-leading 7-inch touchscreen display with Ride Command, so you can stay up to date while driving. With Ride Command, the touchscreen display offers Apple CarPlay®, GPS with turn-by-turn navigation* and a variety of motorcycle-related data with customizable viewing.
The Indian Pursuit is equipped with an all-new, electronically adjustable spring preload from Fox® , which makes it possible to adjust the preload for optimal comfort and handling in different conditions. Whether you're travelling alone, in pairs or with more luggage, the electronically adjustable preload can be conveniently controlled via the motorcycle's infotainment system. The new electronic preload is also available as an accessory for all Indian Challenger models.
The radially mounted Brembo® brakes ensure powerful and progressive braking performance, while the powerful Metzeler® Cruisetec® touring tyres impress with excellent traction and perfect straight-line stability. In addition, both models offer the intuitive Smart Lean technology. It uses a Bosch® IMU to complement dynamic traction control and ABS with cornering control. For precise cornering and maximized braking and pulling power.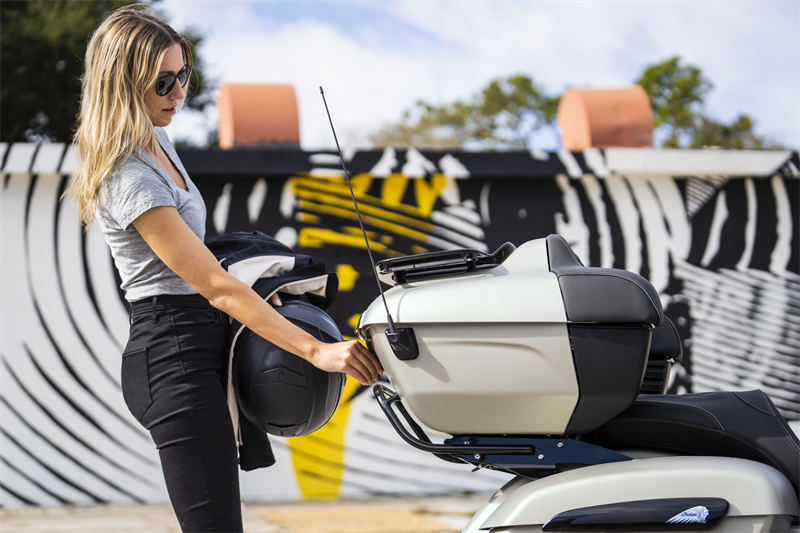 Photo: Indian Motorcycle
The Indian Pursuit is also highly customizable with two optional lower fairing kits, a mid-rise handlebar, LED lighting options and various soft bags.
To make even better use of the space in the Indian Pursuit's lower fairings, additional storage compartments can be installed or the Indian Motorcycle PowerBand audio kit. When fully equipped with PowerBand Audio, the system offers surround sound starting from the front fairing, lower fairing, saddlebags and top case.
The Indian Motorcycle Mid-Rise handlebar not only provides a stylish custom look, but also puts the upper controls in a particularly comfortable elevated position.
LED lighting is also available as an option for better visibility and visibility. Including an adaptive LED headlight that automatically optimizes light distribution depending on the angle of lean angle of the motorcycle.
Last but not least, the versatile parts from the Spirit Lake Luggage Collection should be mentioned, which provide excellent protection, ensure order and are easy to attach or remove.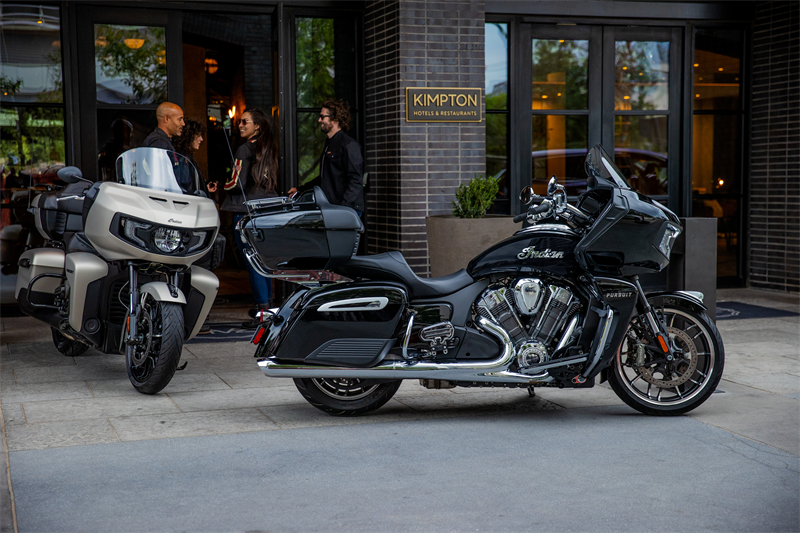 Photo: Indian Motorcycle
The Indian Pursuit Limited will be available in Black Metallic and the Indian Pursuit Dark Horse in Black Smoke and Silver Quartz Smoke. For prices and availability in your area, please contact your local Indian Motorcycle press contact.
Hint: The pictures show the North American model and may be equipped with accessories. International models may vary. More information about Indian Motorcycle on www.indianmotorcycle.de, Facebook, Twitter and Instagram.
*GPS navigation may not be available in all countries.