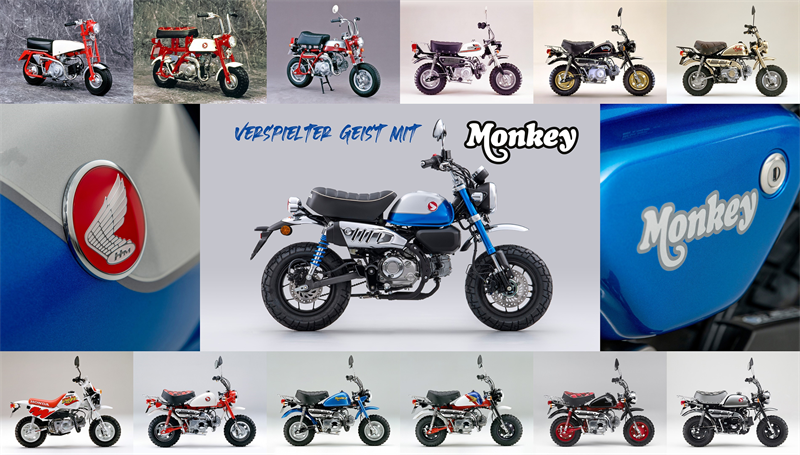 Photos: Honda
After the successful reintroduction in 2018, Honda's legendary Monkey will receive a new, still air-cooled 125 single-cylinder engine with Euro 5 and a five-speed transmission for 2022. Shock absorbers with new springs optimize comfort and driving experience.

Introduction
Everyone knows the Monkey; Honda's minibike has enjoyed cult status for decades. The first examples were made in 1961 and were intended for use at the Tama Tech amusement park in Tokyo, as a special attraction for children. However, the enthusiasm for the funny speedster did not stop at adults. As a result, Honda launched an approved variant of the sympathetic minibike, which was first exported to America and Europe from 1963. Chrome tank and 5 inch wheels characterized this early variant with completely rigid suspension.
The popular minibike enchanted thanks to shrunken proportions, fun design and easy drivability. To jet through the area with it was a lot of fun. From 1969, larger 8-inch wheels were installed, from 1970 a fold-down handlebar upgraded the construction, because this opened up the clever possibility of being taken as a mobility problem solver in the car trunk.
Thanks to a re-styling, the Monkey took off with a drop-shaped tank from 1978 – especially the Americans discover the charming speedster as a mobility alternative when it came to excursions with campers and motorhomes. Small and large beginners got to know the Honda in this way. Thanks to the three-speed gearbox and easy-to-use centrifugal clutch, driving was an attractive and easy-to-learn pleasure – simply turning the throttle was enough to experience the fun of motorized locomotion on two wheels.
Monkey driving was always easy and an animal fun to go with it. Perhaps the special charm contributed decisively to the fact that later motorcyclists discovered the fun on two wheels in the first place. Cute tires, funny handlebar and tank shapes, low seat height and comfortable single seat – a motorized two-wheeler could hardly be more inviting. The potential to overcome and reduce fears of contact among beginners has always been one of the Monkey's very own qualities – and still works today.
In 2018, the comeback of the newly launched Honda Monkey caused excitement everywhere. Needless to say, there is a market for smart bikes with a small stature. That's why the timing was right to start the 21st century again with 125 cubic centimeters of displacement and matching ingredients.
For the 2022 model year, the Monkey now gets an engine upgrade, a new five-speed transmission, refined suspension tuning, a brand new color and improved equipment with a luggage rack. Objective of the facelift: To support the pleasing appearance and to further improve the suitability for everyday use.
Equipment features
Engine
New air-cooled 125cm3 motor with 6.9 kW power and 11 Nm torque
New five-speed gearbox
Meets Euro 5 emission standard
The Monkey for the 2022 model year shines with a new, still air-cooled 124 cm3 SOHC twin-valve engine (derived from the MSX Grom), with 50 mm bore, 63.1 mm stroke and 10:0:1 compression. The peak output is 9.5 hp (6.9 kW) at 6,750 rpm and the maximum torque is 11 Nm at 5,500 rpm.
Driving pleasure and easy operation are still in the foreground. To ensure lower emissions and Euro 5 compliance, the developers have revised the inlet tract for a new airbox, with a new connecting pipe optimising the air flow. On the exhaust side, a new catalytic converter, although smaller than the previous model, cleans the emissions more efficiently. The length of the exhaust manifold has also been modified, while the silencer has been converted from a three-chamber to a single-chamber system in order to further improve power delivery in addition to noise development.
A new five-speed transmission replaces the previous 4-speed shift box, which helps to reduce revs and makes driving more harmonious at any speed. Small stature, 12-inch wheels and agile handling help the Monkey to master safely not only in city traffic. Pleasant engine character and manual clutch operation convey an authentic motorcycle feeling. The top speed is 91 km/h, which ensures easy swimming in traffic.
The Monkey engine is pleasingly economical with fuel. Only 1.5 liters per 100 km (measured in WMTC mode) are consumed. Low-friction technologies such as offset cylinders and roller rocker arms in the valve train contribute to this, as does PGM-FI fuel injection, which ensures clean and efficient combustion.
 Chassis & Styling
Steel frame, USD fork and 12 inch alloy cast wheels.
Stereo shock absorbers with new spring fittings.
Now standard with luggage rack.
Weight ready to drive 104kg, wheelbase 1,145 mm, seat height 775 mm.
Classic monkey styling, timelessly handsome and individual.
A sturdy steel frame in combination with the upside-down fork and an oval tube rear swingarm ensures safe handling and easy handling. So that driving with the new Monkey on excursions of any kind is guaranteed to remain problem-free and a lot of driving fun is guaranteed at all times.
The USD fork has 100 mm of travel and a high-quality Alumite finish. The shock absorbers on the rear wheel are now equipped with double spring packages and revised damper rubbers for improved comfort and to avoid penetration under heavier loads off paved roads. The rear suspension travel is an impressive 192 mm, the maximum ground clearance 175 mm.
A 220 mm disc brake in the front wheel and a 190 mm disc brake in the rear wheel allow perfectly controllable, powerful brake deceleration. The single-channel ABS works extremely efficiently thanks to an IMU-controlled rear wheel lift detection despite the short wheelbase. Fat 12-inch wheels with block profile tires support the appearance of the easily safe handling. The front wheel is fitted with a tyre of the size 120/80-12 65J, the rear wheel with the dimension 130/80-12 69J.
The wheelbase is 1,145 mm, the Lenkopfwinkel 25° and the trailing distance 82 mm. The turning circle measures 1.9 meters. With a full tank, the Monkey 125 weighs only 104 kg. The seat height is pleasantly moderate at 775 mm, and the lavishly upholstered bench seat provides the best comfort.
The new Monkey 125 also maintains a friendly appearance that triggers sympathy and admiration everywhere. Pleasing charisma and moderate stature invite young and older admirers to ascend. Easy operation, low weight and problem-free handling help to prevent novices of all ages from becoming afraid of thresholds in the first place. On the contrary: Hardly any other motorcycle exudes so much desire to simply take a seat in the saddle and try out locomotion on two wheels.
The equipment of the new Monkey includes a new and practical tube rack with a payload of 3 kg as standard. As in earlier times, beautiful Honda wing logos adorn the 5.6-liter tank, whose paint color can also be found on the frame, swingarm and damper springs.
The 2022 Honda Monkey 125 is available in three colours:
Pearl Glittering Blue (new)
Banana Yellow
Pearl Nebula Red
Electronics
Round speedometer with LCD displays.
LED lighting technology all around.
IMU-controlled ABS with rear wheel lift detection.
Radio key with Answer Back function.

Modern technology ingredients underline the appearance of the Monkey 125. A round housing accommodates an LCD cockpit display. Tachometer and speedometer, tank capacity bar display and two tripmeters provide information about everything essential. Headlights, taillights and turn signals are equipped with LED technology. The ignition key is equipped with an "answer-back" function that allows the lighting units to flash even from a distance at the push of a button. The single-channel ABS of the brake system is controlled by the IMU electronics to prevent unintentional lifting of the rear wheel (due to the short wheelbase) during hard braking manoeuvres.

Specifications
| | |
| --- | --- |
| ENGINE |   |
| Type | air-cooled, SOHC, four-stroke, 2 valves |
| Cubic capacity | 124 cm3 |
| Bore x Stroke | 50 x 63.1 mm |
| Compaction | 10.0:1 |
| Max Power | 9.5 hp (6.9 kW) / 6,750rpm |
| Rotational | 11 Nm/5,500rpm |
| Engine oil quantity | 1.1 liters |
| FUEL SYSTEM |   |
| Mixture preparation | PGM-FI Fuel Injection |
| Tank capacity | 5.6 liters |
| Consumption | 1.5 litres per 100 km (WMTC measurement mode) |
| ELECTRICS |   |
| Starter | E-Starter |
| Battery | 12 volts / 3.5 Ah |
| DRIVE |   |
| Clutch | Multi-disc clutch in oil bath |
| Transmission | 5 gears |
| FRAME |   |
| Type | Backbone Steel Frame |
| CHASSIS |   |
| Dimensions (LxWxH) | 1,710 x 755 x 1,030 mm |
| Wheelbase | 1,145 mm |
| Steering head angle | 25° |
| Caster | 82 mm |
| Seat | 775 mm |
| Ground clearance | 175 mm |
| Tropic | 1.9 m |
| Weight fully fuelled | 104 kg |
| Wheel suspension |   |
| in front | USD fork, 100 mm travel |
| behind | Two shock absorbers, 102 mm travel |
| WHEELS |   |
| Rims front / rear | Cast alloy rims, 10 spokes |
| Front tyres | 120/80-12M/C 65J |
| Rear tyres | 130/80-12M/C 69J |
| BRAKE |   |
| in front | One disc Ø 220 mm, hydraulically actuated, IMU-based ABS |
| Type Rear | One disc, Ø 190 mm, hydraulically operated |
| ELECTRICS |   |
| Floodlight | LED |
| Taillight | LED |
.