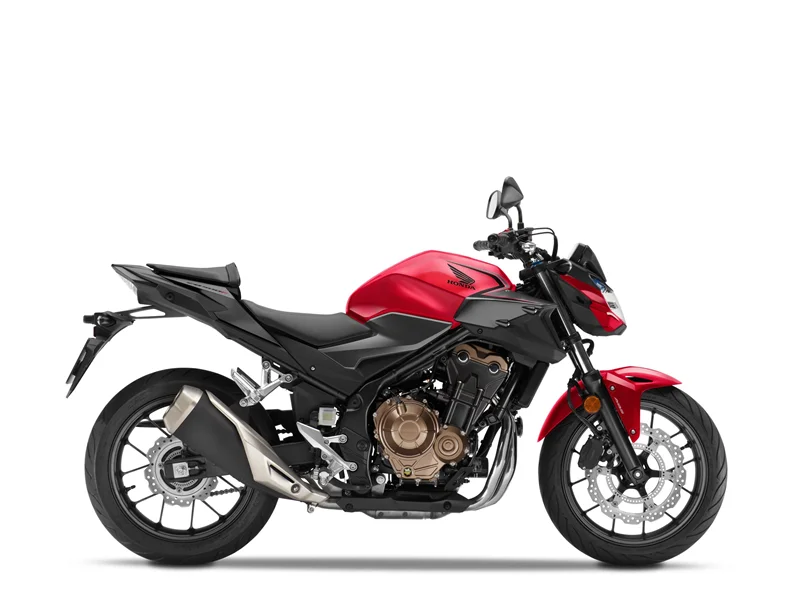 Photos: HONDA

Model updates: After a major redesign in 2019, Honda's A2-compatible Mini-Streetfighter 2020 will get new designs and two new color schemes. The CB500F is now also homologated for EURO5.
Content:
1 Introduction
2 Model overview
3 Features
4 Accessories
5 Technical data
Introduction
The CB500 Naked – originally launched in 2013 along with the adventure-trimmed CB500X and the fully-clad CBR500R – proves that one of Honda's proven formulas for building attractive motorcycles remains top-notable.
The formula? A revolving two-cylinder engine, installed in a lightweight, sporty chassis that gives the experienced driver as much driving pleasure as a rookie. Although the CB500F targets the A2 class with a peak power of 35 kW, it offers much more than just "entry-level" performance.
The compact dimensions and the cleanly balanced geometry ensure easy handling, which is also very suitable for beginners. In addition, it offers all weekend drivers great driving pleasure – whether they want to come from a 125 or downsize from a larger machine. Comparatively manageable operating costs further enhance the machine.
In 2019, the CB500F was redesigned with uncompromising lines to highlight its technical and mechanical finesse. Additional upgrades have since improved the driving experience. In 2020, updated designs, two new colors and the EURO5 homologation will be introduced for one of Honda's most popular machines.
Model overview
The 35 kW engine of the CB500F is compatible with the A2 driving licence and benefits from the 2019 inlet and outlet upgrades as well as valve control times. Compared to the previous model, these resulted in 4% more power and torque between 3,000 and 7,000 rpm. In addition, the CB was equipped with an improved exhaust system and an anti-hopping coupling.
The LCD instruments have a switching indicator and a gear indicator, the entire lighting consists of LEDs. While both the engine and chassis for the EURO5 homologated 2021 model remained unchanged, two bright, new colours freshened up the appearance.
Features
3.1 Styling & Chassis
New, more aggressive design
Tapered handlebars for excellent control and feeling
LCD instrument display, with gear display and switching indicator
complete LED lighting
Two new colours for 2020
The update of the CB500F in 2019 revealed a completely new aggressiveness: sharply cut headlights and the crouching posture symbolize "Ready for Action". The side panels merge with the tank and at the same time, in conjunction with the seat, continue the muscular "edge" of the design.
The conical handlebar conveys an intuitive feeling and offers a good lever. The LCD instruments have a gear indicator and switching indicator; this is set to 8,750 rpm by default, but can be adjusted between 5,000 and 8,750 rpm in increments of 250 rpm.
The 35 mm diameter steel tube frame will remain unchanged for 2020. It is light and stable and gives the driver good feedback in changing road conditions. The shape and position of the motor bearings as well as the stiffness balance of the frame reduce vibrations.
The wheelbase is 1410 mm, inclination and follow-up are set to 25.5°/102 mm, which allows direct and confidence-inspiring steering. The mass centralization, in which the motor is located in the immediate vicinity of the swinging pivot point, ensures improved manoeuvrability, the optimal weight distribution between the front and rear axles, ensures stability. The weight (fully fuelled) is 189 kg.
The seat height is comparatively low at 785 mm, which makes the CB500F very easy to handle, the neutral seat position suits drivers of all heights. The total dimensions are 2080mm x 790mm x 1060mm, with 145mm ground clearance. The fuel tank holds 17.1 l including reserve. Due to the excellent fuel consumption of the engine of 3.5liters/100km, the range is 480 km.
The 41 mm telescopic front fork (preload adjustable) with 120 mm stroke provides a pleasing and controlled handling and gives a good feeling for the front tire. A single-tube rear shock absorber (as found in higher-capacity sports motorcycles) with a large diameter piston ensures excellent suspension and temperature management. It has a 5-stage spring preload adjustment and operates via a rigid steel swingarm with box profile, which is equipped with pressed steel chain adjusting end pieces. The final drive is via a sealed 520 chain.
The CB features lightweight 17-inch aluminum cast wheels with Y-shaped spokes and hollow cross-section. The front wheel is 3.5 inches wide and is equipped with 120/70-ZR17 tyres. The rear wheel is 4.5 inches wide and is equipped with tires in size 160/60-ZR17. A single 320 mm wave brake disc at the front with a two-piston brake caliper is matched to a 240 mm rear disc with a single-piston brake caliper. ABS is installed as standard.
The CB500F will be available in the following color options:
Grand Prix Red
Matt Gunpowder Black Metallic
Candy Caribbean Blue Sea **NEW**
Candy Moon Glow Yellow **NEW**
3.2 Motor
Lively two-cylinder power plant with kinship to the 2019 CBR1000RR Fireblade
Power and torque over the entire range
Sportier sound thanks to dual-exit silencer
Anti-hopping coupling for easy power up and down
Now EURO5 homologated
The A2-capable CB500F with 8 valves in liquid-cooled Parallel Twin offers a balance between engine size and willing, pleasant power output, with energetic and willingly rotating character to the top edge.
The 2019 engine upgrades improved acceleration by increasing performance and torque in the lower to medium speed range from 3,000 to 7,000 rpm; an improvement of 4% due to a changed valve control - with 5° earlier closing control times - and an increase of 0.3 mm to 7.8 mm now.
The PGM-FI fuel injection is fed almost straight through the airflow through the airbox and the throttle housings. During the 2019 upgrade, the battery was repositioned to allow for greater airflow. The exhaust pot has double output tubes, which give every impulse a sporty-sounding touch. The peak power of 35 kW is reached at 8,600 rpm, the torque of 43 Nm is 6,500 rpm.
The bore and stroke are 67 mm x 66.8 mm, the compression ratio is 10.7:1; the crankshaft pins are offset by 180°, a more primary balancing shaft sits behind the cylinders, close to the center of gravity of the motorcycle. The primary drive, and the drive of the balancing shaft use scissor wheels, which reduces noise. The crankshaft balancing weight is specially designed for moment compensation and its low weight allows the motor to rotate freely and with reduced inertia.
As a loaded element, the motor contributes to the stiffness of the frame by means of four frame suspensions on the cylinder head. Roller tilt levers are used inside the cylinder head; which can be particularly light due to the valve clearance adjustment via shims, which in turn reduces the valve spring load and reduces friction.
The smooth-running control chain (SV Chain) is manufactured with vanadium-treated bolts, which reduces friction and increases wear protection. The inlet valve diameter is 26.0 mm and the outlet valve diameter is 21.5 mm.
The piston shape is based on the piston used in the 2019 CBR1000RR Fireblade to reduce "piston noise" at high speeds. Friction is reduced by grooves on the piston shirt (a finish that enlarges the surface and optimizes oil lubrication). As with the CBR1000RR, an AB1 salt bath process, which is used after isonite nitration, forms a protective oxidation membrane.
The "triangular" ratio of crankshaft, main shaft and feed shaft is very similar to that of Honda's four-cylinder RR engines, much of the internal structure and technology was taken over directly by the 2019 CBR1000RR.
The crankcase uses thin-walled rotary cast bushings, the inner design of which reduces the pump losses that can occur in a 180° ignition sequence. The oil pump is characterized by an improved ventilation performance with reduced friction; a deep swamp reduces the oil movement during hard cornering and braking. The oil capacity is 3.2 L.
The six-speed gearbox of the CB500F is very close to that of its RR cousin and uses the same shift arm structure and the same connection mechanism. An anti-hopping clutch introduced in 2019 makes it easier to switch up and smooths hard shutdowns.
Like its 500cc stable companions, the CB500F is homologated for the EURO5 standard. This entered into force on 1 January 2020 and, compared to the EURO4 standard, requires significantly stricter exhaust emissions for engines. These requirements include a significant reduction in permitted carbon monoxide emissions, a reduction of more than 40% in total emissions of hydrocarbons, stricter detection of misfires and the introduction of a limit value for particulate matter.
Accessories
A range of original Honda accessories is available for the CB500F. it includes:
Top Case 35 litres
Racks
Tank bag
Rear packing bag
High windshield (clear)
Heating handles
12V socket
Socian cover
Main stand
Rim sledging
Tankpad
Technical data
| | |
| --- | --- |
| Engine |   |
| Type | Liquid-cooled Parallel Twin |
| Displacement | 471cc |
| Bore x Stroke | 67mm x 66.8mm |
| Compression | 10.7: 1 |
| Max Performance | 35kW at 8600 rpm |
| Max Torque | 43Nm at 6500 rpm |
| Engine oil quantity | 3.2 litres |
| FUEL SYSTEM |   |
| Mixture preparation | PGM FI Fuel Injection |
| Tank contents | 17.1 litres (incl. reserve) |
| Consumption | 3.5litres/100km |
| Electrics |   |
| Battery | 12V 7.4AH |
| ACG output | 23.4A/2000 rpm |
| Drive |   |
| Coupling type | Multi-discs in the oil bath |
| Gearbox type | 6 Gear |
| Final drive | Chain |
| Frame |   |
| Type | Steel tube frame |
| Chassis |   |
| Dimensions (L x W x H) | 2080mm x 790mm x 1060mm |
| Wheelbase | 1410mm |
| Steering head angle | 25.5° |
| Caster | 102mm |
| Seat | 785mm |
| Ground clearance | 145mm |
| Weight (fully fuelled) | 189kg |
| Chassis |   |
| Front | 41 mm telefork, spring preload adjustable |
| Rear | Box swingarm with pro-link suspension, spring preload 5-fold adjustable |
| Wheels |   |
| Front | Aluminum spoke wheels |
| Rear | Aluminum spoke wheels |
| Rim size front | 17 x MT3.5 |
| Rim size rear | 17 x MT4.5 |
| Tyre size front | 120/70ZR-17M/C |
| Rear tyre size | 160/60ZR-17M/C |
| Brakes |   |
| ABS design | 2-channel |
| Brake front | 320 mm Wave brake disc with 2-piston brake pliers |
| Brake rear | 240 mm Wave brake disc with single-piston brake pliers |
| INSTRUMENTS/ ELECTRIC |   |
| Instruments | Digital rev counter, digital bar speedometer, two day-hour meters, digital fuel and consumption indicator, digital clock, gear display |
| Theft | HISS (Honda Intelligent Security System) |
| Headlights | Dipped beam 4.8W, high beam 12W (LED) |
All information is non-binding, subject to change.
Please note that the figures given are results obtained by Honda under standardized test conditions prescribed by the WMTC. The tests are carried out on a free country road with a standard version of the vehicle, with only one driver and without additional optional equipment. Actual fuel consumption may vary depending on driving style, vehicle maintenance, weather, road conditions, tyre pressure, accessories, luggage, driver and passenger weight, and other factors.