Ducati sells 100,000 Multistrada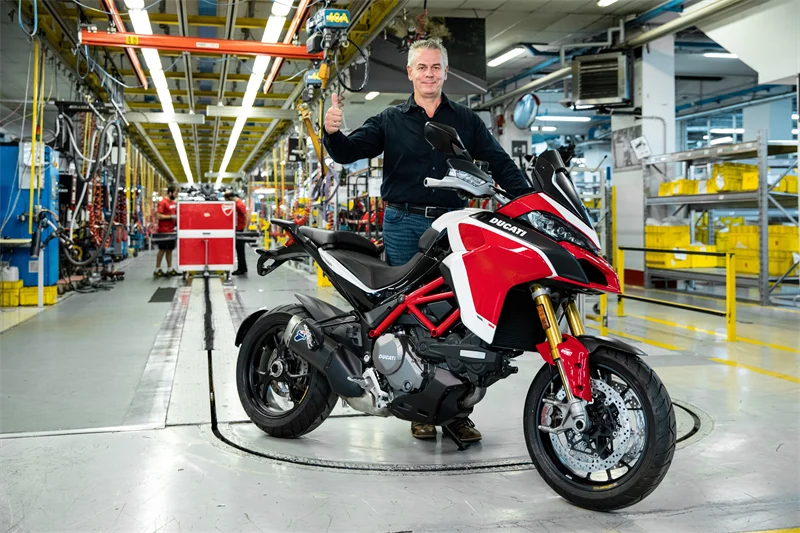 Photo: Ducati
Sixteen years after the first Multistrada came off the production line, the model family has now reached the milestone of the 100,000th motorcycle. The Multistrada with the number 100,000, a 1260 Pikes Peak with an individual laser marking on the upper fork bridge, was personally handed over to Dave Hayward (see photo) - a German Ducatista who had ordered this motorcycle from the Düsseldorf dealer - by none other than Ducati CEO Claudio Domenicali.
The Ducati Multistrada is a technological flagship of the brand. In 2010, the Multistrada was the first motorcycle with adjustable driving modes, a system that noticeably changes the character of the motorcycle. In fact, the slogan of the advertising campaign at the time was :Four motorcycles in one.' With the D|Air version introduced in 2014, Ducati offered the first motorcycle with a safety system capable of connecting to a special airbag-equipped jacket. In 2015, the Multistrada was the first motorcycle to have a variable valve control engine: the Testastretta DVT (Desmodromic Variable Timing).
As technology progressed, reliability continued to develop. In development, longer and harder tests were carried out, production processes and materials were improved, and the number of computer simulations was significantly increased. All this takes the reliability of the Multistrada 1260 and 950 to an unprecedented level. Today, all engines in the Model family have long maintenance intervals. A control of the valve clearance is only necessary every 30,000 kilometers – this corresponds to three times the distance of the first version.
With seven versions, the current Multistrada family is very wide: two 950 cm3 (113 hp) variants and five models with 1260 cm3 (158 hp) are offered.