Ducati Multistrada V4
The heart of the new Multi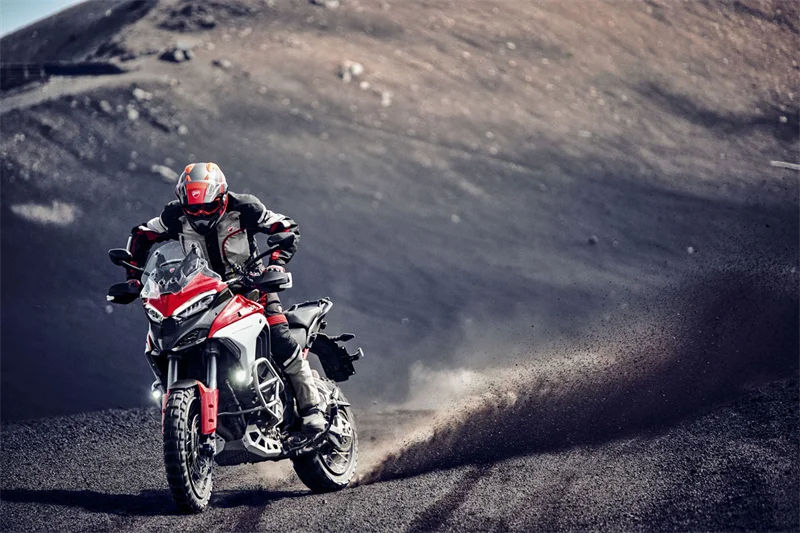 According to the manufacturer, the Multistrada V4 is intended to cover a variety of needs. The "sporty", lightweight and compact, powered by 170 hp, state-of-the-art electronic assistance systems from MotoGP together with a chassis setup with agile dimensions for a ride in a wide variety of terrains." Touring ", thanks to the completely new radar systems front and rear, the new fully networked navigation system, which is displayed directly on the dashboard, as well as the curved lights. " Enduro", thanks to off-road capability, electronic suspension and gear ratio. Finally, the Multistrada V4 shows its "Urban" character with good handling at low speeds.

More than 110,000 units have been produced in 18 years, and since its introduction in 2003, the Multistrada has evolved steadily. So now a complete reboot. The new engine is of course the heart of the motorcycle. Extremely light (66.7 kg), and compact, the brand new V4 Granturismo engine guarantees an extremely smooth run at low speeds as well as a linear torque curve according to the manufacturer.

The 1158 cc V4 Granturismo engine delivers 125 kW (170 hp) at 10,500 rpm and a maximum torque of 125 Nm (12.7 kgm) at 8,750 rpm. The torque curve ensures progressive performance even when fully loaded and conveys the appealing feeling of immediate throttle response. In order to achieve this goal, great attention was paid to the torque curve provided for each gear in order to always achieve a liquid power output in the lower speed range, a high torque in the middle speed range and a sporty character in the upper speed range. In addition, Ducati engineers focused on gearing. With a short first gear, it is excellently suited for rides and manoeuvres at extremely low speeds, for uphill climbs even at full load and for off-road sections. The sixth gear, on the other hand, is ideal for long motorway journeys.

It is good to extend the maintenance intervals. For example, the Multistrada V4 only needs to change the oil every 15,000 km, while valve clearance control or adjustment is carried out every 60,000 km if necessary.

The V4 Granturismo engine is designed for use on the road and, if necessary, also takes advantage of all the technical advantages that Ducati has developed in years of experience in the world of competition. This includes the counter-rotating crankshaft, which improves handling by working "against" the inertia generated by the wheels, reduces rocking and thus improves efficiency and driving pleasure even on the road.