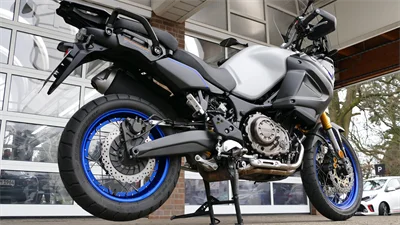 Sporty? Oh, no ...
That is it, at least in terms of one thing: the high weight of the Ténéré is forgotten shortly after starting. The limited sportiness of the 1200s is not due to the high weight, rather it is due to the engine. Already from 1500 revolutions, the long-stroke two-cylinder pushes the vehicle forward, from 2500 it goes to the point with a buoyant approach. Alone, the énoun doesn't last long, the Twin doesn't get its 110 hp out of speeds. Not to be misunderstood, the Yamaha is neither slow nor lame, but with a sports term derived from high speeds, it can't do anything.
This also applies to the chassis: no matter what setting you choose, the Yamaha will always pull its course in a stable manner, even up to the top speed. Of course, this is also due to the tubeless tyres, which do their thing well on asphalt, in the terrain there is no state to do with them. The driving comfort is good through the bench and on this, even on long distances. This also applies to the Socius. If you want to scratch corners, you should definitely choose the "Sport" suspension setting. Otherwise, the backhand tramples and the fork dips heavily when braking.
The gimbal drive is not rumbling at all. On the contrary, the low-maintenance power transmission shows how far this construction has come: no tree-raising when driving off, no trampling, no load change reactions – that's how it has to be. Our test bike was equipped with a larger windshield from the Yamaha accessories range. A sensible investment, because the driving wind is thus reliably derived from the driver.