Fantic Caballero 500 Scrambler in the test
(Baujahr 2022)
How does the Italian A2 scrambler "Edelmann" fare?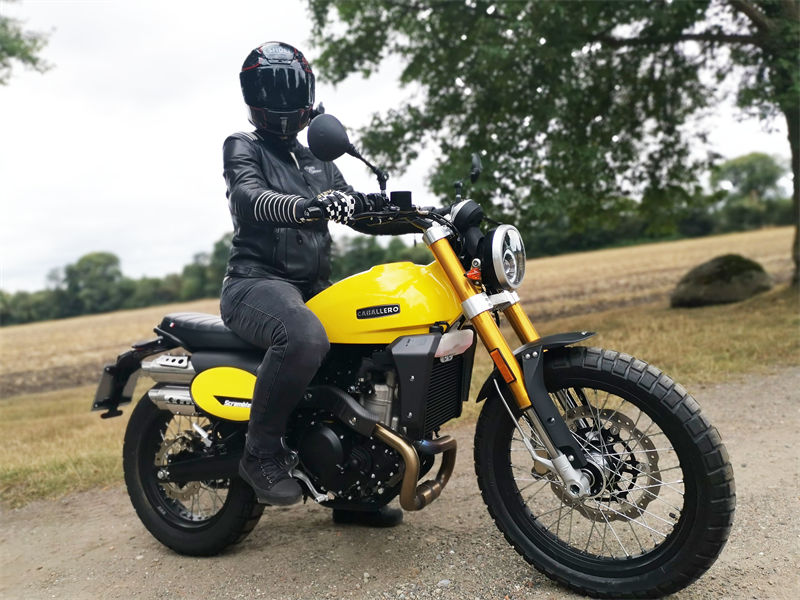 Photos: Motorradtest.de
The Fantic Caballero 500 Scrambler focuses entirely on lifestyle and look. Although it has just under 40 hp, nevertheless, or perhaps because of this, it will not only appeal to A2 aspirants. Tanja and Dietmar have grabbed the Caballero 500 and describe their driving impressions here.


Beguilingly beautiful!
The first contact elicits a "Wow!" from almost all motorcycle lovers. The Caballero is a real eye-catcher in bright yellow. It looks very grown-up, especially from the front due to the gold anodized USD fork and the 19 inch front wheel. In any case, one hardly suspects that a 449 cc engine does its work here. Fantic has done everything right with the design and trimmed it to Scrambler: High double exhaust from Arrows (remarkable: Two tailpipes in a single-cylinder!), flat and continuous seat, wide and high-mounted handlebars - and of course spoke wheels with black painted rims as well as an obligatory number plate to stick yourself.

 

The Fantic Caballero is currently available in six different versions: Scrambler, Flat Track, Rally, Explorer, Deluxe and an Anniversary version are available. However, the differences are marginal and rather visual. Only in the tires and rim size as well as the front fender there are significant differences. Basically, you can look at all models in peace and where the pulse beats the highest, you grab it. All variants are in our opinion dead chic, the Scrambler version we tested here is also available in red: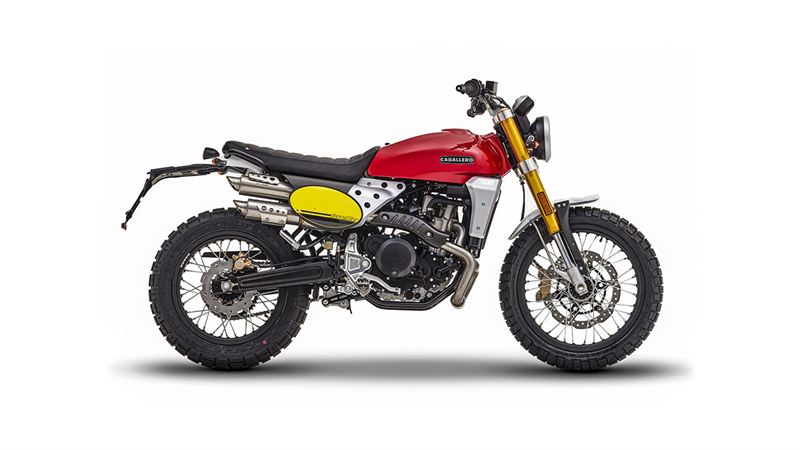 There is also no reason for criticism of the seat test. You sit comfortably upright, the knee angle is comfortable and the seat is comfortable. The passenger does not have quite as much space, but at least he finds practical grab handles that could also be used to lash luggage. There are also surprisingly many accessories for the Fantic Caballero, so that you can easily put together a small travel Fantic. If you like to sit higher, you will also find a bench with a seat height of 840 mm. The standard bench has a height of 820 mm, for people up to 1.90 m this is completely okay.
Dimensions of the Fantic Caballero 500 Scrambler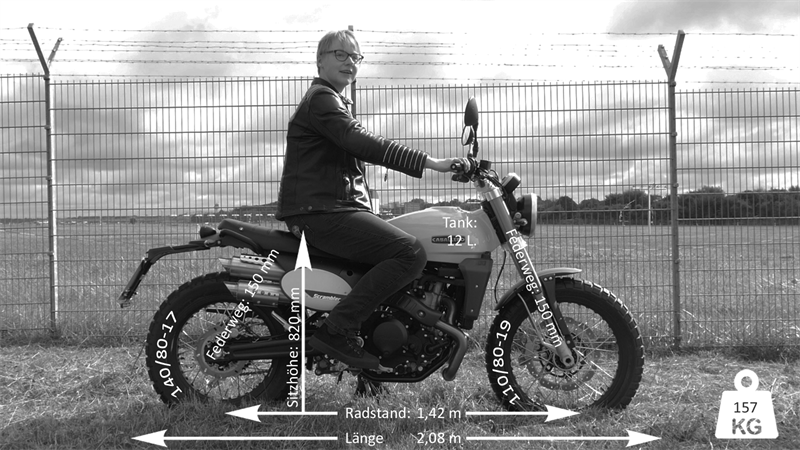 360 Tour around the Fantic Caballero 500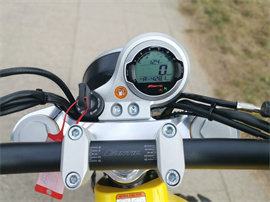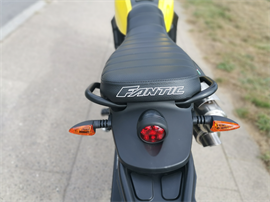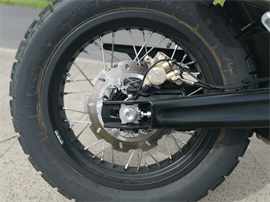 Technology of the Fantic Caballero 500
We can keep this chapter very short: The Caballero has a 2-channel ABS from Continental, but that's about it. The LCD cockpit is a bit lutt, but informs among other things about the fuel level and the battery charge. There is also an on-board computer, which is operated with two buttons directly on the display.
So no driving modes or the like. Never mind. We find the switches rather disturbing, which sometimes seem a bit cheap and wobbly. In contrast, there is a high-quality, milled triple clamp, the same applies to the footrest system. In addition, we find real carbon parts and also the matt black painted handlebar makes a powerful impression.
As is so often the case with Italian bikes, there is light and shadow in the quality of the parts and the workmanship. By the way: Yes, the Fantic Caballero is actually an Italian motorcycle, even if the engine is manufactured in China. Development, design and manufacturing takes place in Italy, so it's not a Chinese bike, as is claimed here and there.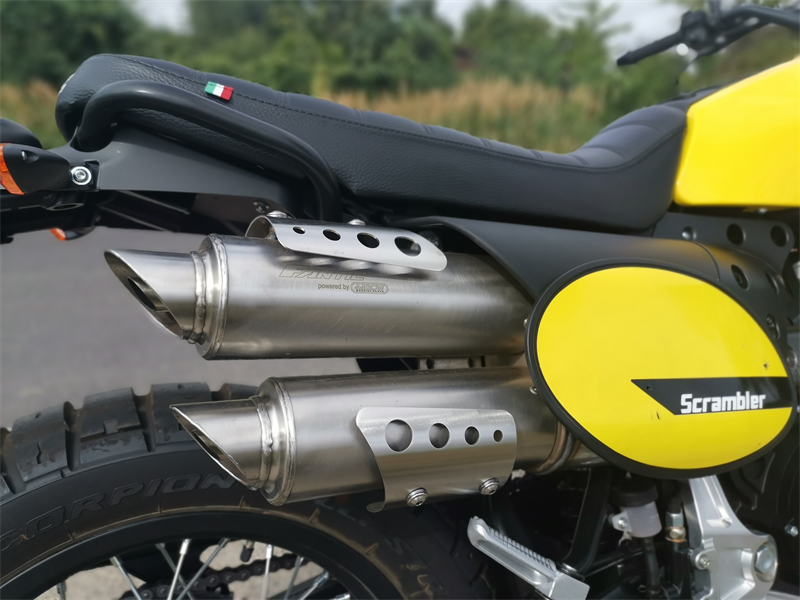 This is how it drives itself
Before we start, let's listen to the sound of the Caballero a little more closely (soundcheck top right). Sounds good, nice growling and bassy and doesn't sound like only 450 cubic. Also visually, the double silencer from Arrows and also the manifold makes a powerful impression.
Well, then it's finally off to the slopes. The wide handlebar gives a good because controlling feeling. The machine is not wobbly at all, which we attribute to the wheelbase and the 19-incher. For such an extremely light motorcycle, the bike rides quite stable. Of course, it is extremely easy to manoeuvre, but when driving it looks quite grown-up - cool mixture.
The performance is manageable, but anything but poor. The almost 40 hp feel like more, no wonder with the weight. Acceleration and torque are not bad for an A2 bike and the blatant soundscape makes you feel like you're sitting on a 60 hp machine. The bike can be handled playfully and is balanced with suspension. We had imagined this much tighter due to other test reports, but it was not so. The USD fork is not adjustable, but the central strut is already in rebound and preload.

Nevertheless, the Fantic Caballero is a machine with rough edges. We didn't like the brakes so much (but this can improve after a few kilometers of entry, as users have told us) and the idle can only be engaged reluctantly. The engine is typical single-cylinder at the bottom a bit rattling and of course there are load change reactions and constant jerking. But somehow you forgive the Fantic all these antics with a smile.
Nevertheless, it should be noted: If you expect a finely honed bike here, you are wrong. The Fantic does not want to be softened and smooth like a Japanese four-cylinder. She wants to turn you on, annoy and challenge you a bit here and there - wonderful!
Conclusion - what sticks
Awesome, an imperfect bike! The Fantic Caballero 500 is a typical Italian: Here a little diva-like, boastful and loud, but absolutely endearing and emotional. You like them or you don't like them, there will be hardly anything else in between. Performance and technical equipment take a back seat to the Caballero, with design, sound and the wonderfully mocking single-cylinder engine in the foreground. 
The test bike was provided by
Legendary Cycles
in Hamburg. There is the Caballero 500 Scrambler as a demonstrator. And while you're there, take a look at the many other bikes from Legendary: There are bikes from Indian, Benelli, Royal Enfield, Moto Morini, Mash and Fantic. Delightful shop. Coffee is also available, but do not press "Capucchino", the milk frother is broken.
Price/availability/colours/years of construction
Price: 7.090€
Used (3 years old): 5.500€
Years of construction: 2018-2022
Colours: red, bright yellow