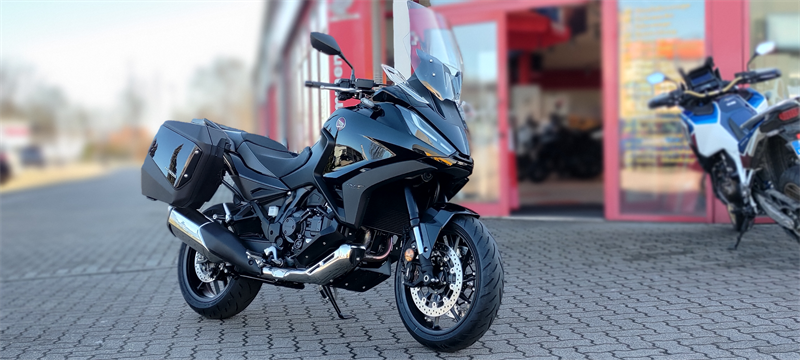 Photos: motorradtest.de
 
Fancy travelling? With the new NT1100, Honda presents its new, well-equipped companion. Whether the thoroughbred tourer keeps what it promises, we want to find out during an extensive test drive.


This is how it stands
Finally a tourer from Honda, who should accompany us on extended trips! Basically, a good idea to take the popular Africa Twin as a basis here and with some adjustments to put a solid touring bike on the road. So what has changed? There were only the smallest changes to the frame and engine. Showa's chassis, on the other hand, is now designed for the road and the seat height has been reduced to 820mm. The suspension travel has been reduced and the front and rear tires are now 17-inch. All this combined with many important travel features in series production and three additional equipment packages available makes the NT1100 a new, independent touring bike.
Well then go and swing on it. The sitting position proves to be extremely pleasant and comfortable. The seat height of 820mm is moderate and does not cause us any problems. On the contrary, Markus with his 1.77m comes here excellently with both feet loose over the entire surface on the ground. The position of the footpegs is perfect and also the handlebars feel very comfortable in height and width and ensures a quite upright sitting posture. The seat is reasonably tight but still very comfortable. For even more sofa feeling, there is of course also a comfort seat in the accessories.
The NT1100 also shows the passenger from its best side and, in addition to the comfortable seat, offers good grab handles and plenty of space to spend several hours happy and satisfied while enjoying the passing landscape. The maximum payload is 194 kg and can be easily stowed in the two side cases (65 L) and a 50-litre top case. However, the helmet only finds enough space in the top case – but also two. Also good: Honda offers a single-key system!

Photo: Honda
 
As far as the colors are concerned, Honda is holding back in the case of the NT1100. With the three variants black, white and gray, the case is closed. If you expect spring-fresh, bright colors here, you will unfortunately be disappointed, at least in this point. Nevertheless, we find that the subtle colors basically fit quite well with the overall rather unagitated style of the machine. The Tourer performs really well in terms of wind and weather protection. The windscreen is fivefold adjustable and can be changed by 164 mm in height. In the highest position, it is really pleasantly quiet behind the generously laid out pane.
 
Virtual 360 degree tour around the Honda NT 1100