Honda CB1300 (SC54) reviewed
(Baujahr 2007)
Displacement is irreplaceable except - you know...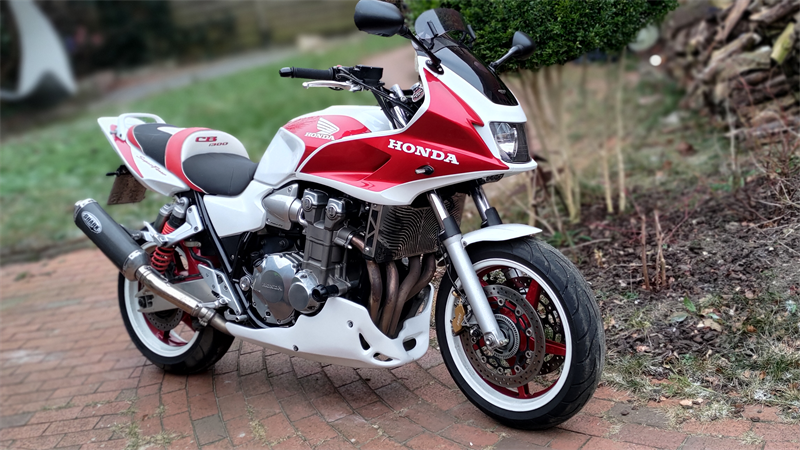 Photos: motorradtest.de
The Honda CB1300 is considered one of the iconic big bikes from the golden age of motorcycle construction. We treated ourselves to a CB1300 SA "Super Bol d'Or" from 2007 and describe in this review what this beauty can do - and what it can't do.
 
This is how it stands
The Honda CB1300 has been around since 1997. In Japan it is still sold, in Germany it was over in 2013. The SC54 machine from 2007 presented here has 116 hp and about 50,000 km on the clock. It cost used 5,000 euros, which is a quite reasonable price for year of construction and mileage, especially since it is equipped with all kinds of accessories: front spoiler, superbike handlebars, LED lighting, comfortable seat of the saddler, Daytona heated grips, Shark exhaust, rear wheel cover of bodystyle, radiator cover and touring window of MRA with spoiler are screwed on. The rims were subsequently painted in red and white on this machine, normally the rims are painted gold based on the
Honda CB1100R
model from 1981.
Typical for this Super Bol d'Or is the half-shell fairing. There is also a naked variant called the "Super Four". Both bikes were also available in black in Germany. We find the red and white variant nice to kneel down, the engine is completely free in the field of vision despite fairing and resembles a monument. The very moderate seat height of only 790 mm allows even smaller people both an easy sitting up and a secure stand - not unimportant with a combat weight of 264 kg ready to drive! The seat ergonomics are great, you feel well integrated into the machine and both rider and pillion passenger have enough space.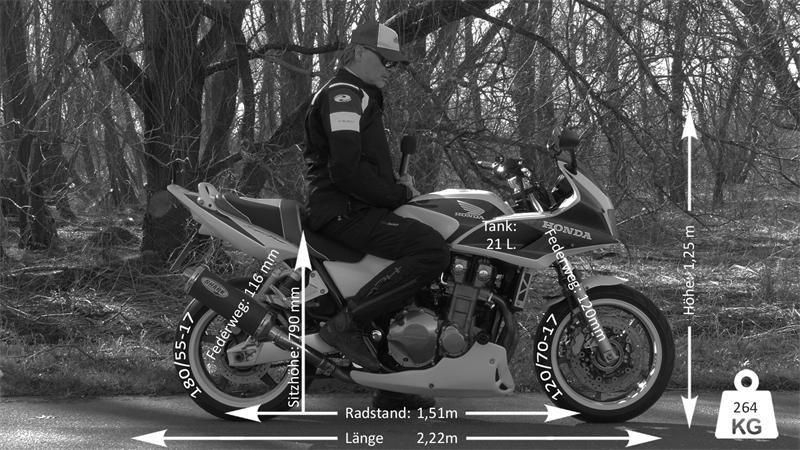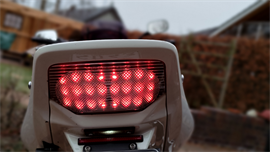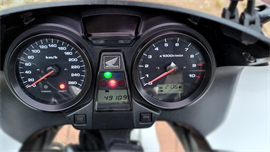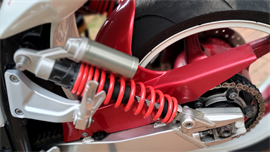 What she should be able to do
The technical equipment of the CB1300 is very clear: There is ABS and nothing else. No driving modes, no traction control, not even a gear indicator is granted to the cockpit. Nevertheless, this is beautiful: Two analog instruments provide information about speed and speed and in addition there are two LC displays with on-board computer and fuel gauge along with the usual lights for turn signals, idling, oil, etc.
 
The conventional telescopic fork with 120 mm travel can be adjusted in rebound and compression, the stereo shock absorbers from Showa at the rear also in the spring base. The machine has an exact and easily shiftable 5-speed gearbox and a chain drive. Side and main stands have been standard on the CB1300.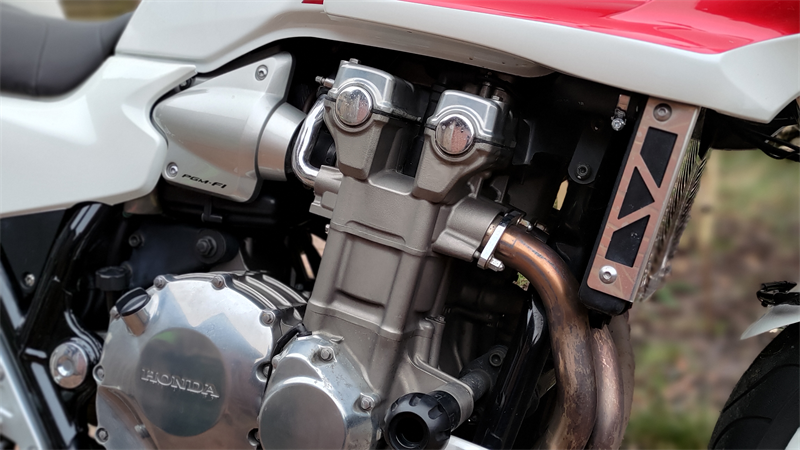 This is how it drives itself
As soon as you start the row foursome, you can already guess what is about to happen. Wonderfully sonorous and smoky, the DOHC engine speaks up. The engine is also the essential feature of the machine. Anyone who has ever ridden a CB1300 and is asked what is special about this motorcycle will first and foremost refer to the engine. This pushes already from 2,000 rpm with 90 Newton meters with emphasis towards the horizon. At 6,000 it is 117 Nm and at 7,500 rpm, the engine reaches its maximum power of 116 hp. All this is not so impressive on paper, but live it feels the same: Impressive!
This is mainly due to the linear power delivery and the fantastic elasticity of the engine. If we didn't know better, we would rather assume a 6-cylinder below the most valuable than a 4-cylinder. The absolute acceleration and torque values are not so outstanding, but it just feels that way. Perhaps this is also due to the high weight of the machine of 264 kg. It's just different when such a load shoots forward than with a light bike.
Due to the high weight, the Honda CB 1300 is also correspondingly tight on the road. Compared to other sports tourers such as a Yamaha FJR 1300, the CB is much more manoeuvrable. Thanks to its chassis geometry, it is easier to bend and the operator and machine feel comfortable. Nevertheless, you notice during the ride that you are riding a heavy bike. You should be careful, for example, when turning slowly on the road, because the CB1300 tends to fall over quickly, as we unfortunately had to painfully experience ourselves. And once the bike tilts, you can hardly hold it. That wouldn't happen to you with a lighter motorcycle.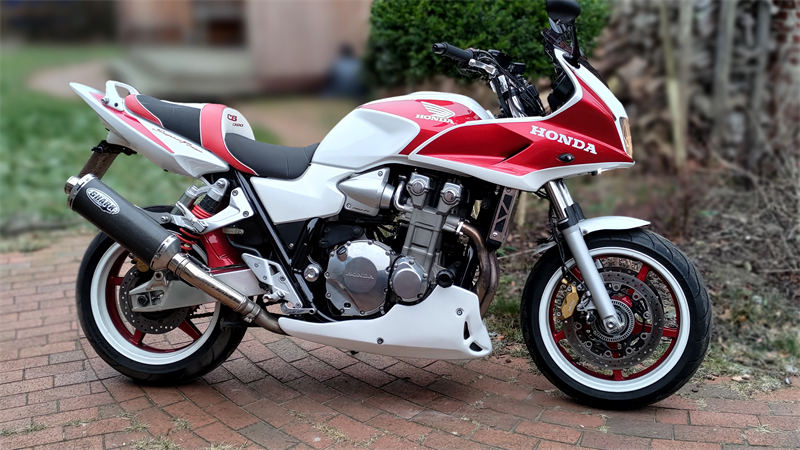 By the way, the windshield of the CB1300 is great. The helmet lies free in the wind, the pressure on the upper body is low. The wind noise increases up to about 100 km/h, but then strangely enough does not get louder. So you can actually extend the 230 km/h Vmax without being whirled by the bike.
 
The brake system of the machine comes from Nissin and does a good job. In contrast to a current Stylema from Brembo, you have to be a bit more hearty, but the brakes are still sufficiently dimensioned and can be dosed well. We do not want to conceal one disadvantage of the CB1300 at this point: The consumption is 8 liters per 100 km/h with an ambitious driving style. If you take it easy, you can get by with 6.5 liters, but who wants to drive this machine at a leisurely pace? It's just too much fun to tease out the power of the engine every now and then.
 
Conclusion - what sticks
From our point of view, the Honda CB1300 is a real insider tip on the market of used motorcycles. What you get here for about 5,000 euros in driving fun and quality is really enormous. This bike will still look good after 100,000 km, as long as you maintain it regularly. If you are looking for a classic big bike with an outstanding engine and addictive sound, you should take a test ride. The small disadvantages that a 15-year-old bike has compared to a modern machine are gladly accepted - very gladly even!
 
The test machine was kindly provided by ourselves for this test. Thank you Honda for building the CB1300!
Price/availability/colours/years of construction
Used (15 years old): 5.000 - 6.000 Euro
Years of construction: 2006-2011
Colours: red, black