Motorcycle new registrations January 2021
Not a good start because of Corona and Euro-4
The IVM has announced the new registrations of new motorcycles for January 2021. In total, only 2,968 new machines were registered in Germany. That is a whopping 56 percent less than in January 2020. Again, the reasons for the slump are Corona and Euro 5.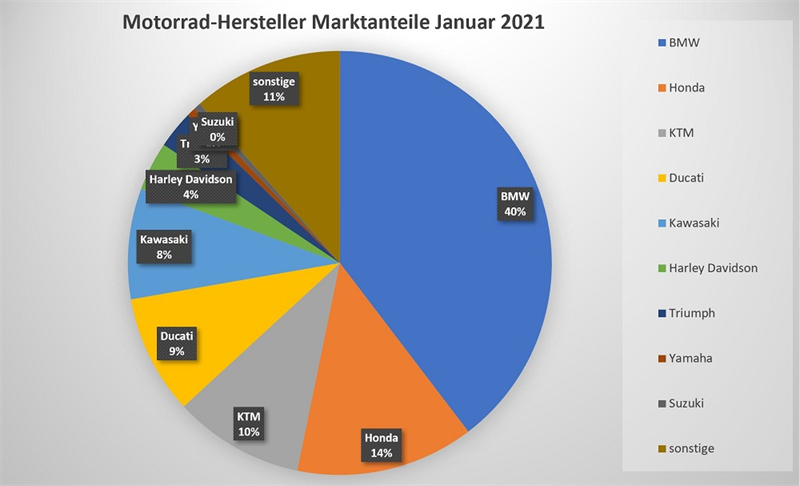 Euro 4 and Corona are to blame
At the end of last year it was still said that Euro 4 machines may no longer be registered from the beginning of 2021. The dealers have basically chased a large number of these machines off the farm at reasonable prices. In December, this is also why as many machines were sold as they had not been for a long time. But then came the second Corona Lock-Down just before Christmas. We now see the effects: only 2,222 units were allowed for motorcycles (all without 125s and scooters). It is basically the same as from February 2020 - again, corona-related, suddenly significantly fewer motorcycles were sold.
It is interesting to look at the market shares of the manufacturers in January (see chart), although these figures are likely to be in line with the
averages of the previous year
over the next few months. BMW achieved a market share of almost 40 percent in January 2021! This is followed by Honda (14%), KTM (10%), Ducati (9%) and Kawasaki (8.5%). Yamaha's figures show that these figures are not yet really meaningful, because a critical mass of new registrations has not yet been reached: in January 2021, exactly 15 Yamaha motorcycles were registered! This corresponds to a market share of 0.68%, which is virtually nothing.
Top 50 Motorcycles January 2021
| Manufacturer | | model | quantity |
| --- | --- | --- | --- |
| 1 | Bmw | R 1250 GS | 366 |
| 2 | Bmw | R 18 | 81 |
| 3 | Kawasaki | Z 900 | 80 |
| 4 | Bmw | S 1000 XR | 79 |
| 5 | Honda | CBR 650 R | 78 |
| 6 | Ducati | MULTISTRADA V4 | 73 |
| 7 | Bmw | F 900 R | 73 |
| 8 | Honda | CRF 1100 AFRICA TWIN | 71 |
| 9 | Ducati | Scrambler | 57 |
| 10 | Bmw | F 900 XR | 50 |
| 11 | Honda | CB 650 R NEO SPORTS CAFE | 46 |
| 12 | Bmw | S 1000 RR | 46 |
| 13 | Honda | CMX 500 REBEL | 45 |
| 14 | Aprilia | RS 660 | 36 |
| 15 | Bmw | R 1250 RS | 36 |
| 16 | Bmw | F 750 GS | 32 |
| 17 | Triumph | ROCKET 3 | 31 |
| 18 | Kawasaki | Z 650 | 28 |
| 19 | Bmw | R 1250 RT | 26 |
| 20 | Bmw | R 1250 R | 26 |
| 21 | Ktm | 690 SMC | 22 |
| 22 | Ktm | 300 EXC | 21 |
| 23 | Indian Motorcycle | SCOUT BOBBER | 21 |
| 24 | Kawasaki | NINJA 1000 SX | 20 |
| 25 | Ktm | 390 DUKE | 19 |
| 26 | Ducati | PANIGALE V4 SPECIALE | 19 |
| 27 | Royal Enfield | BULLET ELECTRA | 18 |
| 28 | Bmw | F 850 GS | 18 |
| 29 | Harley-Davidson | STREET BOB | 17 |
| 30 | Ktm | 1290 SUPERDUKE GT | 17 |
| 31 | Ducati | STREETFIGHTER V4 | 16 |
| 32 | Beta motor | RR 300 | 16 |
| 33 | Husqvarna | TE 300 | 15 |
| 34 | Kawasaki | VULCAN S | 15 |
| 35 | FANTIC MOTOR | CABALLERO FlatTrack 500 | 14 |
| 36 | Ktm | 350 EXC-F | 14 |
| 37 | Triumph | TIGER 900 RALLEY/GT | 13 |
| 38 | Ktm | 790 DUKE | 13 |
| 39 | Ktm | FREERIDE E-XC | 11 |
| 40 | Suzuki | DL 1050 V-STROM | 11 |
| 41 | Bmw | NINE T | 11 |
| 42 | Harley-Davidson | BREAKOUT 114 | 11 |
| 43 | Ducati | SCRAMBLER 1100 | 11 |
| 44 | Triumph | STREET TRIPLE | 11 |
| 45 | Ducati | XDIAVEL | 11 |
| 46 | Harley-Davidson | SPORT GLIDE | 11 |
| 47 | Honda | CBR FIREBLADE SP | 10 |
| 48 | Ktm | 300 EXC TPI | 10 |
| 49 | Ktm | 890 DUKE | 10 |
| 50 | Kawasaki | NINJA 650 | 10 |