IN "LONG WAY UP" EWAN MCGREGOR AND CHARLEY BOORMAN WITH THE LIVEWIRE THE AMERICAN CONTINENT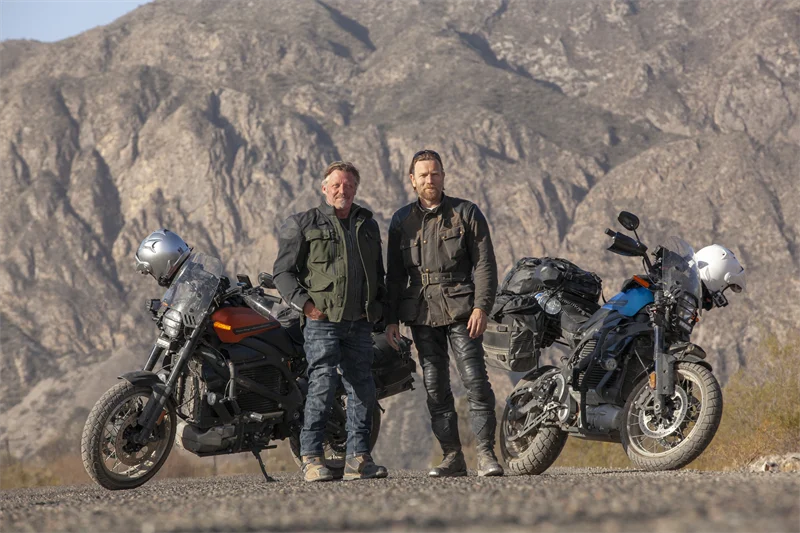 Harley Davidson photos:
The LiveWire is an exciting electric motorcycle that excels in exceptional performance, impressive high-tech and fascinating design. When Harley-Davidson had the opportunity to prove what this machine is capable of, even under the toughest conditions, the company immediately accepted the challenge: it was about a nearly 20,900-kilometer route from South to North America. The Harley-Davidson podcast, which you can listen to and subscribe to on Apple podcasts and Spotify to stay up-to-date on a weekly basis, now documents how this extreme endeavor has been accomplished. Its six parts convey how two LiveWire bikes have been modified to master dirt roads, narrowest single trails and glowing hot desert trails.
"Our brand stands for the constant pursuit of adventure," explains Jochen Zeitz, Chairman, President and CEO of Harley-Davidson, "and the new podcast series impressively shows how Harley Davidson engineers and designers develop motorcycles for every kind of adventure imaginable. A mission that is also reflected in the 2020 LiveWire series bikes. With these machines, we make it clear that we are serious about the electrification of motorcycling and want to be one of the leading manufacturers in this field. The fascination we feel for electric mobility on two wheels can only be understood by those who made a round on the LiveWire."
For "Long Way Up", the engineers and designers responsible for the development of the series version of LiveWire, together with other Harley-Davidson product developers, dedicated themselves to the conversion of already production-like bikes, with which Ewan McGregor and Charley Boorman were to start their adventure. In less than 30 days, the team designed, modified and assembled a first motorcycle and then used the feedback from the test crew to further develop ergonomics and luggage systems, among other things.
Essential components such as the frame, the main battery (Rechargeable Energy Storage System – RESS) and the Revelation powertrain remained as standard. The brake discs, wheels and tyres, on the other hand, are prototype components from Harley-Davidson's adventure touring bike Pan America, which will be launched shortly. However, some other components – including the disc, strut and fork bridges – were used exclusively in the "Long Way Up" machines.
Prior to their delivery, the modified bikes were extensively tested at Harley-Davidson's Willie G. Davidson Product Development Center and then tested again under the toughest conditions at the Harley-Davidson Test Center. After 60 days, the company finally shipped two planes to the southern tip of Argentina, from where McGregor and Boorman set off to cross the American continent north.
Anyone who wants to experience the special feeling that LiveWire conveys is cordially invited to a test drive at the nearest Harley Davidson LiveWire dealer. This can be found under www.Harley-Davidson.de.