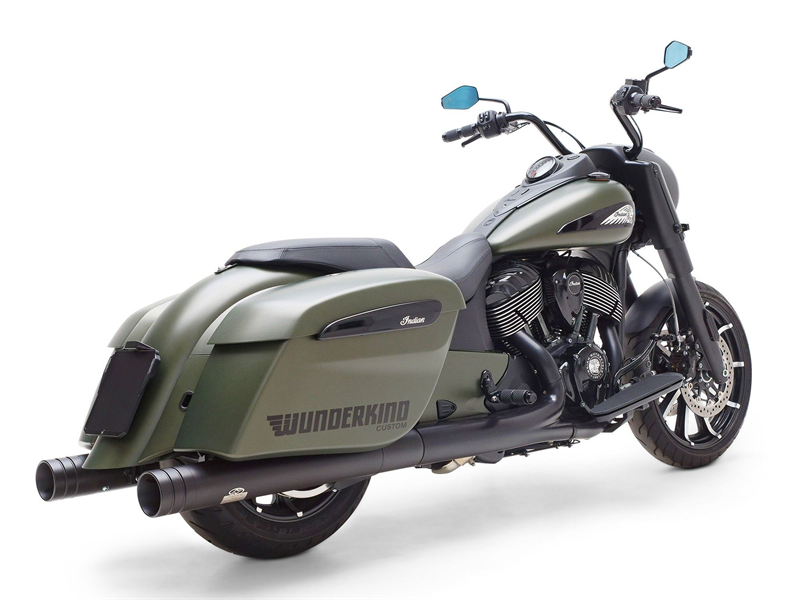 Photo: ABM Fahrzeugtechnik GmbH
With the latest project - an Indian Springfield Dark Horse - accessory manufacturer WUNDERKIND-Custom once again shows its diverse conversion potential for more individuality also in the Heavy Weight series from Indian.
The goal of this project was obvious: to develop a variety of coordinated accessories for an individual and harmonious look for the Heavy Weight series of Indian Motorcycles. Wherever something on the original did not seem quite round, a targeted hand was laid.
For better operability, combined with a harmonious design, there are individually adjustable brake and clutch levers in the area of the handlebars. To match these, there are handlebar grips with vibration-reducing rubbers, handlebar mirrors and a replacement cover for the brake valve. Covers to cover the side reflectors complete the program. The redesigned, simple LED mini turn signals make the front significantly slimmer and integrate the turn signal perfectly. The newly designed, shortened front fender gives the motorcycle a completely different expression.
The cover of the foot brake cylinder also finds a shapely replacement in a matching design to the cover of the front brake valve. For shift and brake levers, chic replacement pedals were made, which can be operated much better due to their length and shape. As an additional special feature, a lowering set for the pillion rests should be mentioned. This creates a much more relaxed and fatigue-free seating position for the passenger.
Reduced to the essentials, the original license plate holder including lighting was also replaced. The rear is now adorned by a slim license plate frame with integrated LED lighting. The model-specific adapter ensures precise mounting on the original fender. And to ensure that everything runs smoothly with the sound, ́Dr. Jekill & Mr. Hyde ́ contributed a matching exhaust in the design.
Some of the custom parts mentioned here are also suitable for other models of the excavator or touring series from Indian. Details can be found on the manufacturer's website. All accessories comply with the StVZO or have a parts certificate. For more information:
WUNDERKIND-Custom.com