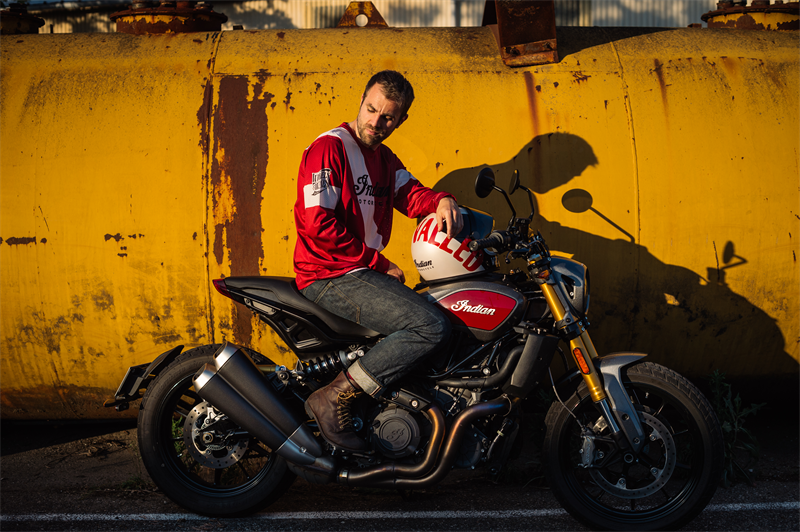 Photos: Indian Motorcycle
Indian Motorcycle and Wheels & Waves have jointly developed a range of limited edition garments and hedon helmets to celebrate the return of Wheels & Waves and three special anniversaries: 2021 not only will the popular event return to the calendar, it will also mark the 120th anniversary of Indian Motorcycle's founding in 1901. In addition, Wheels & Waves celebrates its 10th edition, with Indian Motorcycle continuing the 6-year partnership as main sponsor.
After the event had to be suspended last year due to the global pandemic, the unique Festival of Custom Culture returns to Biarritz, France, from June 30 to July 4. The 10th edition of the festival will once again celebrate motorcycling, skating and surfing, as well as all the creative expressions of art, music and food that emerge from these scenes.
"Continuing our partnership with Wheels & Waves was a matter of course for us, especially after the complicated past year and the associated postponement. There can be no better way to celebrate the significant anniversaries than to be part of this unique event and jointly develop a limited range of clothing and helmets. Like Indian Motorcycle, the team behind Wheels & Waves has always remained true to its distinctive identity, and that's exactly what has always appealed to us and our riders," said Grant Bester, Vice President International, Indian Motorcycle.
Organizers Jérôme Allé, Julien Azé, Valérie Allé and Benjamin Monge have once again set out to make Wheels & Waves an immersive space inspired by motorcycle culture, creating a timeless experience that combines the different influences of surfing, skating, music and art.
"This is a significant anniversary for us and we are very excited to have Indian Motorcycle on board to celebrate these anniversaries with a return to the custom culture and lifestyle we love," explains Julien.
Jérôme, who designed the lineup, says: "This limited edition collection seals a long-standing partnership between Indian Motorcycle and Wheels & Waves. At the same time, it is a gift to the enthusiasts of our common universes. The artistic design of this collection has been inspired by our history, by the various artists who have accompanied us over the years, and also by the history of America's oldest motorcycle brand. I would also like to thank Alain Rehm, who supported me and conjured up the FTR in UNRIVALLED design on the Hedon helmet."
Of the limited clothing line, only 200 pieces will be available per design. Four designs for men and two for women are available. For the collectors among the style icons, the uniquely designed hedon helmet is definitely a must-have, because only 50 pieces are produced.
Visitors to the 10th edition of Wheels & Waves will have the opportunity to be the first to purchase these unique and exclusive items as soon as they go on sale at the festival.
More information about Wheels & Waves 2021 can be found here:
wheels-and-waves.com