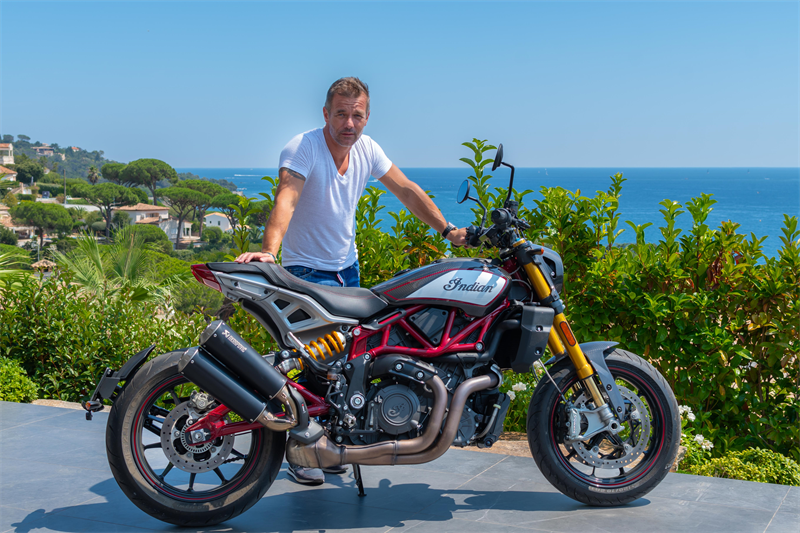 Photos: INDIAN MOTORCYCLE®
Indian Motorcycle is proud to announce its collaboration with Sébastien Loeb, the undisputed king of the World Rally Championship and great lover of vehicles of all kinds. The champion from Alsace will ride an Indian FTR R Carbon, a motorcycle with a DNA full of character.
With his recent victory at the demanding Rallye Monte-Carlo and his second place at the Dakar Rally, Sébastien Loeb has once again demonstrated his high competitiveness at the age of 47, having ruled the World Rally Championship for nine years, setting records and trying out all disciplines: World Touring Car Championship, Pikes Peak, Rally Cross, Dakar Rally, Xtreme E.
The champion tastes and discovers different worlds, and each time he shows his extraordinary driving qualities. Less well known is that Sébastien Loeb discovered his passion for motorsport on a moped, took part in regional races and even tried his hand at racing tracks and enduro racing with high-speed motorcycles.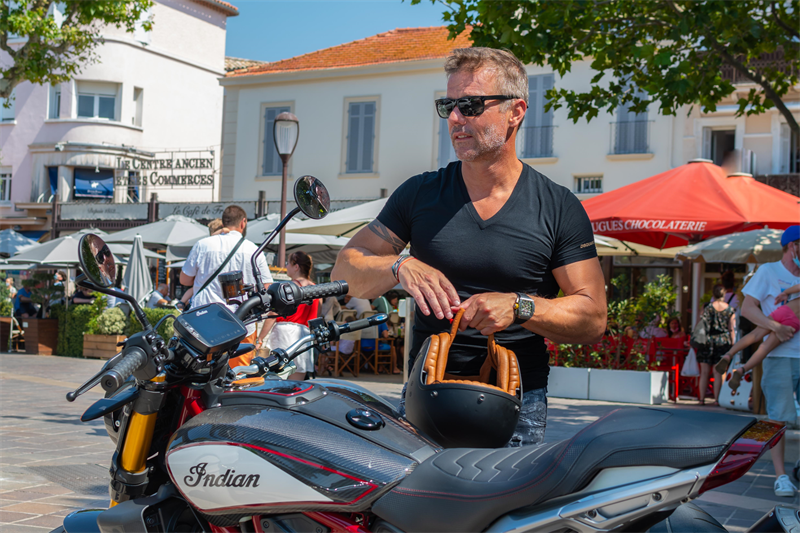 The collaboration with Indian Motorcycle underlines this urge to discover. Indian Motorcycle and Sébastien Loeb share this penchant for competition and pushing boundaries: in flat track for Indian Motorcycle with five consecutive American championships and several French titles with Wilfried Delestre, and on four-wheeled cars for Sébastien.
"We are delighted to be working with Sébastien Loeb, who is a charismatic and extremely talented personality. During our meeting, I discovered a real lover, of cars, of course, but also of two-wheelers, especially motorcycles with character like the FTR. I am very happy about this new partnership, which is an addition to Sebastien's previous world. It's a bike with a unique style and outstanding performance, everything Sébastien was looking for for his future bike." Pierre Audoin - Indian Motorcycle National Manager, France.
The FTR R Carbon is the perfect balance of style and performance and is the ideal motorcycle for daily commuting during the week and for leisure on weekends. Thanks to its unique lines, the driver will quickly be convinced of its engine with enormous torque, its easy handling and its first-class technology such as the Öhlins suspension, Brembo brakes, dynamic traction control or even the three riding modes. Sportiness and character, the ideal motorcycle for a nine-time world champion.
"I am very happy to be working with Indian. You can see me behind the wheel more often than on the handlebars, but I've always ridden motorcycles to experience as much as possible. I love motorcycling whenever I have the opportunity, be it on the track or on the road, and the FTR has all the qualities you need to have fun at any pace. In addition to the bike, the spirit and the world of Indian Motorcycle are also expressions of great openness and uniqueness, and that suits me well." Sébastien Loeb - Ambassador of Indian Motorcycle.