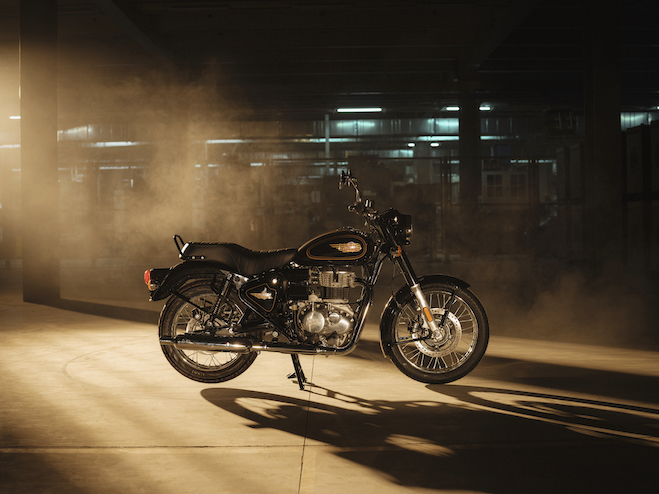 Photo: Royal Enfield
A symbol of boundless resilience and an enduring name in motorcycle and automotive history, the Royal Enfield Bullet 350 continues its legendary legacy in a new guise. Royal Enfield, world leader in the mid-range motorcycle segment (250 cm3 to 750 cm3), announced the launch of the 2023 Bullet 350. Based on Royal Enfield's proven, highly engineered and smooth-running J-Series engine platform, this iconic motorcycle has over 90 years of tradition and continues to represent the fusion of indestructible aesthetics and craftsmanship, the vibrant culture that has shaped it over the past nine decades, and the community and characters it represents.

Reminiscing about the Bullet at this momentous point in their journey, Siddhartha Lal, Managing Director of Eicher Motors Ltd., reveals: "In the summer of '94, I drove a Bullet 500 alone through Europe, fearless and adventurous. Many before me and many after me may have taken the same journey, literally and figuratively, but it was my most memorable experience. Undoubtedly, for generations of motorcyclists, the Bullet is an authoritative symbol of what we call pure motorcycling, and also a crucial element of Royal Enfield's history. As an indestructible, unadulterated character of the communities that have chosen this iconic machine, the Bullet has become a beloved badge of distinction and identity for many riders and motorcycle enthusiasts. Today, as the Bullet continues in a new guise, we are honored to play a key role in carrying on its legacy."
 
If ever there was a motorcycle that stood the test of time, it's the legendary Royal Enfield Bullet. When it was introduced in 1932, it was groundbreaking in motorcycle design with its advanced features. In 1948, it was radically redesigned and its groundbreaking rear swingarm took the motorcycle world by storm, and all other motorcycle manufacturers quickly followed suit.
 
Her skills in the harshest terrain, her success with the Indian Armed Forces, and subsequent transition to production in Madras in 1955 heralded her meteoric rise and made her the queen of Indian roads for decades. Its 2010 reissue with Royal Enfield's pioneering UCE engine ensured that it continued to be so sought after as a motorcycle and cultural icon.
 
There's hardly anything you can't do on a bullet. Over the course of their remarkable lifespan, bullets have accomplished almost every task imaginable. They have mastered trials and the International Six Day Trials (ISDT), set lap records on the Isle of Man, conquered the highest mountain passes, have been reliable companions on every type of journey, from weekend trips to circumnavigating the world, have been used as reliable commuters and robust workhorses, used as a versatile platform for individual modifications, have gone into battle and have been loyal partners of more than a million passionate Motorcyclists around the globe.
 
The Bullet is not only the longest produced motorcycle model in the world, but also part of the Indian social fabric, an heirloom that is passed down from one generation to the next and has spawned more than 1000 motorcycle clubs. For these loyal fans, Bullet Meri Jaan ("Bullet is my life") is not just a pixelated video and a catchy song, but embodies a strong symbolism that stands for authenticity, serenity, reliability and individuality.
 
And now, this highly practical all-purpose motorcycle takes its unique heritage, majestic riding position, rock-solid handling, high-torque engine with distinctive sound and simple, "uncluttered" looks into an exciting new era.
 
B. Govindarajan, CEO, Royal Enfield, said on the occasion of the launch of the new Bullet 2023 "For me, the Bullet is undoubtedly a symbol of indestructible technology and aesthetics. It has survived war and peace with unwavering reliability and has been an ally of the bravest of the brave for over 90 years. Handcrafted and pinstriped by three generations of artisans, the bullet has retained its majestic appeal without bowing to trends and whims. The simple shape stands in stark contrast to its robust reliability, temperament and character. We have made a conscious effort to preserve the essence of the Royal Enfield Bullet's legacy as it prepares for the transition to a new form and guise, unwaveringly heading for a century and beyond."

The 2023 Bullet 350 is equipped with a modern, air-oil-cooled 349 cm3 single-cylinder engine that also powers the Meteor, Classic and Hunter. The fuel-injected engine produces 20.4 hp at 6,100 rpm and 27 Nm of torque at 4,000 rpm. The result is powerful pulling power in the lower rev range, extremely smooth, linear power delivery and a ride that is both refined and stimulating. With a primary balance shaft to reduce vibration, it feels responsive and cultured. Thanks to an optimised 5-speed gearbox, the gearshifts are precise and smooth and guarantee superlative driving comfort. At the front, there is a 41mm fork, a 100/90-19 tire and a 300mm disc brake. At the rear, a wider 120/80-18 tire and a 270 mm disc brake are used. Comfort is ensured by a new interpretation of the seat, paying particular attention to ergonomics and high quality materials.
 
The frame has been designed with improved handling and maneuverability in mind. It is more rigid than previous bullets and provides more confidence at higher cornering speeds and a stable and confident feeling on straight tracks. This is further enhanced by a 41mm front fork and wider tires (100/90-19 front and 120/80-18 rear) compared to previous bullet versions. A 300 mm disc brake is installed at the front, and there is a 270 mm disc at the rear. Comfort is ensured by a new interpretation of the seat, which, in conjunction with the redesigned mudguards, contributes to the refined styling, a significant improvement in the proportions, seating position and aesthetic balance of the motorcycle.
 
The 2023 Bullet 350 for Europe will be launched in two different finishes, which are handmade and delight with high-quality workmanship. The Bullet Standard (€5,240) in black or maroon is equipped with dual-channel ABS and rear disc brakes and features elegant hand-painted pinstripes on frame-colored tanks and components, as well as chrome and gold emblems. The Bullet Black Gold (€5,340) is a premium variant with a striking combination of matt and glossy painted black tank, copper and gold 3D emblems, copper-colored pinstripes and trendy blackened engine and black components, as well as dual-channel ABS and rear disc brakes.
 
Both European versions are equipped with the signature teardrop-shaped 13-liter tank and the traditional Royal Enfield Casquette, which houses a new headlight as well as the characteristic "tiger eyes" - warning lights. A feature that has distinguished Royal Enfield motorcycles since 1954. More modern elements include the new digital-analogue instrument cluster with an LCD information display and a USB charging port below the handlebars. Particular attention has been paid to the controls to ensure that the design and finish are top-notch, with beautifully shaped rotary switch groups that blend ease of use with eye-catching retro style.
 
The 2023 Bullet 350 is complemented by an entire ecosystem of original motorcycle accessories consisting of 28 elements, including nine designed and developed specifically for the Bullet. These include comfortable touring and low-rise seats, as well as touring handlebars. In addition, there is a collection of high-quality motorcycle equipment, such as helmets and apparel with details reminiscent of the iconic pinstripe of the Bullet.
 
There is no other motorcycle like the Bullet. The Bullet has remained true to its legacy, but has been updated and adapted for each new generation of riders. The Bullet is the guardian of Royal Enfield's "DNA of pure motorcycling". Royal Enfield believes it's time for the world to see the Bullet with new eyes and fall in love once again with this authentic, luminous symbol of unobtrusive style and timeless indestructibility.