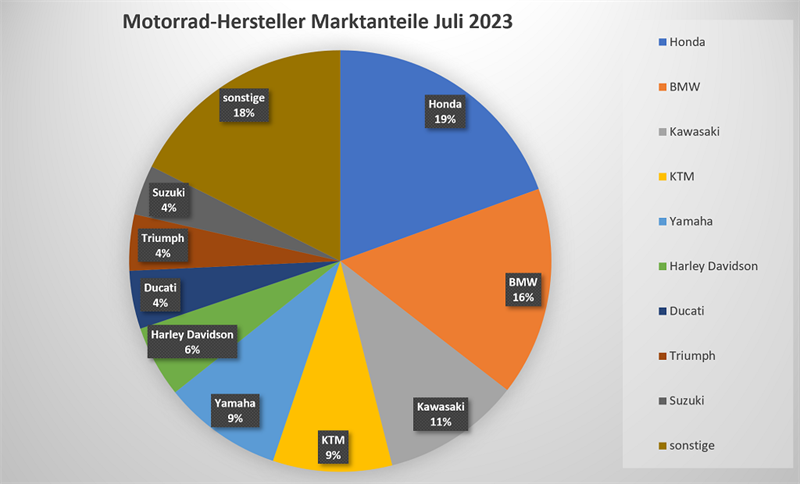 Graphic: Motorradtest.de
Hardly any movement in the market share of motorcycles
The new registration figures for motorcycles in Germany for July 2023 are in. There are hardly any movements in terms of market share, Honda is still in 1st place ahead of BMW and KTM. It is interesting to take a look at the smaller manufacturers, because their market shares are now just under 18 percent.
Husqvarna, Aprilia and Royal Enfield together have a market share of over 8%. But also the brands with production in China such as CF-Moto, Voge and Benelli are moving further and further up in the registration statistics. Overall, July 2023 was a good month with 12,193 newly registered motorcycles in Germany. Compared to the previous year, this represents an increase of 17.3%.
Honda's two new 750 models (Transalp and Hornet) did really well in fourth and fifth place. Suzuki's newcomers GSX-8S and V-Strom 800 are not quite as successful, with the GSX-8S already in 20th place. The V-Strom 800 DE recently won the Alpen Masters 2023 at MOTORRAD and for this reason alone should make up a few places in the near future. Currently, it is still in 52nd place with only 61 new registrations - there is still something to be done...
The Honda CFR 300 X in 11th place is also amazing!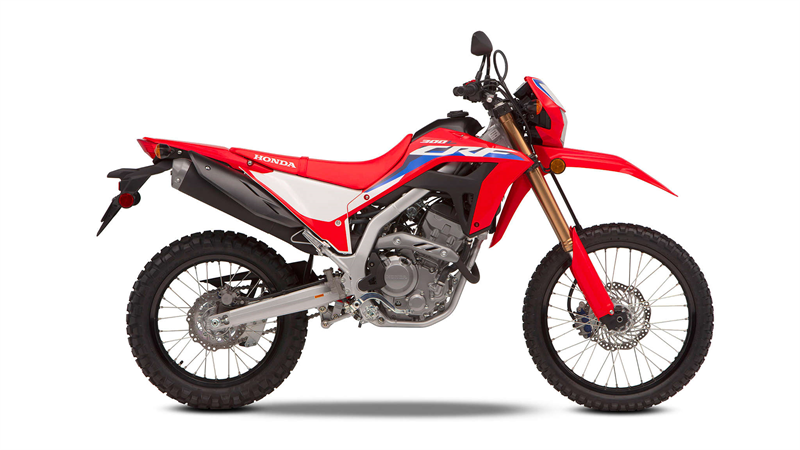 Top 50 new registrations July 2023
| | | | |
| --- | --- | --- | --- |
| Rank | Manufacturer | Model | Number |
| 1 | BMW | R 1250 GS | 836 |
| 2 | Kawasaki | Z 900 | 398 |
| 3 | Kawasaki | Z 650 | 282 |
| 4 | Honda | XL 750 TRANSALP | 274 |
| 5 | Honda | CB 750 HORNET | 261 |
| 6 | Yamaha | MT-07 | 243 |
| 7 | Honda | CMX 500 REBEL | 228 |
| 8 | Honda | CB 500 F | 222 |
| 9 | Honda | CB 650 R NEO SPORTS CAFE | 177 |
| 10 | KTM | 690 SMC | 174 |
| 11 | Honda | CRF 300 X | 170 |
| 12 | Husqvarna | 701 SUPERMOTO | 170 |
| 13 | KTM | 790 DUKE | 165 |
| 14 | BMW | F 900 R | 163 |
| 15 | Yamaha | TRACER 900 | 160 |
| 16 | Honda | CBR 650 R | 155 |
| 17 | Aprilia | RS 660 | 154 |
| 18 | Honda | CL 500 | 148 |
| 19 | KTM | 390 DUKE | 146 |
| 20 | Suzuki | GSX-8S | 144 |
| 21 | Yamaha | TÉNÉRÉ 700 | 139 |
| 22 | Yamaha | MT-09 | 136 |
| 23 | Honda | CBR 500 R | 135 |
| 24 | Yamaha | YZF-R7 | 135 |
| 25 | Kawasaki | NINJA 650 | 128 |
| 26 | KTM | 890 ADVENTURE | 125 |
| 27 | Kawasaki | VULCAN S | 106 |
| 28 | Honda | CB 500 X | 100 |
| 29 | KTM | 1290 SUPER DUKE R | 100 |
| 30 | Honda | NC 750 X | 98 |
| 31 | Suzuki | SV 650 | 97 |
| 32 | Honda | CMX 1100 REBEL | 92 |
| 33 | Husqvarna | 901 NORTH | 91 |
| 34 | BMW | F 900 XR | 90 |
| 35 | KTM | 1290 SUPER ADVENTURE | 85 |
| 36 | Kawasaki | Z 900 RS | 84 |
| 37 | BMW | M 1000 R | 83 |
| 38 | Royal Enfield | CLASSIC 350 | 80 |
| 39 | Ducati | MULTISTRADA V4 | 76 |
| 40 | Fantic Motor | SCRAMBLER 700 | 75 |
| 41 | Triumph | TRIDENT 660 | 75 |
| 42 | Ducati | MONSTER 950 | 74 |
| 43 | Honda | CRF 1100 AFRICA TWIN | 74 |
| 44 | Honda | NT 1100 | 74 |
| 45 | BMW | F 750 GS | 74 |
| 46 | Triumph | STREET TRIPLE 765 MOTO2 | 71 |
| 47 | KTM | 890 DUKE | 70 |
| 48 | Husqvarna | SVARTPILEN 401 | 69 |
| 49 | BMW | S 1000 R | 67 |
| 50 | BMW | S 1000 XR | 64 |