Yamaha News
- at the 46th Tokyo Motor Show 2019
Yamaha Motor will present itself at the 46th Tokyo Motor Show 2019, which will take place from Thursday, October 24 to Monday, November 4 at the Tokyo Big Sight Exhibition Grounds (organizer: Japan Automobile Manufacturers Association, Inc.). Yamaha Motor's stand is located in West Hall 2 of the fair, and its motto is "There Is Greater Joy Yet to Come - ART for Human Possibilities".
A total of 18 models will be presented - including six world premiere models* and two premiere models for Japan. Motorcycles, vehicles with leaning multi-wheelers (LMW), electric commuter vehicles, electrically assisted bicycles and an unmanned autonomous vehicle solution will be shown. In addition, the company's technological developments, which are aimed at 2030 as part of the long-term vision "ART for Human Possibilities", will be presented at the booth.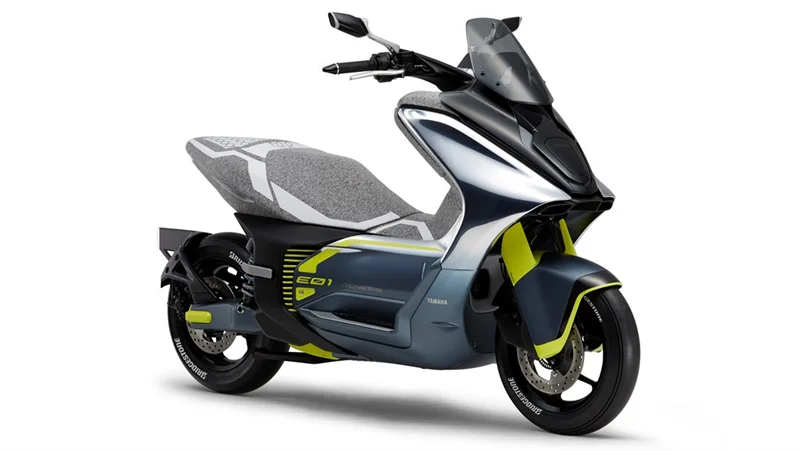 The most important motorcycle exhibits that will be on display there:

E01 (reference vehicle)
This commuter model for the city (performance comparable to a 125cc scooter engine) can be recharged quickly and offers a wide range, comfort and much more when driving within the city. Combining Yamaha scooter and electric vehicle technologies, it offers practical possibilities for daily use and riding comfort far above the traditional scooter. In addition to high comfort, this model offers a design that emphatically reflects the highlights of the new generation in sports styling.
E02 (reference vehicle)
This next-generation E02 electric commuter bike (performance comparable to a 50cc scooter engine) has been developed as a practical alternative for individual urban mobility. It features a compact, lightweight and handy design and comes with an easy-to-remove battery for charging. With a focus on driving comfort, for which electric vehicles are known, this model creates new values for electric mobility by providing even more fun and a familiar feeling. The design also visually accentuates the battery and the electric motor with the drive train and indicates the light and agile handling.
YPJ-YZ (reference vehicle)
The YPJ-YZ E-Bike is designed in the look of a racing motorcycle that is at home on the race track. The mass-centralized chassis is reminiscent of the technical approach of our YZ motocross models (positioning of the chassis weight in the middle of the vehicle for optimal handling), whereby the undertube is divided into two parts and encloses the battery unit in a unique layout. The YPJ-YZ offers stable cornering and easy handling even in rough terrain and the simple, lightweight frame shows its kinship with the YZ models. This e-bike offers a stimulating and extraordinary driving experience with a high fun factor as well as a new form for recreation in the future.
*Yamaha Motor will present two more world premiere models at the Yamaha press conference on Wednesday, October 23, starting at 9:30 a.m. So, keep your eyes on it.
Premiere models for Japan - Models making their debut as a novelty in Japan at the Tokyo Motor Show
YZF-R1 (reference vehicle)
As Yamaha's flagship supersport motorcycle, the latest YZF-R1 has been developed according to the "Maximum Control for Supersport Enthusiasts" concept with a high performance potential for racetrack victories. The crossplane engine meets the EU5 emission standards and has been further developed. There are also two other electronic assistance systems on board: Engine Brake Management (EBM) and Brake Control (BC). The further development of various chassis parts takes the performance of the model to a new level, which is geared towards the racetrack. *Specification for Europe
Ténéré 700 (reference vehicle)
This adventure bike is powered by a liquid-cooled two-cylinder in-line engine with a 270-degree crankshaft and 668 cc displacement. It combines a lightweight chassis that also offers the driver high driving comfort, with sporty attributes, excellent durability, service friendliness, baggage transport options and much more. It also offers a balanced balance of the respective characteristics required for off-road driving, adventure trips or tours. A variety of weight-reducing technologies have also made this model about 10 kg lighter than its predecessor XTZ660. *Specification for Europe
NIKEN GT (production vehicle)
Based on the 850cc NIKEN model with tilting technology, which features both excellent cornering and onboard features for a high-quality excursion experience, this model offers additional comfort to further improve its touring options. This is ensured by the standard equipment, such as the large cladding disc for improved protection, heating handles, a model-specific bench for increased comfort, a 12V DC socket and a main stand.
YZ450FX (reference vehicle)
Based on the first-class YZ450F motocross model, the YZ450FX delivers the performance and features desired in Enduro races. Its settings are designed for an Enduro-specific competitive motorcycle, with light and agile handling, an engine that is tuned for good pull at high speeds and much more. The motorcycle of Japanese National Cross-Country (JNCC) rider Kenji Suzuki will be on display. *JNCC specification for Enduro models
TY-E (reference vehicle)
This electric trial bike is an advanced prototype and was developed as part of Yamaha's in-house technological research and development program. The monocoque frame made of carbon fiber reinforced plastic (CFRP) is equipped with a compact, high-performance electric motor that delivers high torque at low speeds and easy-to-control acceleration to overcome the obstacles at trial events. The TY-E was ridden by Kenichi Kuroyama in the FIM Trial-E Cup and finished second in the 2018 and 2019 race series.