New motorcycle registrations January 2023
Bike sales: The year 2023 starts well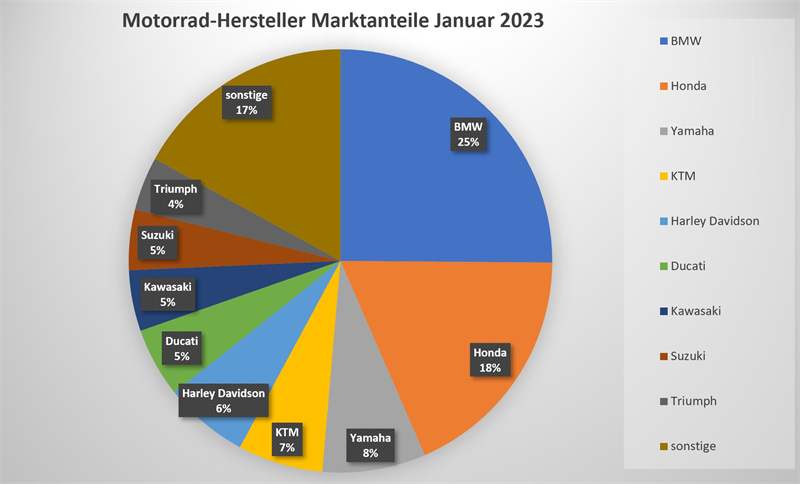 This is how it can continue: +3.2% compared to the previous year.
The numbers of newly registered motorcycles of January 2023 are in. According to IVM, 4,598 motorcycles (everything except scooters and 125cc) were sold in Germany in the first month of the year. In contrast to the strong sales months of March to May, this sounds like little, but compared to January 2022, it is not bad at all.
 
As always, the market leader is BMW with a market share of over 25 percent. Honda remains in 2nd place with a strong 18%, followed by Yamaha and KTM, which already have single-digit market shares. Suzuki is slowly but surely on the rise again: The market share in January 2023 was 4.6% - 9th place ahead of Triumph.
With the best-selling motorcycles Kawasaki surprises - unfortunately negative: The other sales guarantors Z900 and Z650 still weaken a little. Only 31 units of the revised Z650 were sold in January. There must be problems with availability. Another surprise: The Suzuki V-Strom 1050V-Strom in 5th place! Also very strong: The Honda CB 650 R in 2nd place behind the eternal nerd BMW GS. Well, with the still weak sales figures, even the smallest swings can cause immediate movement.
Top 50 Motorcycles Germany January 2023
| | | | | |
| --- | --- | --- | --- | --- |
| Rank | Model | Model | Piece | Share |
| 1 | BMW | R 1250 GS | 419 | 9.11% |
| 2 | Honda | CB 650 R NEO SPORTS CAFE | 139 | 3.02% |
| 3 | Honda | CRF 1100 AFRICA TWIN | 130 | 2.83% |
| 4 | BMW | F 900 R | 99 | 2.15% |
| 5 | Suzuki | DL 1050 V CURRENT | 83 | 1.81% |
| 6 | BMW | S 1000 XR | 82 | 1.78% |
| 7 | Yamaha | MT-09 | 74 | 1.61% |
| 8 | Kawasaki | Z 900 | 69 | 1.50% |
| 9 | BMW | F 750 GS | 63 | 1.37% |
| 10 | Yamaha | MT-07 | 63 | 1.37% |
| 11 | Honda | CMX 500 REBEL | 62 | 1.35% |
| 12 | BMW | F 900 XR | 61 | 1.33% |
| 13 | Honda | CRF 300 X | 60 | 1.30% |
| 14 | Honda | NC 750 X | 59 | 1.28% |
| 15 | Honda | CBR 650 R | 54 | 1.17% |
| 16 | Honda | CB 1000 R NEO SPORTS CAFE | 51 | 1.11% |
| 17 | Honda | CB 500 F | 51 | 1.11% |
| 18 | Beta engine | RR 300 | 49 | 1.07% |
| 19 | Yamaha | YZF-R7 | 49 | 1.07% |
| 20 | KTM | EXC 300 | 47 | 1.02% |
| 21 | KTM | 390 DUKE | 46 | 1.00% |
| 22 | Honda | CB 500 X | 44 | 0.96% |
| 23 | Honda | NT 1100 | 44 | 0.96% |
| 24 | Moto-Guzzi | V100 MANDELLO | 44 | 0.96% |
| 25 | Yamaha | TÉNÉRÉ 700 | 44 | 0.96% |
| 26 | Suzuki | GSX-S 1000 | 43 | 0.94% |
| 27 | BMW | S 1000 RR | 43 | 0.94% |
| 28 | Suzuki | SV 650 | 42 | 0.91% |
| 29 | BMW | S 1000 R | 41 | 0.89% |
| 30 | Ducati | MULTISTRADA V4 | 40 | 0.87% |
| 31 | Honda | CBR 500 R | 40 | 0.87% |
| 32 | Aprilia | RS 660 | 40 | 0.87% |
| 33 | BMW | F 850 GS | 40 | 0.87% |
| 34 | Husqvarna | 701 SUPERMOTO | 39 | 0.85% |
| 35 | BMW | R 1250 RT | 39 | 0.85% |
| 36 | Ducati | MONSTER 950 | 38 | 0.83% |
| 37 | Harley-Davidson | STREET BOB 114 | 38 | 0.83% |
| 38 | KTM | 690 SMC | 36 | 0.78% |
| 39 | Honda | CB 750 HORNET | 35 | 0.76% |
| 40 | Harley-Davidson | SPORT GLIDE | 34 | 0.74% |
| 41 | Harley-Davidson | LOW RIDER ST | 33 | 0.72% |
| 42 | Royal Enfield | HIMALAYAN | 32 | 0.70% |
| 43 | Kawasaki | Z 650 | 31 | 0.67% |
| 44 | Honda | X-ADV 750 | 29 | 0.63% |
| 45 | Husqvarna | 701 ENDURO | 29 | 0.63% |
| 46 | BMW | R NINE T | 28 | 0.61% |
| 47 | Yamaha | TRACER 900 | 28 | 0.61% |
| 48 | Ducati | HYPERMOTARD 950 | 25 | 0.54% |
| 49 | Harley-Davidson | PAN AMERICA | 25 | 0.54% |
| 50 | Yamaha | YZF-R3 | 25 | 0.54% |