Motorcycle new registrations October 2020
Up 57 percent compared to 2019
Since May, new registrations for motorcycles have only moved in one direction: upwards! In October 2020, a total of 12,690 motorized two-wheelers were registered in Germany. In the previous year, there were 8,044.
If you look only at motorcycles (no 125s, no scooters), the increase in October 2020 compared to October 2019 is still a very good 33.45 percent. 6,630 "big motorcycles" were able to bring the dealers to the man throughout Germany (Oct. 2019: 4,968).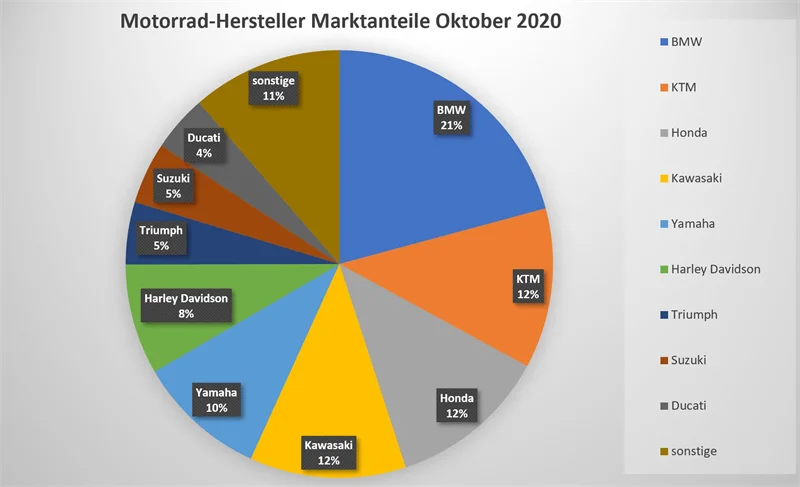 There are minor changes in the market shares of the manufacturers: BMW loses slightly to 20.8 percent, behind KTM, Honda and Kawasaki change places (see chart). Royal Enfield (37%) has seen the biggest increases so far in 2020. and Indian (47%) Look forward. Behind these two manufacturers, even established suppliers such as Aprilia and Moto Guzzi have to sort themselves in.
Top 50 best-selling motorcycles January to October 2020
| Manufacturer | | model | quantity |
| --- | --- | --- | --- |
| 1 | Bmw | R 1250 GS | 8.392 |
| 2 | Kawasaki | Z 900 | 3.645 |
| 3 | Yamaha | MT-07 | 3.007 |
| 4 | Kawasaki | Z 650 | 2.888 |
| 5 | Ktm | 690 SMC | 2.251 |
| 6 | Ktm | 790 DUKE | 2.194 |
| 7 | Ktm | 390 DUKE | 2.059 |
| 8 | Yamaha | Ténéré 700 | 2.023 |
| 9 | Honda | CMX 500 REBEL | 1.967 |
| 10 | Honda | CRF 1100 AFRICA TWIN | 1.699 |
| 11 | Bmw | S 1000 XR | 1.602 |
| 12 | Suzuki | SV 650 | 1.589 |
| 13 | Bmw | F 900 R | 1.564 |
| 14 | Bmw | R 1250 RS | 1.450 |
| 15 | Suzuki | GSX-S 750 | 1.393 |
| 16 | Yamaha | MT-09 | 1.324 |
| 17 | Honda | NC 750 X | 1.314 |
| 18 | Ktm | 790 ADVENTURE | 1.303 |
| 19 | Bmw | R 1250 R | 1.267 |
| 20 | Bmw | F 900 XR | 1.263 |
| 21 | Bmw | S 1000 RR | 1.255 |
| 22 | Ktm | 1290 SUPERDUKE R | 1.219 |
| 23 | Kawasaki | NINJA 650 | 1.218 |
| 24 | Yamaha | MT-09 TRACER | 1.215 |
| 25 | Honda | CB 500 F | 1.166 |
| 26 | Ktm | 1290 SUPER ADVENTURE | 1.144 |
| 27 | Husqvarna | 701 SUPERMOTO | 1.119 |
| 28 | Kawasaki | VULCAN S | 1.108 |
| 29 | Honda | CB 650 R NEO SPORTS CAFE | 1.034 |
| 30 | Kawasaki | Z 900 RS | 1.033 |
| 31 | Harley-Davidson | STREET BOB | 1.027 |
| 32 | Harley-Davidson | XL 1200 X | 997 |
| 33 | Royal Enfield | CONTINENTAL GT 650 | 981 |
| 34 | Bmw | F 750 GS | 953 |
| 35 | Ducati | STREETFIGHTER V4 | 950 |
| 36 | Moto-Guzzi | V85 TT | 890 |
| 37 | Suzuki | DL 650 V-STROM | 837 |
| 38 | Honda | CBR 500 R | 831 |
| 39 | Bmw | R 1250 RT | 819 |
| 40 | Bmw | F 850 GS | 788 |
| 41 | Triumph | ROCKET 3 | 741 |
| 42 | Honda | CB 1000 R NEO SPORTS CAFE | 737 |
| 43 | Harley-Davidson | SPORT GLIDE | 697 |
| 44 | Royal Enfield | BULLET ELECTRA | 688 |
| 45 | Kawasaki | NINJA 1000 SX | 678 |
| 46 | Bmw | S 1000 R | 676 |
| 47 | Honda | NC 750 S | 667 |
| 48 | Ktm | 890 DUKE | 655 |
| 49 | Yamaha | XSR700 | 646 |
| 50 | Honda | CB 650 R NEO SPORTS CAFE | 639 |