New motorcycle registrations August 2021
As in July: Again a minus compared to 2020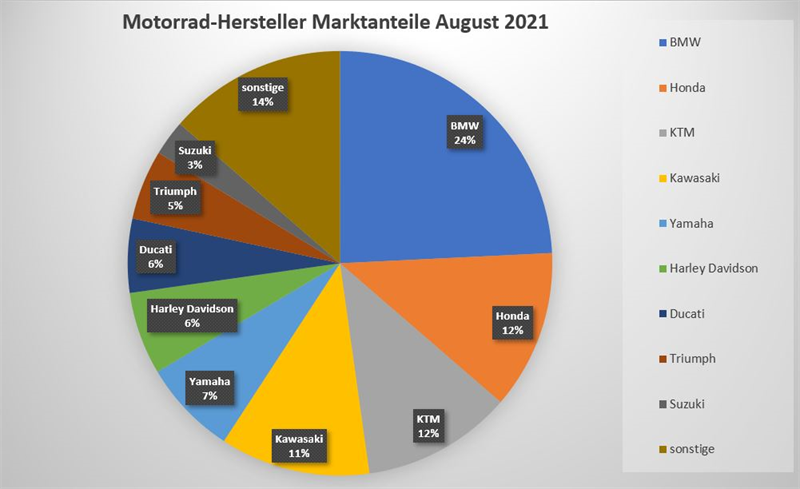 Graphics: motorradtest.de
New motorcycle registrations: August disappointed
As in July, the current motorcycle registration figures for August 2021 do not look particularly good. Minus 16 percent compared to August 2020 speak a clear language. Already in July, the motorcycle registration figures had not been good at -23 percent.
The main reason for the poor numbers is indirectly due to the corona pandemic. The demand for motorcycles continues to be strong, but many manufacturers can supply no or not enough motorcycles - much to the annoyance of the dealers, some of whom suffer massively from the supply bottlenecks.
 
There was little movement in the market shares of the manufacturers. BMW lost slightly to 24.24 percent, but still has twice as many bikes to sell as the second-placed Honda. In third and fourth place are KTM and Kawasaki with a market share of about 11 to 12 percent, which is almost identical to Honda.
Top 50 Best Selling Motorcycles January to August 2021
| | | | |
| --- | --- | --- | --- |
| 1 | BMW | R 1250 GS | 8.150 |
| 2 | Kawasaki | Z 900 | 3.615 |
| 3 | Kawasaki | Z 650 | 2.559 |
| 4 | Yamaha | MT-07 | 1.917 |
| 5 | Honda | CRF 1100 AFRICA TWIN | 1.827 |
| 6 | BMW | F 900 R | 1.699 |
| 7 | KTM | 690 SMC | 1.660 |
| 8 | KTM | 890 DUKE | 1.541 |
| 9 | Yamaha | Ténéré 700 | 1.468 |
| 10 | KTM | 390 DUKE | 1.464 |
| 11 | Honda | CMX 500 REBEL | 1.376 |
| 12 | BMW | S 1000 XR | 1.304 |
| 13 | Honda | NC 750 X | 1.295 |
| 14 | BMW | F 900 XR | 1.257 |
| 15 | BMW | R 18 | 1.233 |
| 16 | KTM | 1290 SUPER ADVENTURE | 1.149 |
| 17 | KTM | 1290 SUPERDUKE R | 1.134 |
| 18 | Triumph | TRIDENT 660 | 1.093 |
| 19 | Husqvarna | 701 SUPERMOTO | 1.089 |
| 20 | Kawasaki | NINJA 650 | 1.054 |
| 21 | Honda | CB 650 R NEO SPORTS CAFE | 1.042 |
| 22 | BMW | F 750 GS | 1.030 |
| 23 | Honda | CB 650 R NEO SPORTS CAFE | 1.023 |
| 24 | Honda | CBR 650 R | 1.015 |
| 25 | Kawasaki | VULCAN S | 1.008 |
| 26 | BMW | R 1250 RT | 989 |
| 27 | Ducati | MULTISTRADA V4 | 981 |
| 28 | BMW | S 1000 R | 959 |
| 29 | Honda | CB 500 F | 930 |
| 30 | BMW | R 1250 R | 882 |
| 31 | Aprilia | RS 660 | 879 |
| 32 | BMW | S 1000 RR | 865 |
| 33 | BMW | R 1250 RS | 864 |
| 34 | KTM | 790 DUKE | 805 |
| 35 | Suzuki | SV 650 | 798 |
| 36 | Kawasaki | Z 900 RS | 746 |
| 37 | Ducati | SCRAMBLER | 740 |
| 38 | Yamaha | MT-09 TRACER | 728 |
| 39 | Yamaha | MT-09 | 701 |
| 40 | Harley-Davidson | SPORT GLIDE | 685 |
| 41 | Moto-Guzzi | V85 TT | 681 |
| 42 | Harley-Davidson | STREET BOB 114 | 667 |
| 43 | Ducati | STREETFIGHTER V4 | 650 |
| 44 | Ducati | MONSTER 950 | 641 |
| 45 | Harley-Davidson | BREAKOUT 114 | 630 |
| 46 | Triumph | ROCKET 3 | 620 |
| 47 | Yamaha | TRACER 700 | 612 |
| 48 | KTM | 890 ADVENTURE R | 590 |
| 49 | Kawasaki | NINJA 1000 SX | 586 |
| 50 | BMW | NINE T | 582 |