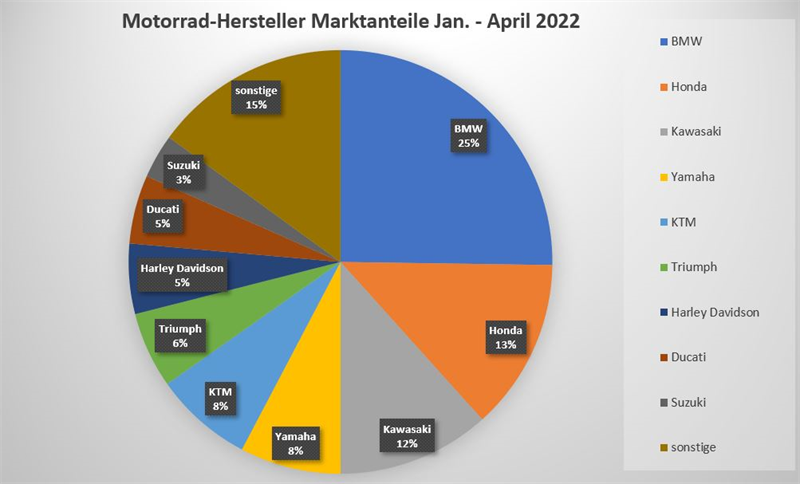 Graphics: motorradtest.de | Data source: IVM
Sales figures in 2022 are losing some momentum
The registration figures for April 2022 for motorcycles in Germany are in. Compared to the previous year, 1.41 percent fewer two-wheelers were sold, if you look only at motorcycles (everything except 125cc and scooters) it is even just under 9 percent.
According to IVM, exactly 13,127 motorcycles were sold in April 2022. In April 2021, there were still 14,403, which is about the same amount. In the previous months January to March, the sales figures in 2022 were still significantly higher than in the previous year, so the sales figures are losing some momentum. The manufacturer Triumph was able to grow the most in April 2022, the gap to KTM melts to only 1.7%. On the other hand, the cumulative order of market shares from January to April 2022 has not changed (see chart).
Even with the most popular bikes, little has changed. As always, the BMW R1250GS greets from above, followed by the mid-range naked bikes. Striking: Most of the bestsellers are technically rather simple bikes without a lot of frills, including the Yamaha Ténéré 700 in sixth place.
TOP 50 best-selling motorcycles January to April 2022
| # | Manufacturer | Model | Quantity |
| --- | --- | --- | --- |
| 1 | BMW | R 1250 GS | 4.217 |
| 2 | Kawasaki | Z 900 | 1.419 |
| 3 | Yamaha | MT-07 | 1.123 |
| 4 | Honda | CB 650 R NEO SPORTS CAFE | 950 |
| 5 | Kawasaki | Z 650 | 949 |
| 6 | Yamaha | Ténéré 700 | 883 |
| 7 | Honda | CRF 1100 AFRICA TWIN | 863 |
| 8 | Honda | CMX 500 REBEL | 686 |
| 9 | BMW | S 1000 R | 656 |
| 10 | Honda | CBR 650 R | 618 |
| 11 | KTM | 890 DUKE | 570 |
| 12 | Kawasaki | VULCAN S | 553 |
| 13 | Kawasaki | Z 900 RS | 552 |
| 14 | Husqvarna | 701 SUPERMOTO | 515 |
| 15 | BMW | S 1000 RR | 513 |
| 16 | Suzuki | SV 650 | 501 |
| 17 | BMW | S 1000 XR | 494 |
| 18 | BMW | F 900 R | 482 |
| 19 | Honda | CB 500 F | 472 |
| 20 | KTM | 390 DUKE | 463 |
| 21 | KTM | 690 SMC | 455 |
| 22 | Kawasaki | NINJA 650 | 453 |
| 23 | Harley-Davidson | SPORTSTER S | 451 |
| 24 | Honda | NC 750 X | 446 |
| 25 | Ducati | MONSTER 950 | 445 |
| 26 | BMW | R 1250 R | 434 |
| 27 | BMW | G 310 R | 431 |
| 28 | BMW | F 900 XR | 423 |
| 29 | KTM | 1290 SUPERDUKE R | 423 |
| 30 | Triumph | TRIDENT 660 | 410 |
| 31 | Suzuki | GSX-S 1000 | 408 |
| 32 | BMW | R 1250 RT | 402 |
| 33 | Aprilia | RS 660 | 400 |
| 34 | Yamaha | MT-09 | 392 |
| 35 | Kawasaki | Z 650 RS | 376 |
| 36 | Ducati | MULTISTRADA V4 | 373 |
| 37 | BMW | F 750 GS | 369 |
| 38 | BMW | R 1250 RS | 358 |
| 39 | Royal Enfield | METEOR 350 | 354 |
| 40 | Honda | NT 1100 | 324 |
| 41 | KTM | 1290 SUPER ADVENTURE | 314 |
| 42 | Moto-Guzzi | V85 TT | 299 |
| 43 | BMW | R 18 | 296 |
| 44 | Honda | CB 1000 R NEO SPORTS CAFE | 291 |
| 45 | KTM | 890 ADVENTURE R | 288 |
| 46 | Harley-Davidson | PAN AMERICA | 285 |
| 47 | Yamaha | MT-09 TRACER | 265 |
| 48 | Triumph | TIGER 900 RALLY/GT | 262 |
| 49 | BMW | F 850 GS | 260 |
| 50 | BMW | R NINE T PURE | 258 |