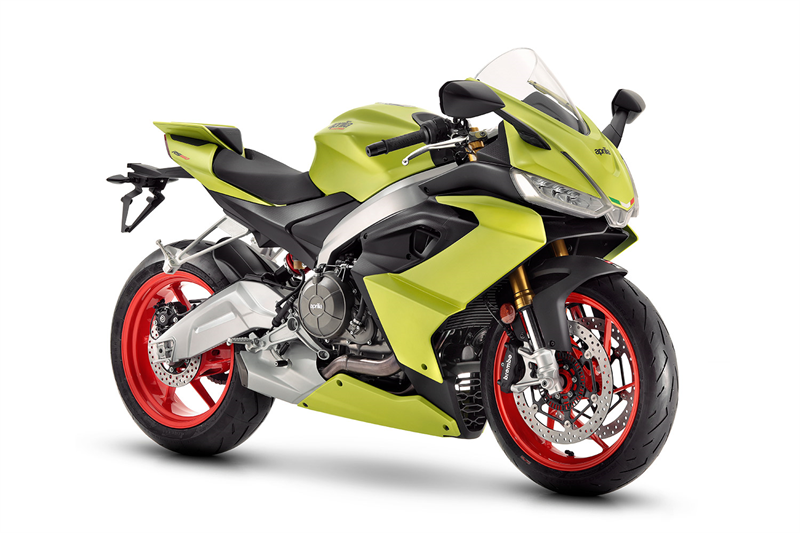 Photo: Aprilia (Work)
It gets better every month
The year 2021 started terribly with regard to the newly registered motorcycles - and is now getting noticeably better month after month. In April 2021, new registrations of 14,403 machines exceeded 125 cc (without scooters). This is an increase of almost 20 percent compared to the previous year.
 
The IVM figures show a clear upward trend in comparison with the previous year:
January: -50%
February: -15.75%
March: +8.21%
April: +19.39%
 
We can already look forward to seeing what the summer will be like. However, the comparative figures are lagging behind, as the Corona lockdown in 2020 did not take place until March and this year the second lockdown had already taken place in January. In contrast to 2020, many motorcycle dealers are also struggling with delivery problems this year. Corona and the container freighter left in the Suez Canal are the causes. The biggest winner in the bikes sold is Aprilia, with an increase of 61.8% compared to the previous year. The absolute numbers are still quite low with 864 bikes sold in Germany, so that it is only enough for 11th place in the statistics of the IVM - nevertheless a success for the Italians from Noale thanks to the RS 660.
Market shares of manufacturers
Not much has changed in terms of market shares from January to April 2021. BMW is in first place with 30 percent, followed by KTM, Kawasaki, Honda and Yamaha.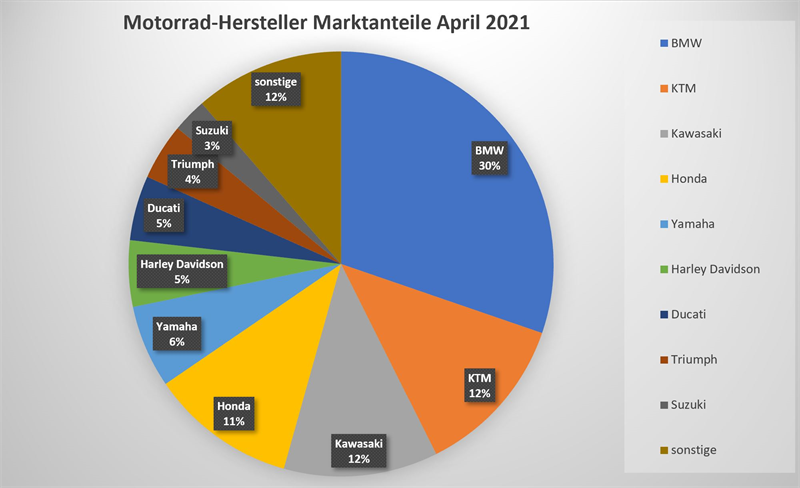 Top 50 Motorcycles January - April 2021
| Manufacturer | | model | quantity |
| --- | --- | --- | --- |
| 1 | BMW | R 1250 GS | 4.565 |
| 2 | Kawasaki | Z 900 | 1.569 |
| 3 | Kawasaki | Z 650 | 1.147 |
| 4 | Honda | CRF 1100 AFRICA TWIN | 952 |
| 5 | BMW | F 900 R | 911 |
| 6 | BMW | S 1000 XR | 828 |
| 7 | KTM | 690 SMC | 821 |
| 8 | BMW | R 18 | 806 |
| 9 | BMW | F 900 XR | 777 |
| 10 | KTM | 390 DUKE | 690 |
| 11 | Yamaha | Ténéré 700 | 616 |
| 12 | BMW | F 750 GS | 602 |
| 13 | Honda | CBR 650 R | 565 |
| 14 | Honda | CB 650 R NEO SPORTS CAFE | 562 |
| 15 | BMW | S 1000 RR | 561 |
| 16 | KTM | 890 DUKE | 559 |
| 17 | KTM | 1290 SUPER ADVENTURE | 14° |
| 18 | Kawasaki | VULCAN S | 539 |
| 19 | Yamaha | MT-07 | 525 |
| 20 | BMW | R 1250 R | 519 |
| 21 | Honda | CMX 500 REBEL | 11° |
| 22 | BMW | R 1250 RS | 70s |
| 23 | KTM | 790 DUKE | 473 |
| 24 | BMW | R 1250 RT | 469 |
| 25 | Husqvarna | 701 SUPERMOTO | 435 |
| 26 | KTM | 1290 SUPERDUKE R | 391 |
| 27 | Kawasaki | Z 900 RS | 389 |
| 28 | Honda | NC 750 X | 380 |
| 29 | Suzuki | SV 650 | 372 |
| 30 | Ducati | MULTISTRADA V4 | 362 |
| 31 | Kawasaki | NINJA 650 | 358 |
| 32 | Kawasaki | NINJA 1000 SX | 345 |
| 33 | triumph | TRIDENT 660 | 344 |
| 34 | Ducati | Scrambler | 342 |
| 35 | Aprilia | RS 660 | 332 |
| 36 | BMW | NINE T | 317 |
| 37 | BMW | F 850 GS | 312 |
| 38 | Ducati | STREETFIGHTER V4 | 311 |
| 39 | Yamaha | TRACER 700 | 306 |
| 40 | triumph | TIGER 900 RALLEY/GT | 300 |
| 41 | Yamaha | MT-09 | 292 |
| 42 | KTM | 890 ADVENTURE R | 291 |
| 43 | Indian Motorcycle | SCOUT BOBBER | 274 |
| 44 | Suzuki | DL 1050 V-STROM | 271 |
| 45 | Honda | CB 500 F | 268 |
| 46 | Moto-Guzzi | V85 TT | 260 |
| 47 | BMW | R NINE T SCRAMBLER | 259 |
| 48 | Harley-Davidson | BREAKOUT 114 | 251 |
| 49 | Honda | CB 1000 R NEO SPORTS CAFE | 245 |
| 50 | Royal Enfield | BULLET ELECTRA | 242 |