Suzuki V-Strom 800 DE is the motorcycle of the year 2023
Suzuki takes 1st place in our Motorcycle of the Year poll
The election for the Motorcycle of the Year 2023 has ended. Over 22,000 votes were cast by motorradtest.de's readers and viewers. The Suzuki V-Strom 800 DE secured 1st place ahead of the Triumph Street Triple 765 R and the Yamaha Tracer 9 GT+.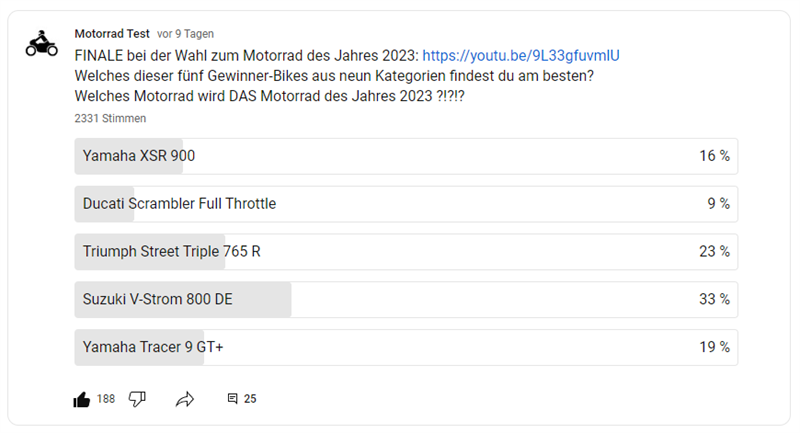 Here's how our users voted.
The Suzuki V-Strom 800 DE snatches the crown with 33% of the votes cast. The Triumph comes in at 23% and the Tracer at 19%. Also from Yamaha, the XSR 900 lands in 4th place ahead of the Ducati Street Scrambler Full Throttle. These five motorcycles in the final vote had previously prevailed in nine category votes. In this respect, it is fair to say that all these bikes are real winners!
Nevertheless, our special congratulations go to Suzuki for winning 1st place. The V-Strom 800 DE had already prevailed at the Alpen-Masters 2023 of the magazine MOTORRAD. Our users have now confirmed this vote, so there must be something to this great travel enduro!
The election for the Motorcycle of the Year 2023 at motorradtest.de is now over. Please do not vote anymore and do not send any more e-mails. The raffle is also over, the winners of the raffle have already been informed by e-mail.
Many thanks to all participants and thanks again to the sponsors of our competition: MSA, Moto-Fun, Held, BMW, ADAC Embsen, SENA, Harley Davidson Kiel, Triumph, Motorrad Ruser, Royal Enfield and Brixton.