Motea Deals: 25 percent off everything!
Save a lot on motorcycle accessories until Saturday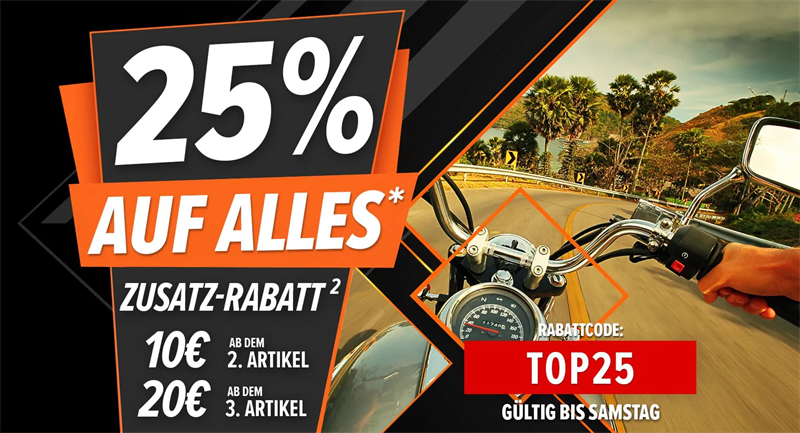 And off we go!
At Motea there is from now on and until Saturday evening a nice deal action, which we do not want to withhold from you. With the discount code "TOP25" you get a 25 percent discount on all products that you can shop at Motea. And if you are in the right shopping mood or coming, you will get another 10 Euro additional discount on the 2nd article and 20 Euro on the 3rd article! That should be worth it.
If you don't know Motea yet: At Motea there are a lot of accessories for motorcycles and motorcyclists, e.g. luggage system, levers, mounting stands, tools, electronics, mirrors etc. What I strangely didn't find are detergents and chain spray. Damn, that's exactly what I wanted to order. Well, maybe you have other needs, so take a look at Motea.de. Happy shopping!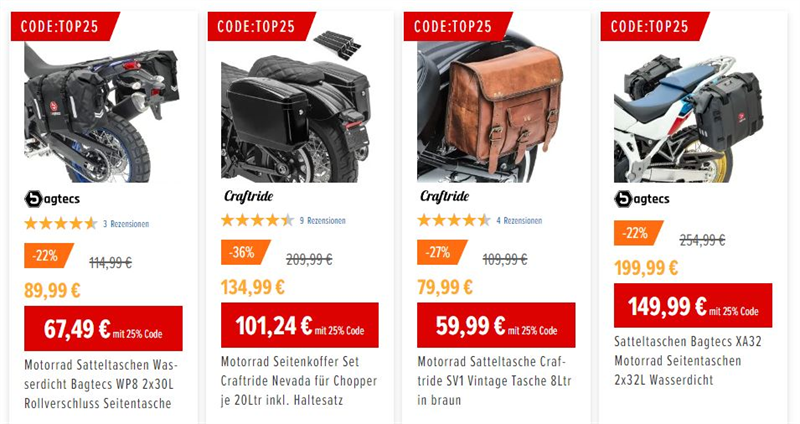 There's also a deal at Louis right now
At Louis, there is currently a special stock of second-hand motorcycle jackets and trousers
in the Hamburg warehouse
: individual second-hand pieces in top quality. Secure bargains, do good and extend the life of high-quality motorcycle clothing for a second adventure. As I said, unfortunately not online, but only from the Hamburg warehouse. 
Jackets for 60 € - trousers for 40 €.
Many brands - many sizes!