Kawasaki Days in Speyer
Green party with 6,000 guests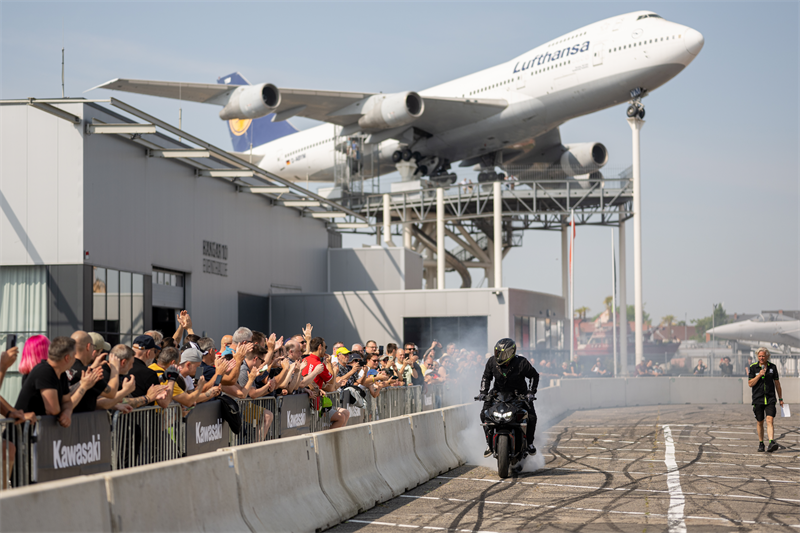 Photos: Kawasaki
Sunny weather and a lot of good mood at the Kawasaki Days 2023 at the Technik Museum Speyer: On June 17 and 18, a varied program awaited all fans and friends of the brand. And many, many came: On both days, a total of around 6,000 visitors were counted.

The Kawasaki Days at the Technik Museum Speyer have been one of the highlights in the calendar of motorcycle fans for several years. And this year, too, many bikers flocked to the specially equipped two-wheeler parking lot in the best summer weather. This zone then automatically became an additional attraction in the program, because there you could discover many treasures. Classic and new Kawasaki models, but also numerous icons of other brands could be admired there. The big program started on Saturday at 10:00 a.m. on the festival grounds: motorcycle stunts and breathtaking MX freestyle action brought the audience up to operating temperature, which was additionally fueled by event moderator and press spokesman Andi Seiler. A real crowd puller were the steep wall riders, who did breathtaking laps with their bikes on the wooden walls in their arena. There was a lot to see on the dealer and partner mile and to discuss with the representatives of companies and institutions.

In the hangar at the festival grounds there was enough space for relaxation. Shade, ample seating, and the museum's catering ensured that everyone could recharge their batteries. Attractions included the ever-popular gummy bear throwing machine and a manufacturing robot from Kawasaki Robotics that spun the Z EV electric motorcycle through the air. At the same time, the Ninja EV, the hybrid Ninja HEV and the Ninja ZX-4RR, which was presented as a German premiere, were also shown. In addition, the event stage with the live mobile of the radio station REGENBOGEN 2 was located here. On stage, various manufacturers presented accessories and fashion for the community. Another highlight followed with the handing over of the cheque to the "Aktion Deutschland Hilft". The donation sum of 13,000 euros was the highest bid in the bidding competition for a Z900, which the well-known YouTuber Jens Kuck had previously refined. On Sunday, the winner of the RAINBOW 2 competition also received his new Z650RS. Also very interesting: The youngest world traveler Bridget McCutchen introduced herself and her travel experiences on a Versys X-300 to the astonished audience.

In addition, the test drive fleet of Kawasaki's roadshow team was in continuous operation during the two days. In the high summer temperatures, no less than 380 test drives took place in the Speyer area. All this made the Kawasaki Days a complete success for Kawasaki again in 2023.