Approvals for over 1,500 motorcycle types
- new online tool from Michelin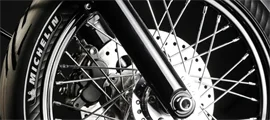 Photo: Michelin
Michelin tyre variety for the motorcycle: for the cruiser and supertour tyre MICHELIN Commander III and the sporty MICHELIN Power Experience in the form of the Power 5, Power GP and Power Cup 2 tires, more than 1,000 approvals (285 for the Commander III and 843 for the Power Experience) for tyre conversion are now available. This means that Michelin's motorcycle tyre product portfolio is even broader and now includes 25,172 motorcycle tyre combinations and approvals for more than 1,500 motorcycle models.

Important guidance: online faster to optimal tires
The MICHELIN online tool under https://www.michelin.de/motorbike/startseite-motorrad is a quick and uncomplicated guide in the search for the optimal MICHELIN tyre. More than 1,700 tyre approvals have already been made available for download there in accordance with the new tyre conversion requirements.

New regulations for tyre conversion
In addition to manufacturer's certificates, Michelin also provides service information to motorcyclists in the database. These are sufficient for motorcycles with EU type-approval as long as tyres of the same dimension are used. In addition, the Michelin online tool continues to include approvals for tyres produced before the end of 2019. The safety certificates and tyre recommendations that have been in force to date are no longer sufficient as evidence in some cases. If tyres with a date of manufacture are to be reared in a different dimension or other design from 2020, a new TÜV approval or inspection in accordance with Section 21 StVZO is required. A manufacturer's certificate is required as the basis for the desired vehicle/tyre combination, such as that available from Michelin. Tyres with a production date before the end of 2019 will be subject to a temporary transitional period. The manufacturer's certificate can serve as a test basis for the evaluation in accordance with Section 21 StVZO, but does not guarantee a successful acceptance and registration in the registration certificate.