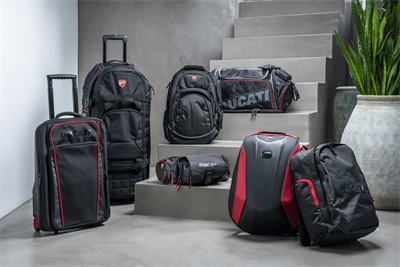 Photos: Ducati
In collaboration with Ogio, the Redline collection was created, with which Ducatisti can express their passion while traveling and in their free time
The entire Ducati 2021 collection is available at Ducati dealers and in the online shop
Ducati introduces its enthusiasts to the
Redline collection of trolleys and sports bags,
created in collaboration with the US company Ogio. This allows all Ducatisti to express their passion both when travelling and in their free time.
Top quality and innovative solutions are the characteristics that unite Ducati and Ogio. In collaboration, this
collection with practical and innovative features
was created. The collection
consists of two trolleys, three backpacks, a sports bag and an organizer.
The products are suitable for use while driving as well as for the transport of sports equipment.
All products in the Redline collection are made of durable polyester to ensure maximum resistance. In addition, from a visual point of view, they are adapted to the Ducati brand inside and out and use the corresponding colors and graphics. With the technical solutions of the products, the functional requirements are met, such as the efficient subdivision of the inner partitions, the upholstery and the impregnation
The collection includes two trolleys that allow you to travel in Ducati style: the
Redline T1
has been specially designed for the needs of a motorcyclist and has space for everything Ducatisti needs. The
Redline T2,
on the other hand, is the size of a carry-on suitcase, making it perfect for short trips. The
Redline D1
bag has multifunctional holders that allow it to be used both as a backpack and as a sports bag.
The collection is rounded off by the backpacks Redline B1, Redline B2 and Redline B3. These offer the best possible comfort in the various areas of application. The
Redline B1
is a pre-shaped backpack with an aerodynamic shape that adapts to the rider's body and is not deformed by wind. That's why it's perfect for sport-oriented drivers who are on the road. A useful accessory for motorcyclists and for everyday use is the
Redline B2,
which is equipped with adjustable shoulder straps, an additional closure over the chest, a ventilated back and a waterproof outer material. The
Redline B3
is designed to safely transport a range of items with its many pockets. The collection is rounded off by the
Redline P1
for short trips. In this organizer, both personal belongings and tools can be transported.
The Ducati Redline collection, created in collaboration with Ogio, as well as the entire Ducati 2021 Apparel collection, are now available and can be purchased from Ducati dealers or online
shops.