The new Tricity 300 takes urban mobility to a new level. The modern tricycle model impresses with the maximum increase in safety and the possibility to drive it with the driver's license.
With the new Tricity 300, Yamaha introduces a modern tricycle model with first-class equipment and high-quality manufacturing. Yamaha is taking the Urban Mobility segment to a new level. Its dynamic design brings a fresh and sporty new look to the streets of the city.
On the one hand, the Tricity 300 is aimed at commuters and people who frequently travel in urban traffic. The two large 14-inch front wheels and the 120 mm wide tyres convey front stability and maximum grip, thus ensuring greater safety in the area of urban mobility.
In addition, it is also ideal for people who have not been on a motorcycle or scooter before. In addition to the fact that the Tricity 300 is the lightest in its class, the safety aspect is also a hugely important point. Another big plus: The Tricity 300 can be driven with the driver's license! Classes 3 and B entitle you to drive without additional driving hours or tests (if issued before 18.01.2013). This, for example, allows commuters to drive a 28hp-stakes vehicle for their daily commute without an additional driver's license.
Its exclusive tilting technique "Leaning Multi Wheel" (LMW) ensures sporty, agile and safe handling with an easy-to-use character. The two front wheels provide additional stability on the front axle and an increased grip level. The braking force is increased by both front brake discs. This provides more confidence and stability.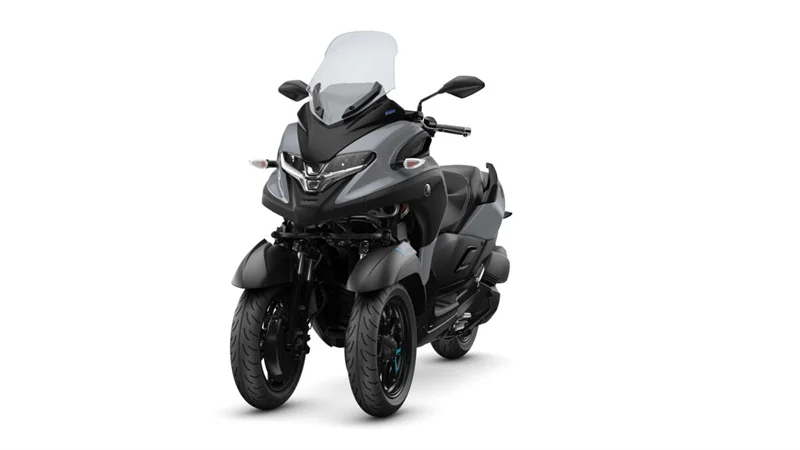 Photos: YAMAHA
Dynamic and sporty design
Design features of the successful Yamaha MAX series combined with elements from the DNA of the renowned Sport Touring motorcycle NIKEN make the Tricity 300 one of the most dynamic models in its class. The short and narrow front emphasizes the light and agile character.
Powerful, smooth and fuel-efficient BLUE CORE engine
The new Tricity 300 is powered by Yamaha's latest BLUE CORE engine, one of the most demanding engines in this category. It offers an ideal balance of performance, economy and versatility.
The liquid-cooled 1-cylinder 4-stroke OHC-4 valve engine with 300 cc displacement is based on the advanced technology of the best-selling Sport scooter XMAX 300. It provides strong acceleration with good fuel efficiency and environmental friendliness.
Premium specification
Not only is the Tricity 300 the lightest model in its class, it also features a number of premium features, including large disc brakes with combination braking system and ABS for more control on a wide range of road surfaces.
Under the bench there is a generously sized storage space. The compartment is equipped with integrated LED lighting.
Other standard equipment includes smart key operation, traction control, easy-to-read LCD instruments and a parking brake.
Standing Assist system for added comfort
An important feature of the new Tricity 300 is the Standing Assist system, which offers additional comfort. It keeps the scooter upwhen it stops.
As soon as you throttle again, the Standing Assist system is automatically deactivated so that the driver can continue smoothly and effortlessly.
New accessory packs and a wide range of original accessories
Each customer has his own unique lifestyle with different priorities. Yamaha has put together three new accessory packs with a range of carefully selected products that meet individual requirements.
The sports package includes an aerodynamic panel, a different license plate holder and aluminium footboards, providing additional dynamics and a sportier appearance.
Thanks to its stability and added safety, the Tricity 300 is ideal for all-year driving. The winter package is equipped with wind and weather protection, handle heating and hand protection brackets for increased comfort in bad weather.
The City package offers additional everyday suitability and convenience, thanks to high cladding, rear luggage rack and a 39-litre topcase. This making the Tricity 300 an ideal city vehicle with high utility value.
The individual range of accessories for the Tricity 300 is constantly being developed and the comprehensive range is complemented by a range of new products, including a selection of slip-on silencers, a catalytic converter and a comfort seat.
Each product of the three new accessory packages is also available individually. In this way, each customer can design his own Tricity 300 according to his individual needs and wishes. The easiest way to do this is with the Yamaha MyGarage app. There, a 3D model of the vehicle can be individually configured.
Price and availabilityThe Tricity 300 is available in three colours: Nimbus Grey, Tech Kamo and Gunmetal Grey. It will be available from July 2020 at an RRP of 7,999,- € – plus 400,- € manufacturer-side costs.
Key features of the Tricity 300
• Dynamic, new tricycle model for urban traffic with improved stability
• Easy to use and suitable for class 3 and B licence holders (if issued before 18.01.2013)
• Modern, smart and active design and premium quality
• Standing Assist system for even more comfort
• Economical, powerful and quiet BLUE CORE engine with 300 cc displacement
• Lowest weight in its class for high agility and easy parking
• Generously sized storage space
• LED lighting, LCD instruments and practical smart key operation
• TCS, ABS, combi brake system and parking brake