BMW Motorrad at EICMA 2019
- with a new trade fair appearance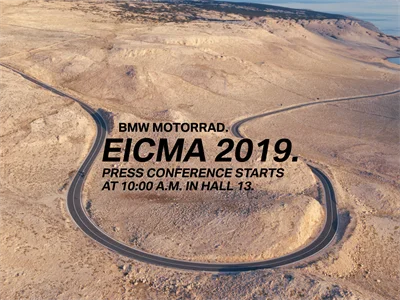 Photo: BMW Motorrad
As part of BMW Motorrad's new brand appearance, the booth at this year's EICMA from 5 to 10 November 2019 will be more exciting than ever. "Make Life A Ride" - the motto of BMW Motorrad, which sees motorcycling as a way of life and a unique, unifying experience, can be experienced here in many facets: The exhibition stand is more than ever becoming a place of encounter and exchange, a lively forum around the topic of BMW motorcycles.
Four exciting world premieres as well as further product highlights and the BMW Motorrad driver equipment for the next season will be presented. The presentation of the new products will take place during the press conference on Tuesday, 5 November 2019 from 10:00 to 10:20 in Hall 13 at the BMW Motorrad booth.
There is also the opportunity to learn more about BMW Motorrad's involvement in motorsport (14:00) and the Heritage segment (3:30 p.m.) at the BMW Motorrad booth.

The world of BMW Motorrad on over 1,000 sqm.
In the centre of the completely redesigned and modern exhibition stand is the prominently placed stage. This stage is the venue for the press conference and a varied programme that extends over the entire exhibition period. Opposite the stage, a spacious grandstand invites you to linger and listen. In addition, it is possible to find out about all models on the touch pads installed there in the configurator. Vehicles, vehicle worlds as well as other topics related to BMW Motorrad are arranged diagonally across the stand in their own themed islands and form a coherent whole. Another novelty is the integrated shop, which offers a selection of new lifestyle items.
The new trade fair concept looks open and thus enables a direct exchange between motorcycle-enthusiastic visitors and the experts from BMW Motorrad. The aim is to make the trade fair visit and the brand more approachable, interactive and tangible.
If you don't make it to the EICMA, you can also follow all activities such as the BMW Motorrad press conference via live stream on the official Facebook page of BMW Motorrad: https://www.facebook.com/BMWMotorrad.