Benelli Leoncino 125 Review
(Baujahr 2022)
What can the price cracker A1 / B195 naked bike from Benelli do?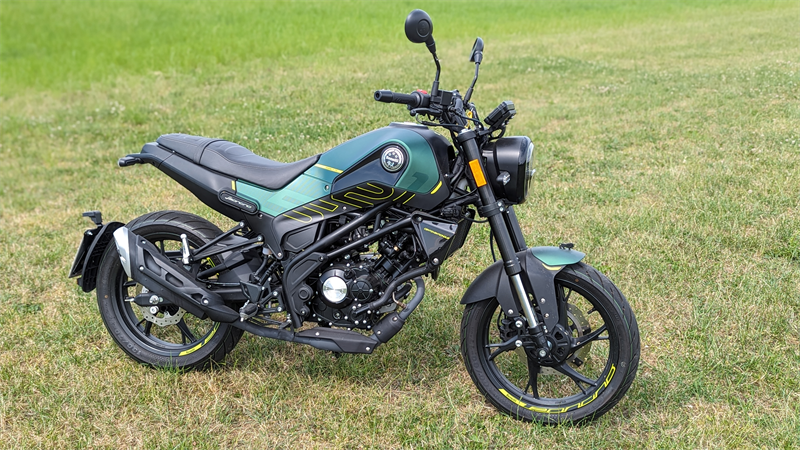 Photos: Motorradtest.de
With the Leoncino 125, Benelli has been offering an A1 bike with a very good price/performance ratio since 2022. Some of the competitors are much more expensive and so this machine should be worth a look for only 3.499 euros, especially for many younger people - just like for B196 beginners, by the way. Markus and Dietmar took a ride on the Benelli Leoncino 125 and describe their impressions here.
Introduction
The Leoncino 125 is very similar to the
Leoncino 500
, which should please the younger target group very much. It just doesn't look quite as narrow and delicate as some other 125s. Three colors are available: white, green and black. The color is complemented by yellow-green or red accents, respectively. We like the Leoncino 125 very much visually, especially since Benelli has introduced beautiful details in many places, such as lettering on the lamp mask and engine cover. Of course, a "Designed in Italy" reference should not be missing, after all, Benellis are still developed in Pesaro and built in China.

Dimensions and seat ergonomics
The seat height of the Leo 125 is moderate at 800 mm. Even smaller pilots will find a secure footing, but from 1.85 m it becomes a bit difficult with the knee angle. However, the machine offers enough space for a 125cc and Dietmar (1.84m tall) also felt quite comfortable. Unfortunately, co-driver Markus couldn't say that during the pillion seat test, the space in the back is rather tight, and there are no grab handles either. However, this is complaining at a high level, because we are not aware of any 125cc naked bike in which a passenger will find princely seat ergonomics.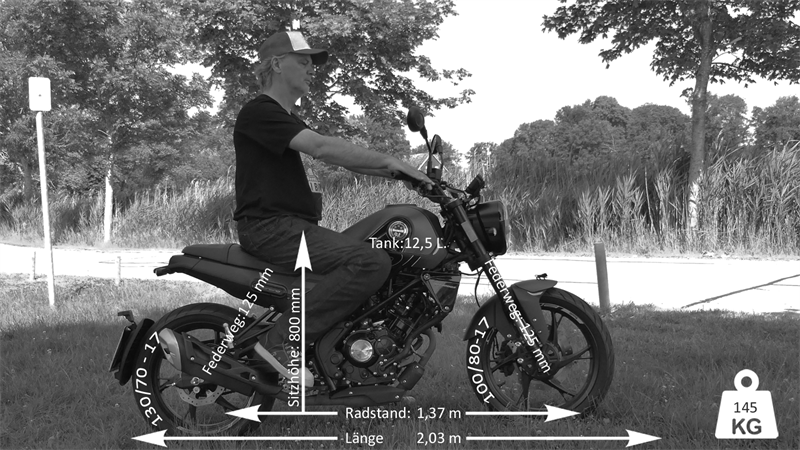 That's what it's like to sit on the Benelli Leoncino 125.
360 degree tour around the Benelli Leoncino 125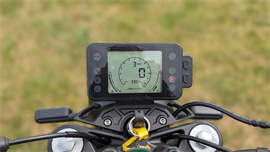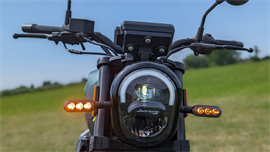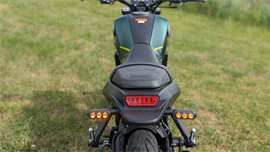 Technology of the Benelli Leoncino 125
The technical equipment of the little Leoncino is very manageable. There is an LC display with gear indicator, fuel level indicator, speedometer, tachometer and temperature gauge - that's it. Traction control or similar hats are not present. Why should it, with less than 15 hp you don't even need electronic driving aids or even assistance systems.
We are amazed at the light: full LED all around including the indicators. It is a mystery to us why some seasoned 800cc bikes (exactly, Suzuki GSX-8S) still have to make do with incandescent indicators, when even a 125cc for less than 3.500 euros demonstrates this as this Benelli.
However, the braking system of the Leoncino 125 is also puzzling to us. Instead of ABS, a combined brake is used. This means that Benelli meets the legal requirements, but in our opinion savings have been made in the wrong place. How it brakes and what this special braking system means, we clarify below.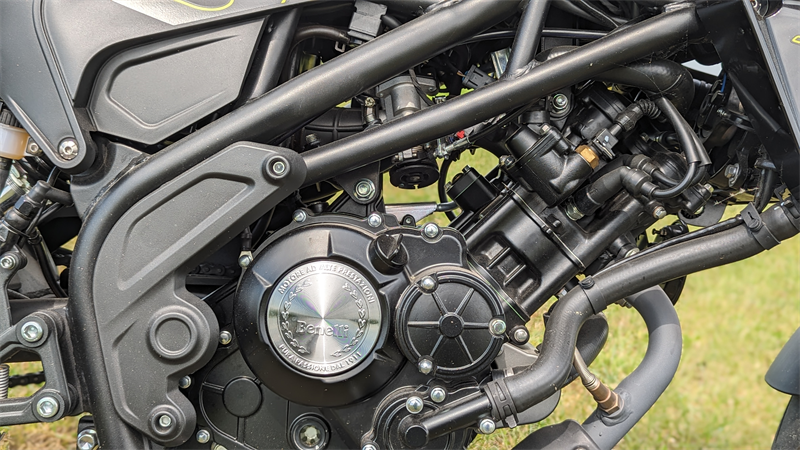 That's how it drives
The sound check of the Benelli (see top right) is typical for a 125.
It doesn't sound great and certainly not loud. If you like to be inconspicuous on the road, you will be happy. Okay, if you turn on the tap all the way, it drips a little out of the rather large pot, but of course you can't really expect a lot of sound from a 125 cc single cylinder anyway.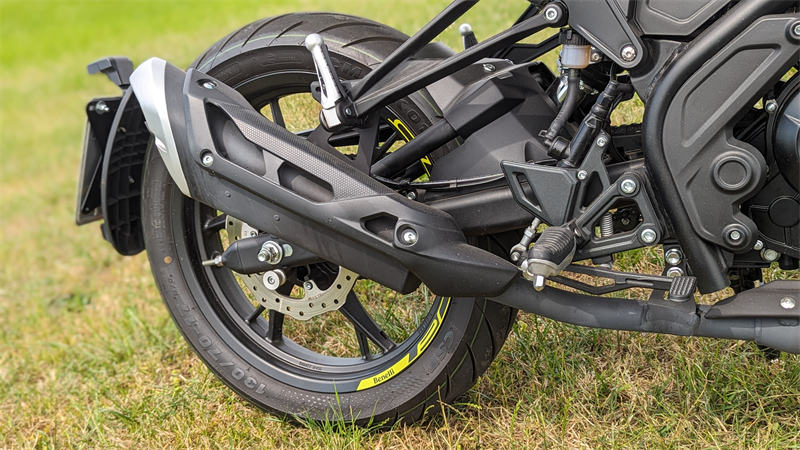 Then let's go for a spin. What is immediately noticeable: The Benelli Leoncino 125 is super manoeuvrable. No wonder, with the weight of only 145 kg ready to drive, we didn't expect anything else. Nevertheless, the Leo is quite stable and can be directed unerringly in curves without having to readjust much. That fits. The chassis is more on the soft side, which fits quite well with a 125. With a bike like that, you won't want to gas like a mentally ill person anyway, you can't do it at all.
Now back to the brakes: As I said, the Benelli brakes both front and rear when you step on the brake pedal! This results in very good deceleration values, but the machine dives in at the front and especially in curves you have to be a little careful and get used to this "method". If you like to brake only at the rear, e.g. when driving slowly in tight bends or similar situations, you have to get used to it. You can't just brake at the rear! But it's not that bad, you get used to it and as I said, the Benelli brakes very well for it - we would still have liked a classic ABS.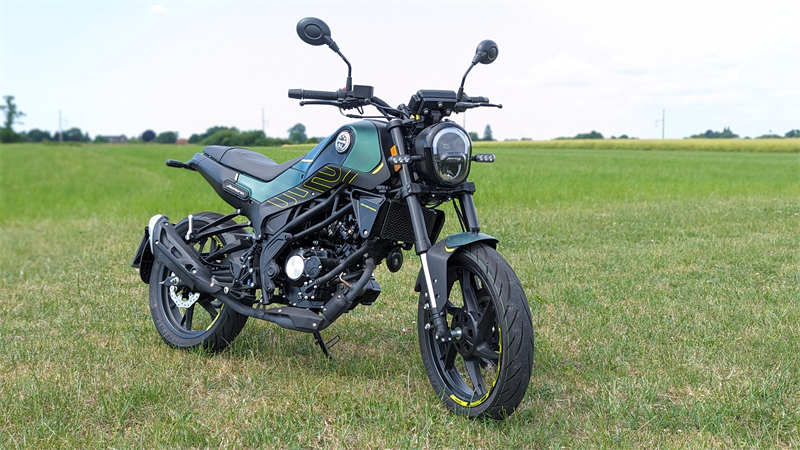 Despite only 12.8 hp, the Benelli Leoncino 125 manages the top speed of 110 km/h without much effort. Of course, all this takes a moment, but we could not find any differences from the MT-125 or Duke 125. However, you should not expect performance explosions from the Leo either. You have to turn a lot and shift a lot to make fast progress. The very short gears are a bit annoying, at 60 km/h you are already in last gear. On the other hand, the gearbox shifts precisely and easily and the manual force on the clutch is also pleasantly low. Fluffy gearbox!
Consumption and range are also good: the single-cylinder consumes only 2.2 liters per 100 kilometers. This means a calculated range of an unbelievable 568 kilometers on one tank of fuel. The side stand, which is too long, is a bit strange. The bike is quite steep on flat ground, so you like to look for an uneven spot to get the bike a little more slanted.
 
Conclusion - what sticks
The Benelli Leoncino 125 impresses with two aspects: its appearance and the price. Okay, the design is a matter of taste, but when it comes to price, there can be no two opinions: not even 3,500 euros is a joke
compared to the competitors
. Nevertheless, the machine does not look cheap or quickly put together. On the contrary, switches, frames, and many details are lovingly made - we like them. 
The only thing that bothered us was the lack of ABS, otherwise there was hardly anything to complain about. If you are looking for an A1 or B196 bike and don't want to spend 5,500 euros, you should definitely take a look at the Benelli Leoncino 125.
Price/Availability/Colours/Years of Construction
Price: 3.499€
Availability: since 04/2022
Colors: Gray, Green, White