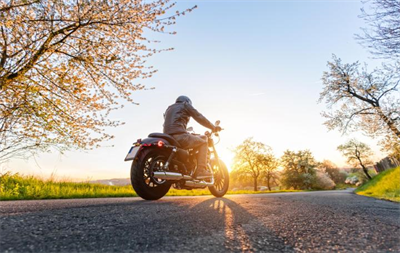 Photo: KRAFTFAHRER-SCHUTZ e.V.
Even if snow drifting always puts the motorcycle spring in the distance: It's high time to winter your own motorcycle properly and make it ready for the first rides of the season. KraftFAHRER-SCHUTZ e.V. (KS), Germany's third-largest automobile club, has summarized the most important tips.
While last spring tourist motorcycle rides to the surrounding area and abroad had to be largely cancelled due to the first lockdown, this year at least tours in the surrounding area are possible at the current time. "The weather is still capricious at the moment, but now is the ideal time to subject the bike to a thorough check and make it suitable for riding. As always, for safety reasons, many things can be done well yourself, but work steps that you do not dare to do yourself should be done by the experts in the workshop – this applies in particular to safety-relevant things, such as the brake system," say the experts of KRAFTFAHRER-SCHUTZ e.V. (KS). In addition, it should be taken into account: If the following tips of the KS deviate from the operating instructions of an individual model in individual cases, preference must be given to the manufacturer's instructions.
Wintering your bike – but the right thing to do
• If you have preserved chrome parts and other metal surfaces of the motorcycle with a protective film at the beginning of winter, you should remove it with a soft and dry cloth. Whether with or without preservation, it is recommended to clean the bike; rusty or damaged areas can also be easily detected. Special attention should also be paid to brake discs and pads, as dirt can accumulate here over the long winter service life.
• In addition, the tire pressure and the tire tread should be checked – a tire change should be considered if the tire has already been driven in about four to six years or the tread no longer has sufficient depth.
• Check all levers (clutch, shift and brake levers) as well as the throttle grip: Are they smooth and offer sufficient play?
• The battery must be charged and tested, then it can be installed and clamped. Then you should switch on the ignition so that the engine control unit and Co. can reconfigure or adjust.
• As a further step, you should start the engine and check whether the lighting system and the horn are working.
• For all operating fluids, i.e. engine oil, transmission oil, brake fluid and coolant, the filling levels must be checked and the individual circuits visually checked for tightness.
• Last but not least, you should check the tension of the drive chain (according to the operating instructions) and lubricate it with chain grease and leave it on for a few hours.