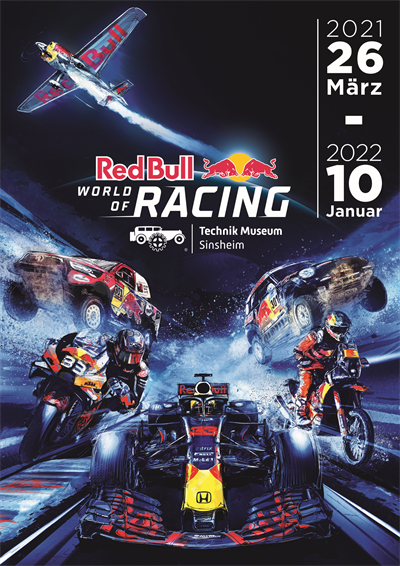 Photo: Technik Museum Sinsheim
Preparations for this year's highlight are in full swing – from 26 March, visitors will experience the new special exhibition "Red Bull World of Racing". Whether in motocross or Formula 1, in the desert or in the snow, on land, on water or in the air – Red Bull has motorsport in its DNA. Every year, 180 motorsport athletes worldwide compete for victory in their racing series. Countless world championship titles have already been won.
From the end of March, a colourful cross-section of them will be on display in the Kraichgau. Until 10 January 2022, museum visitors can immerse themselves in the exciting "Red Bull World of Racing" and understand how this brand has accompanied and, above all, shaped motor racing for years. The special exhibition includes selected exhibits, such as the RB-9 car of the youngest Formula 1 world champion, Sebastian Vettel, a Mini 4x4 of the Dakar legend, Nasser Al-Attiyah, and the motocross bike of the 2019 MX2 world champion Jorge Prado from Spain. Elaborately staged thematic areas tell the successful motorsport story behind the two red bulls. An Edge 540, an aerobatic aircraft from the Red Bull Air Race that ended in 2019, completes the exhibition.

The new special exhibition "Red Bull World of Racing" can be seen daily from 9 a.m. on March 26 in Hall 3 of the Technik Museum Sinsheim. A visit to this special exhibition is included in the museum's entrance fee; all information can be found under www.technik-museum.de/red-bull.