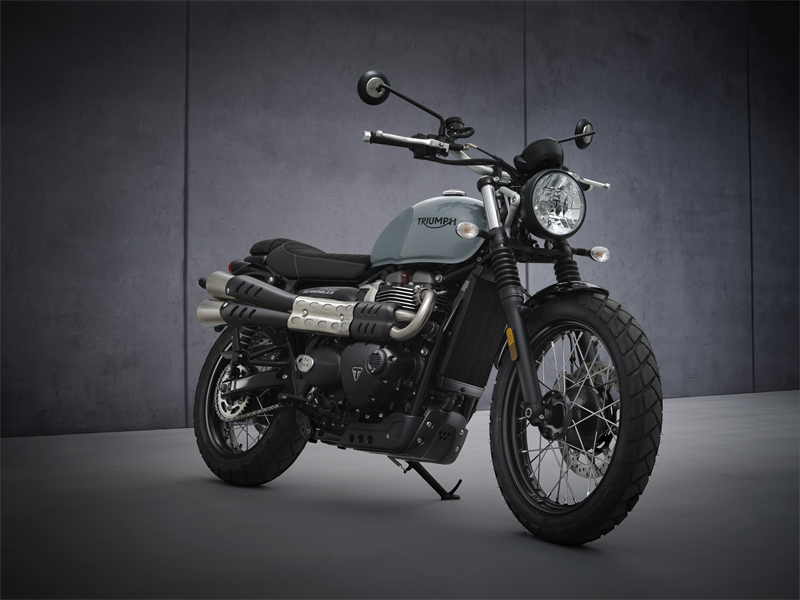 Photo: Triumph Street Scrambler 2021
Street Scrambler has been renovated for the 2021 model year
The new Street Scrambler 2021 gets a Euro 5 engine update as well as an even more individual style and a plus of high-quality details. Also new is the exclusive Street Scrambler Sandstorm Limited Edition with a variety of standard premium Scrambler accessories and a special Sandstorm coating.
The new Street Scrambler 2021 is powered by the 900 cm3 Bonneville high-torque Bonneville twin-cylinder engine, which with its new tuning now meets the Euro 5 regulations. The liquid-cooled engine retains its 65 hp peak power, unmistakable Scrambler character and direct response. It also delivers lower emissions – which exceed Euro 5 requirements – and offers excellent fuel efficiency. In addition, the engine has a powerful torque even at low speeds (with a maximum of 80 Nm at a low 3,250 rpm) and can boast a spontaneous response and good acceleration over the entire speed range.
 
The unmistakable sound of the iconic British Twin comes from the street scrambler's signature high-end double exhaust system with brushed stainless steel silencers. It creates a unique exhaust tone that perfectly matches its distinctive character.
 
Long service intervals of 16,000 km ensure low operating costs, while the A2 accessory kit available from the dealer makes the Street Scrambler accessible to motorcycle beginners. The A2 approval kit includes another electronic gas rotary handle and An A2-specific engine software and can be easily undone by the dealer once the owner has the open driver's license.
 
The Street Scrambler 2021 is available in three premium coatings: the classic Jet Black, a new modern Urban Grey or the new two-colour coating in Matt Khaki and Matt Ironstone, including a striking new tank graphic. The new Street Scrambler Sandstorm Edition will be available from triumph dealers from May 2021, the normal Street Scrambler of the 2021 model year will be available from July 2021.
Prices of 2021er Street Scrambler / Street Scrambler Sandstorm
Street Scrambler: from 10.900,- Euro
Street Scrambler Sandstorm Edition: 11,500,- Euro
The 2021 Street Scrambler and Street Scrambler Sandstorm at a glance
- New Euro 5 engine update with lower emissions
- Impressive torque curve with a peak torque of 80 Nm at a low 3,250 rpm
- Powerful peak power of 65 hp at 7,250 rpm
- Unmistakable sound of a British twins through the distinctive, raised exhaust system
- Optionally also A2-compatible thanks to a dealer-mounted accessory set

Even more premium custom style and details
- Authentic TRIUMPH Scrambler style with new premium details for 2021, including:
• New side lids with aluminium start number plates
• New heel protection
• New headlight mounts made of brushed aluminium
• New "Adventure" seat cover
• New throttle valve cladding

High-quality equipment and advanced, driver-oriented technology
- High-quality Brembo front brake and cartridge fork
- Dynamic Scrambler ergonomics and best handling with wide handlebar and 19-inch front wheel
- Metzeler Tourance enduro tyres
- Pleasantly low seat height of 790 mm
- Three driving modes (road, rain and off-road)
- Switch-off ABS and switch-off traction control
- Torque-supporting clutch, distinctive LED taillight, USB charging socket and immobilizer

Custom-made with 120 TRIUMPH original accessories
- Extensive range of accessories for an even more robust off-road focus, even more style and suitability for everyday use as well as several luggage options
- All accessories have been developed together with the motorcycle and tested to the same quality standards

Exclusive special series with extensive optional equipment: The Street Scrambler Sandstorm Edition
- Strictly limited to only 775 Sandstorm motorcycles worldwide
- Certificate of authenticity, personalized with the chassis number of the motorcycle
- New, unique and contemporary Sandstorm Edition livery
- Premium original accessories from TRIUMPH as standard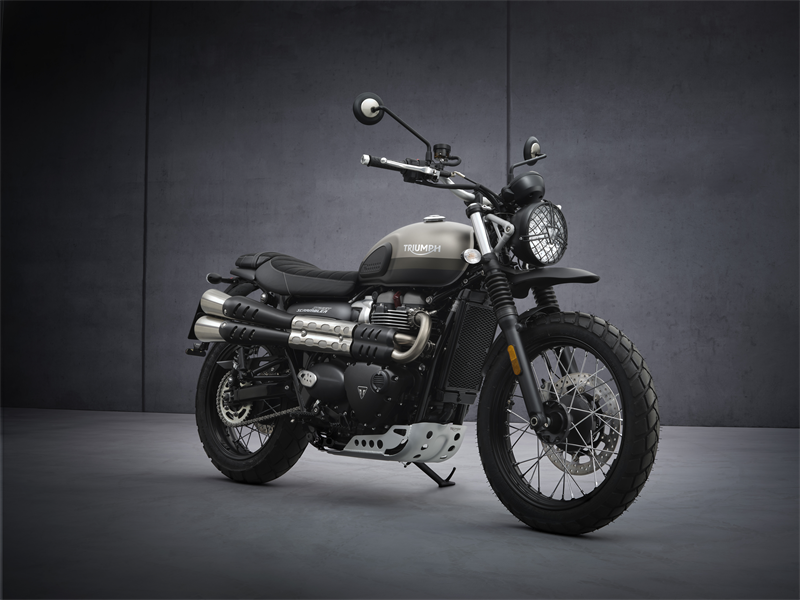 Photo: Triumph Street Scrambler Sandstorm Edition