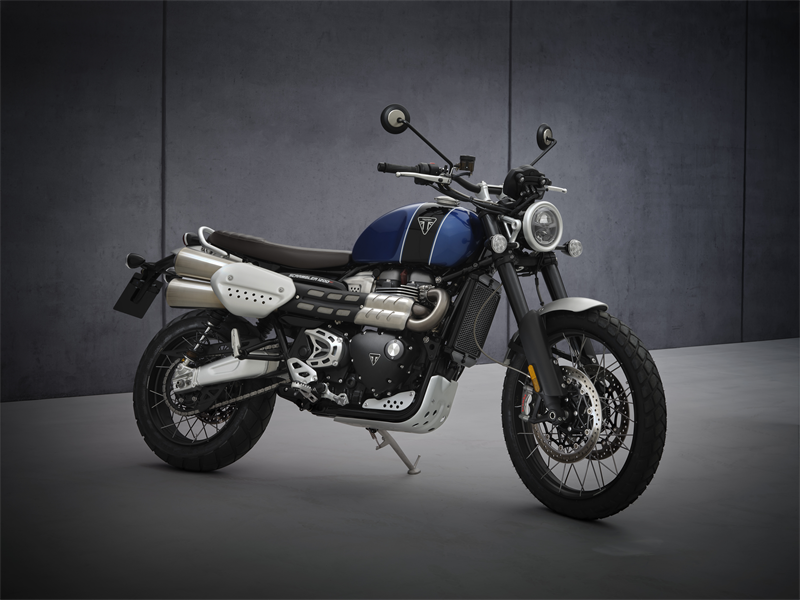 Photos: Triumph
Triumph reupits the Scrambler 1200
Completely further developed, with a state-of-the-art equipment level, an unmistakably own design and an inspiring sound: this is how the 2021 scrambler 1200 XC and XE models present themselves. The Steve McQueen Edition is also an exclusive special series limited to 1,000 motorcycles worldwide.

The new Scrambler 1200 combines state-of-the-art technology with the classic look of the Scrambler bikes of the 1950s and 60s and offers a powerful engine and a chassis that also loosely takes part in hearty off-road adventures. With this combination of advantages, the Scrambler 1200 series has already delighted numerous motorcycle fans worldwide since its launch in 2018. For the 2021 model year, which was manufactured in accordance with the Euro 5 specification, the Triumph development team has now further improved the Scrambler 1200 in many areas. The XC and XE models are also complemented by the exclusive Steve McQueen special series, which offers an exclusive look as well as an extensive package of optional equipment.
The 2021 Scrambler 1200 XC and XE as well as the STEVE MCQUEEN EDITION in the overview:

- New Euro 5 engine tuning with lower emissions
- New Euro 5 exhaust system - including improved heat distribution
- Powerful 1200cc Bonneville twin engine with special Scrambler tuning:
110 Nm at low 4,500 rpm and 90 hp at 7,250 rpm

- Sovereign seating position with wide, adjustable handlebars
- Excellent comfort for the driver
- 21-inch front wheel for best off-road features

- Fully adjustable Öhlins struts and showa fork with long spring paths
- Double disc brake system with Brembo M50 radial monobloc calipers
- powerfully dimensioned, high-quality aluminium swingarm
- Colored TFT instruments and illuminated switches and fittings
- Up to 6 driving modes, including Off-Road Pro (XE)
- Optimized curve ABS and optimized curve traction control (XE)
- Full LED lighting with daytime running light headlights
- Keyless ignition, cruise control with single-button operation and USB charging socket
 
- Iconic silhouette with classically shaped bench and the characteristic, raised double exhaust
- Beautiful, side-speared wheels with modern, tubeless tires
- Seamlessly shaped tank with Monza-style lid made of brushed aluminium
- Over 70 available accessories, including a new Dakar-inspired Fly Screen
As cool as the bikes in the "Sixties": The Scrambler 1200 Steve McQueen Edition

Exclusive and limited: the Scrambler 1200 Steve McQueen Edition
- Individually numbered, limited special series, of which only 1,000 pieces are available worldwide
- Unique Steve McQueen branding on the tank and handlebar clamp
- Exclusive special coating in Competition Green
- Particularly high-quality standard equipment with first-class Scrambler accessories
- Certificate of authenticity with the signatures of triumph CEO Nick Bloor and Chad McQueen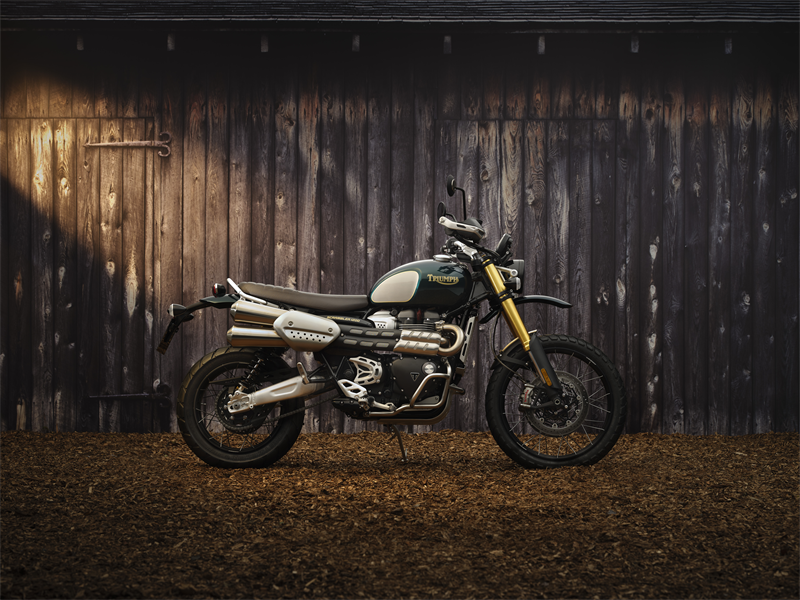 Especially cool: The Scrambler 1200 in the Steve McQueen Edition
The new generation of the Triumph Scrambler 1200 continues the decades-long tradition of the brand's Scrambler motorcycles. This includes the world's first ever series scramblers, driven by legendary racers such as Bud Ekins and Steve McQueen, for fun and racing events. The brand's new Scrambler generation has also repeatedly demonstrated its outstanding off-road characteristics in numerous extreme off-road competitions, such as the Mexican 1000 and the Spanish Bassella race.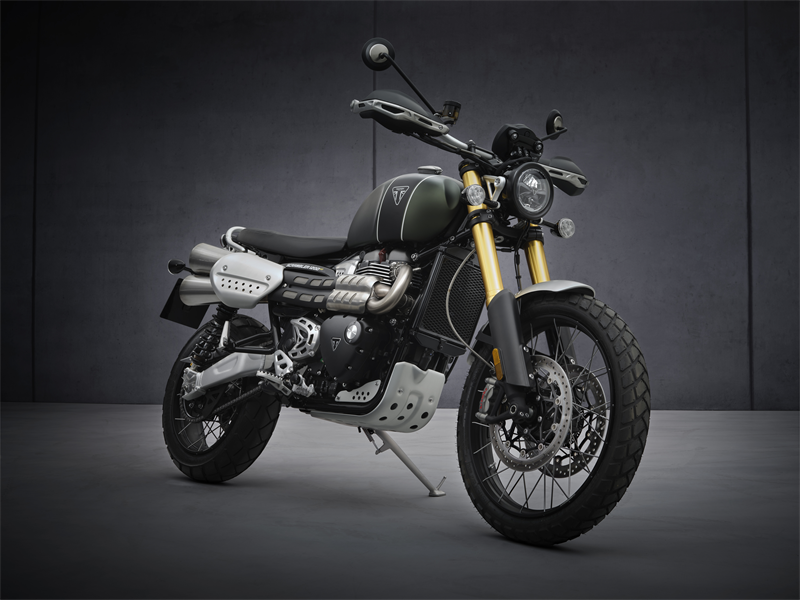 New paint option with a classic touch: The Scrambler 1200 XE in Matt Khaki Green

Extensive improvements based on the well-known high performance of the Scrambler 1200

The new Scrambler 1200 XC and XE have been updated for 2021 along with triumph's entire Modern Classic series and feature an advanced Euro 5 engine that maintains the performance and torque of the Scramblers at lower emissions. The new generation update brings a revised exhaust system that improves heat distribution. The new Scrambler 1200 XC and XE as well as the Steve McQueen Edition will be available from the dealers of the British traditional brand from June 2021.
The prices of the 2021 Scrambler 1200
Scrambler 1200 XC: 13,850,- Euro
Scrambler 1200 XE: 14,850,- Euro
Scrambler 1200 Steve McQueen Edition: 15,850,- Euro