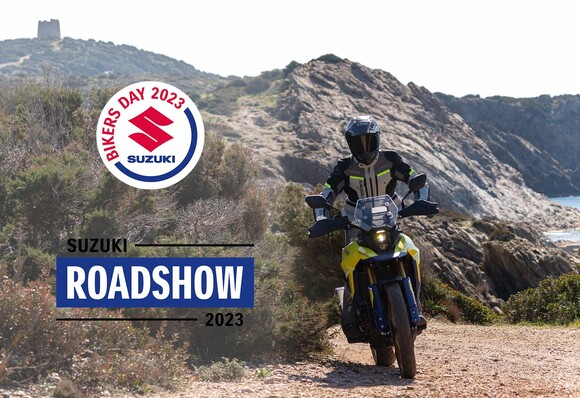 Photo: SUZUKI
Suzuki starts the new season with a good tailwind. At the past autumn and spring fairs, a lot of new models have inspired the scene. And now it's time to test drive: at Suzuki Bikers Day and at the Suzuki Roadshow 2023.


Feel the beat of the engine, experience the handling in different radii, get to know the feedback of the chassis – no brochure, no video and no animation can replace the impressions of a test drive. And that's exactly why Suzuki is giving motorcycle fans plenty of opportunity to put their dream model through its paces just in time for the start of the season.
Suzuki Bikers Day 2023
On Bikers Day, Suzuki dealers celebrate the start of the season together with motorcycle enthusiasts from their region. In addition to models that already have a broad fan base, some of the highly anticipated newcomers can of course also be experienced live.
8 or 15 April 2023 – each Suzuki partner decides for himself when to hold his Bikers Day. But when the time comes, it's time to look, touch, try out. The Suzuki experts are available to answer all questions about the current model range in detail, and during an extensive test drive, motorcycle fans can find out which Suzuki model best suits their biker lifestyle. Of course, the dealers have also come up with an individual supporting program for their Bikers Day.
In a clear directory, motorcycle fans can find the Bikers Day in their region on the
Suzuki Event website
.
Suzuki Roadshow 2023
There are even more models to test drive at the Suzuki Roadshow 2023. Because this season, the Suzuki Roadshow Team is again crisscrossing the republic and has a lot of current motorcycles on board. Also on tour is a team of experts who are on hand to provide advice and assistance to all interested parties.