Strong boxer engines and plenty of luggage. This is often the first thought when you hear "Touratech". But on closer inspection, a dark painted RnineT with yellow appliqués on the tank, hand protectors and front fender is discovered in the niedereschach headquarters.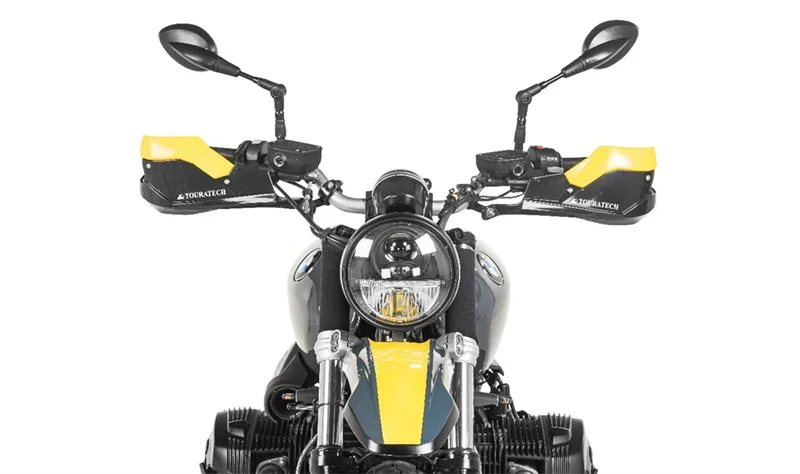 Photos: Touratech
With the R9X, Touratech has spectacularly proven that a vehicle based on the RnineT with extreme conversions can survive even the Red Bull Romaniacs. The R9X series of 5 vehicles with self-milled fork bridges, converted frames and many extraordinary components is not affordable for everyone with a selling price of approx. 50,000 euros, but the extremely high and off-road-oriented chassis is also not suitable for everyone.
That's why Touratech has built an interesting Daily Driver with a road-ready conversion, which carries the genes of the off-road monster, but gets the basic substance of the RnineT Pure in terms of appearance as well as chassis and conversion parts.
The BMW RnineT Pure, with its 1200 cc boxer engine and a power of 110 hp, looks like a typical Touratech bike on the other hand. Rear pocket on the rear, engine protection and cylinder protection.
At second glance, however, you can see a raised Akrapovic exhaust, black footrests, noble Excel spoke rims and the AC-Schnitzer headlight.
The image is rounded off by the large Mono Black T strut with high end equipment. Easy to use to adjust the spring preload and also equipped with a compensating container.
Black T has been known on the market for many years as a high-quality individual solution in the chassis sector for so-called heritage bikes. Initially, the focus was on various models of the Indian brand as well as Triumph and BMW RnineT models. What is often not so well known is that the Black T shocks are also in circulation for many Harley-Davidson models. The striking logo and the shapely, dark design not only visually enhance the motorcycles, but also significantly improve the driving behaviour. This can also be felt with the built-in model at the RnineT.
Jens Wehrle, fleet manager at Touratech Headquarters, started the project in 2018 together with the in-house workshop. The conversion was finally completed and rounded off in winter 2019/2020 with the then brand new Black T strut for the RnineT.
In addition, the following accessories were added:
AC Schnitzer brake and clutch lever
2-piece bench (2 cm higher) with yellow bends
Handlebar increase
Hand protectors with spoilers
High front fender
RAM Mount Ball
Folding mirrors
The retail price for the Touratech RnineT is currently €14,500.00.
The Black T brand's portfolio is constantly expanding in the chassis segment and will focus on a variety of heritage models with its own webshop from spring 2021.