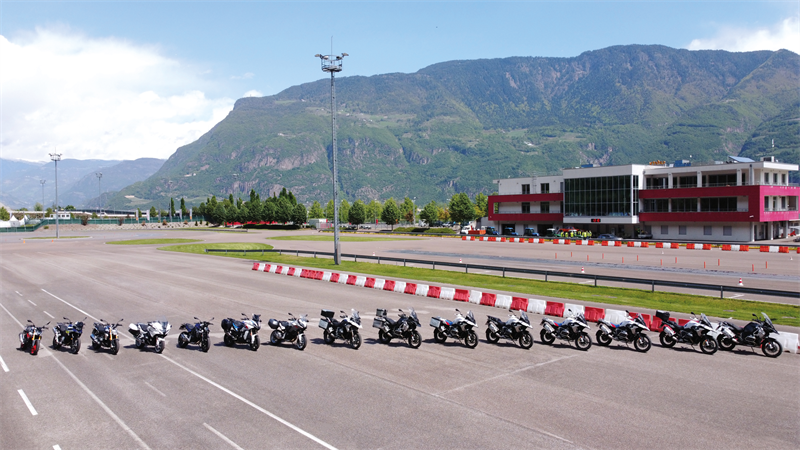 Photos: Riding Experience South Tyrol
After Riding Experience Südtirol, a new provider of motorcycle experiences in South Tyrol, announced its market entry a few weeks ago, the newcomer is following up today and presenting its brand new BMW motorcycle fleet!
The range of services offered by Riding Experience Südtirol ranges from various technical training and tour experiences to motorcycle rentals and the exclusive marketing of a driving safety centre for B2B motorcycle events.

The starting point of all activities is the Safety Park South Tyrol. This unique driving safety and driving experience centre is located directly at the Bolzano South motorway exit, is surrounded by the fascinating mountain ranges of South Tyrol and offers ideal opportunities for combining motorcycle training and motorcycle tours. With 300 days of sunshine, Riding Experience Südtirol is planning an almost year-round driving operation from there. The first mountain adventures start after just five minutes of driving, for example with the Mendel Pass or the South Tyrolean Wine Route in the direction of Lake Caldaro. The city centre of Bolzano is also only a few kilometres from the Safety Park South Tyrol.

With the brand new BMW motorcycle fleet, Riding Experience Südtirol is laying another important foundation for developing into a central point of contact for motorcycle experiences in South Tyrol. The fleet comprises a total of 15 BMW models with full technical equipment. The spectrum ranges from sporty roadsters to comfortable tour cruisers to a variety of adventure models. Various seat heights as well as lowerings ex works on selected motorcycles ensure tailor-made vehicle sizes. Some models are also offered with throttled engines for driving licence category A2. In addition, there is complementary motorcycle equipment in the range.

"Technically better is not possible!", says Managing Director Frank Fichtner happily and tells of an impressive BMW product training for the instructors of the Riding Experience South Tyrol. "For the adventure in South Tyrol, the fantastic 1250 is certainly the Hero Bike. We have focused on this versatile travel enduro and offer different versions." Based on this, the further fleet is deliberately multifaceted in order to be able to offer every motorcyclist the right vehicle. "From light and agile bikes for beginners or returners to powerful, quiet tourers and sporty, performance-oriented models for ambitious riders – there is something for everyone," assures Fichtner. The motorcycles were retracted in the picturesque Altmühltal in Bavaria and the speedometer of each individual motorcycle currently shows just over 500km. "Our rental fleet is brand new and is now available to every motorcycle fan to explore South Tyrol. We are looking forward to the first bookings and I am already very excited to see who will secure the 15 maiden voyages!", Fichtner said with a wink at the end.