RENT A RIDE
- Europe's largest platform for motorcycle rental with tour offer
Take to the streets, ready, go! With RENT A RIDE, BMW Motorrad offers spontaneous motorcycle enjoyment on the rental platform www.rentaride.com – individually predictable, with new rental motorcycles and a select and international range of fascinating tours, which can also be used directly via the BMW Motorrad Connected app.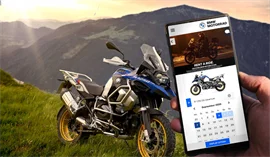 Photo: BMW

With currently 89 participating rental partners in seven countries, www.rentaride.com is the largest motorcycle brokerage platform in Europe. By the end of the year, BMW Motorrad aims to expand to more than 100 rental partners in 12 countries. By consistently expanding the rental partners and participating countries, the world's leading positioning in this segment of motorcycle rental is the ambitious goal for 2021.
With www.rentaride.com, customers can reserve a new BMW motorcycle and, if necessary, driver equipment with just a few clicks, for example to take a ride with friends or take the opportunity for a detailed test drive. The motorcycles are explained in detail by the experts on site at the BMW Motorrad Partners and handed over in a relaxed atmosphere. So if a long long-distance trip is currently too tricky, you can flexibly and uncomplicatedly rent your dream bike at Rent A Ride and go on a motorcycle discovery tour.
The RENT A RIDE platform is continuously expanded in the existing markets of Germany, Finland, France, Italy, Norway, Austria and Thailand. Later this year, additional RENT A RIDE stations will be available in the USA and in four other European markets (Netherlands, Belgium, Switzerland, Romania).