New Suzuki Hayabusa to be unveiled on February 5
The falcon is back!
Almost official: Suzuki will introduce a new Hayabusa on February 5th! Why almost official? Because you have to identify the machine yourself in an announcement video. We are sure: this is the new Hayabusa.



When you talk about Hall of Fame motorcycles, the Suzuki Hayabusa is certainly one of them. In 1999, the first falcon from Hamamatsu with the model designation GSX 1300 R was introduced. It was the first production motorcycle with a speed of 300 km/h. Hence the name "Hayabusa" - to german falcon - which rushes towards its victims at exactly this speed from above.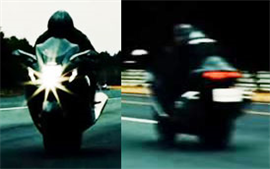 In a separate news, we have already pointed out the event "Suzuki Motorcylce Global Salon" on February 5. Now we also know which new model will be presented on 05.02.21. There may be more new Suzukis, but the Hayabusa alone certainly makes the visit to the new virtual motorcycle house worth it.
In the announcement video of Suzuki, the new Hayabusa is neither mentioned as such nor is much recognizable of the new machine. At least the cockpit is shown, albeit rather darkly, briefly. What you can guess there also allows a few conclusions about the equipment of the new falcon. We recognize a slanting position indicator a l' Kawa Z H2 and the abbreviations QS, PW, TC, LF and SDMS. So there are at least QuickShifter and traction control on board.
What is much more remarkable, however, is the fact that Suzuki works here with four analog displays for speed, rev counter, cooling water temperature and tank filling indicator - just like with old Hayabusa. You can also see that the person in the video is driving at more than 180 miles per hour, or about 300 km/h. From the front and from the back, the new Hayabusa looks very similar to the old one. We recognize a sleek full cladding and two rather large exhaust tailpipes - and of course the typical hump at the very back.
Today, Suzuki posted a second video online. There you can unfortunately recognize even less of the bike. Apparently, however, the color orange seems to play a role in the new Hayabusa.