Garmin is adding three new models to its popular range of outdoor navigation devices: Montana 700, 700i and 750i. The robust GPS handheld devices with significantly faster processor combine precise navigation on the routable TopoActive Europa map with security through two-way communication thanks to inReach technology. The built-in Wi-Fi now makes it possible to use Garmin Connect, Garmin Explore and the Connect IQ store. With compatible mounts for a variety of activities, they are suitable for use both off-road and on-road.
Photos: GARMIN
The Montana 700 at a glance (RRP: €599.99; Availability: from now on)
Robust outdoor navigation device with 5" touch display
Tested to military standard MIL-STD-810G
Pre-installed routable TopoActive Europe map
Precise positioning thanks to GPS, GALILEO (+ GLONASS only at 700) and quad helix antenna
Barometric altimeter and 3-axis compass
RoundTrip routing, TracBack, route navigation
Connectivity: Garmin Connect, Garmin Explore, Garmin Connect IQ, ANT+, Bluetooth, Wi-Fi
Battery life in expedition mode up to 2 weeks
Compatible mounts for a variety of activities
The Montana 700i at a glance (RRP: €699.99; Availability: from now on)
Functionality of the Montana 700, in addition:
inReach technology: SOS emergency call, interactive two-way communication and live tracking thanks to worldwide satellite coverage
Pre-installed CityNavigator maps
The Montana 750i at a glance (RRP: €799.99; Availability: from now on)
Functionality of the Montana 700i, in addition:
8 MP Camera
Safety on the go
Garmin is integrating inReach technology into the Montana 700i and 750i for the first time. In areas with limited mobile network coverage, the devices provide additional security. By leveraging the global coverage of the Iridium satellite network, inReach technology provides global, location-independent two-way communication. Messages can be easily entered and sent via the QWERTZ keyboard and touchscreen. Users can also track their route and location in real time and share them with friends and families so they can join their tour live. In the event of an emergency call, an SOS emergency call with acknowledgment of receipt can be sent to the global search and rescue control centre GEOS via the emergency button. This then connects with the user and coordinates the rescue. With regular updates to the weather forecast at the current and the destination location, the devices help users to assess the situation correctly at all time.
Precise satellite navigation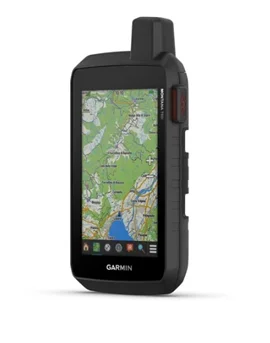 Garmin Montana 700 series devices are always ready for your next outdoor adventure. With the help of the pre-installed TopoActive Europe map, you can navigate precisely through any terrain. The Montana 700i and 750i devices can also use CityNavigator maps to allow a smooth transition from trails to roads. Exact positioning is made possible by Multi-GNSS support and the quad helix antenna. The devices access the GPS and Galileo satellite network, while the Montana 700 also accessES GLONASS. In this way, the position data can be collected very precisely and quickly, even in difficult environments. The integrated 3-axis compass and a barometric altimeter also support this. Functions such as RoundTrip routing, which creates circular routes based on an individual distance or any starting point, or TracBack, help the user to always find the right way.
Thanks to connectivity via Wi-Fi, Bluetooth and ANT+, the new outdoor navigation devices offer extensive possibilities for data transmission and pairing of additional sensors. Garmin Explore compatibility allows you to plan and check the next tour in detail. Users can download high-resolution BirdsEye satellite images via WI-Fi in advance and then use the photorealistic views offline. In addition, various apps and widgets can be downloaded to the devices via the Garmin Connect IQ Store.
The Montana 750i comes with an 8-megapixel camera. This allows explorers to take photos on the go. These are stored with coordinates so that users can always navigate back to their favorite locations.
Robust, durable and versatile
The robust GPS navigation devices for outdoor activities are designed to military standard (MIL-STD-810G) and are waterproof to IPX7. Whether car, motorcycle, quad bike, off-road vehicle, bicycle or boat - a wide range of fastening options make the devices suitable for use in any terrain.
The user-friendly 5'' touch display is 50 percent larger than that of the previous models, can be easily read under all conditions and can be operated in both portrait and landscape format. The Montana devices have a battery life of up to 16 hours in GPS mode and up to two weeks in expedition mode and are equipped with a rechargeable lithium-ion battery. This means that nothing stands in the way of the extended outdoor adventure.