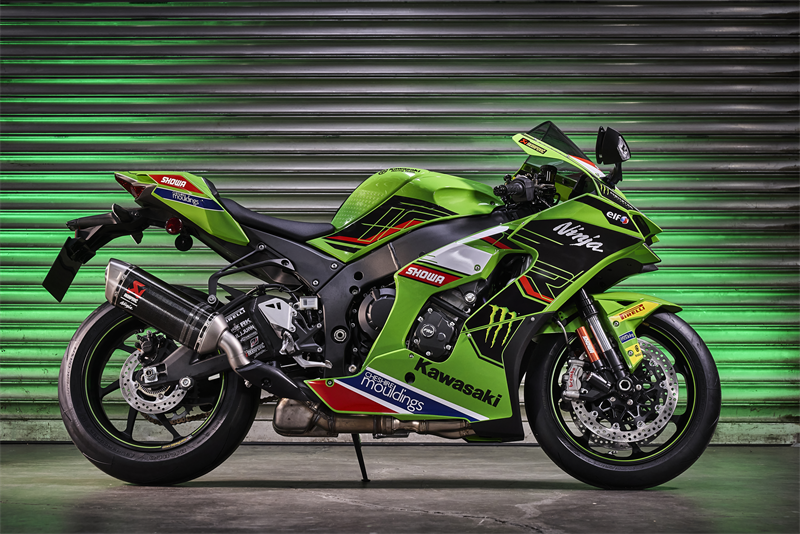 Photos: Kawasaki
Kawasaki Germany launches ten Ninja ZX-10RR as WSBK edition in KRT look
Kawasaki Germany offers a special model of the Ninja series, limited to only ten pieces. The Ninja ZX-10RR WSBK edition is visually based on the factory machines of the Kawasaki Racing Team. In order to carry out the foiling absolutely realistically, the work was carried out by the experts of the Racing Team themselves at the Kawasaki headquarters in Friedrichsdorf.

The Ninja ZX-10RR is the super sports car at Kawasaki that comes closest to the racing machines of Jonathan Rea and Alex Lowes from the Superbike World Championship. Even the base, the Ninja ZX-10R, offers everything that distinguishes a modern super sports car. In the case of the Double R model, numerous modifications are added for use on the racetrack: The engine was equipped with lighter pistons and titanium connecting rods from Pankl Racing Systems. Specially developed camshafts, DLC-coated piston pins and optimized valve springs further enhance the engine with 998 cm3 and more than 200 hp. Lightweight forged Marchesini wheels bring additional advantages on the racetrack. In addition, the ten edition models are equipped with a carbon rear silencer from Akrapovic and a tinted windscreen (performance package).

The Ninja ZX-10RR WSBK edition will be issued in a quantity of exactly ten copies. The motorcycles are already in the 2024 model year, which has a very special technical innovation on board: For racing use, the Variable Air Intake System (VAI, variable length of the intake funnels) is installed in the airbox, which can be activated by means of optional racing components (racing kit control unit, special wiring harness and control unit). The system ensures that the VAI intake funnels are lifted by servo motors at high speeds. This allows additional air to be sucked in past the hoppers. At low and medium speeds, the hoppers remain lowered to ensure optimal filling of the cylinders due to the longer intake paths and higher gas speeds.

The ninjas of the WSBK edition are also in top form visually: they were foiled by the team's specialists themselves in the KRT look of the factory machines. There is also a sticker on the tank with the serial number of the motorcycle. In addition, each buyer will receive an exclusive WSBK Edition box. Inside he finds two certificates with the original signatures of Jonathan Rea and Alex Lowes, a glass cuboid with a lasered model of the motorcycle, an individual key ring and an I-clip. He will also receive a set of stickers with the start number of Jonathan Rea, the 65, and Alex Lowes, the 22nd, to complete his bike individually. The lucky owner will then be spoilt for choice: will he put his Ninja ZX-10RR WSBK edition in the garage as an exclusive collector's item or will he use it on racetracks and public roads?

The price of the Ninja ZX-10RR WSBK edition is 33,145 euros.