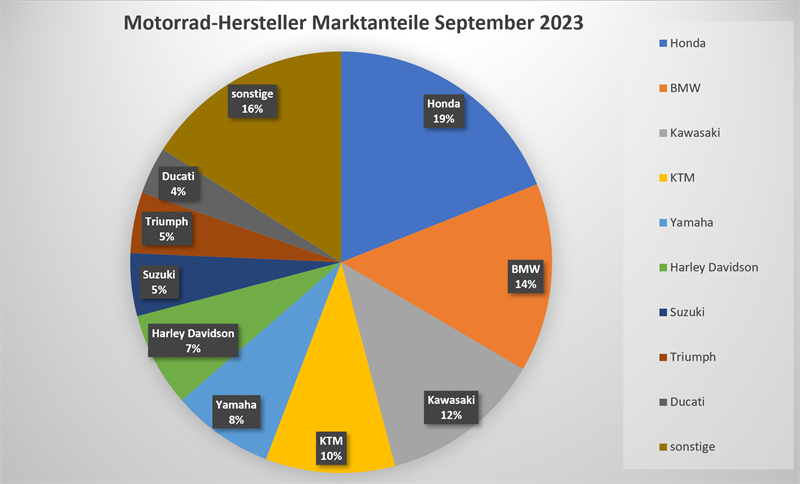 A total of 30 percent more registrations compared to the previous year!
The motorcycle market in Germany continued to be robust in September. A total of 9,576 new motorcycles (everything except 125cc and scooters) were registered. Kawasaki is strong and is now just behind BMW in 3rd place. Honda continues to be at the top with a market share of almost 19 percent.
So far in 2023 (January to September inclusive), 112,653 bikes have been sold. Compared to 2022, this means growth of 17.4 percent - not bad. If you look at the individual machines, Kawasaki in particular stands out positively: Three models from the Japanese manufacturer can be found in the top 5. In addition to the long-running Z900 and Z650, the
Kawasaki Ninja 650
has now also been added.
Honda continues to benefit from the ongoing trend towards mid-range machines. In addition to the CB 750 Hornet, the Rebel 500, the CBR 650 R, the CL 500 and the CRF 300X (!) are also selling very well. Suzuki's newcomers GSX-8 S and V-Strom 800 DE also continue to climb up in the registration statistics. In terms of market share, Suzuki was able to leave Triumph and Ducati behind and is now in a solid 7th place. The BMW R 1250 GS will probably have to give up its long-standing 1st place in October - no wonder, because the new
BMW R 1300 GS
is already on sale.
Top 50 New Motorcycle Registrations September 2023