New Motorcycle Registrations October 2023
BMW is "back in the game"!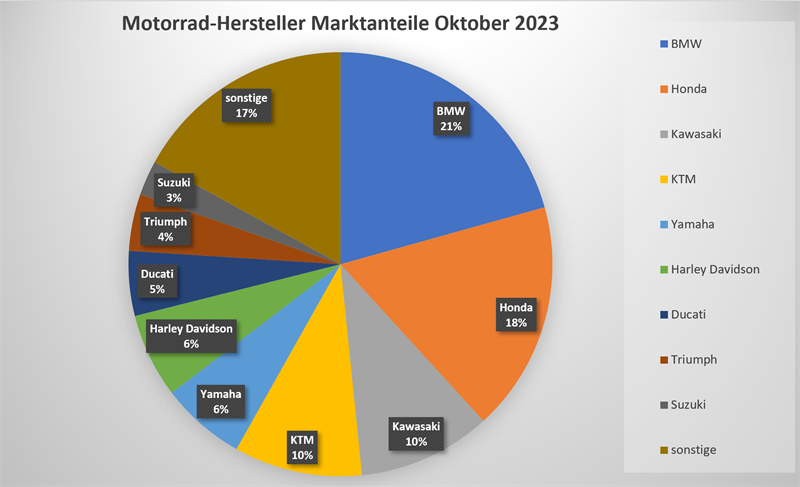 Graphic: motorradtest.de
Hooray, the new GS is here!
The registration data for the motorcycle market in Germany in October 2023 is in. Lo and behold, BMW has regained first place in Honda's market share thanks to the new GS. However, another model is still in first place in the registration statistics. Guess which ones?
Before we get into the individual models, let's take a look at the market as a whole. A total of 6,854 motorcycles (everything except 125cc and scooters) were registered in Germany in October 2023. This is a whopping increase of 33.7 percent compared to October 2022. BMW is in first place with just under 21 percent, followed by Honda with a market share of 17.5 percent. Suzuki lost a bit of ground in October with only 2.6% - just ahead of Royal Enfield with 2.3%.
In the top 50, the BMW R 1250 GS is ahead of the new R 1300 GS with 381 units sold. But that's less surprising, because the 1250 is certainly being sold at top conditions at the moment - and there's also the GS 1250 Adventure, which will continue to be sold. In November, the R 1300 GS will probably overtake the 1250 - let's see.
Otherwise, there aren't that many surprises when you look at the top 50 list. Maybe the Aprilia RS 660 in 17th place or the Honda CL 500 in 8th place. Otherwise, the old acquaintances from BMW, Kawasaki and Honda cavort on top.
Top 50 Motorcycles October 2023
| | | | |
| --- | --- | --- | --- |
| Rank | Manufacturer | Model | Number |
| 1 | BMW | R 1250 GS | 381 |
| 2 | BMW | R 1300 GS | 248 |
| 3 | Kawasaki | Z 650 | 176 |
| 4 | Kawasaki | Z 900 | 169 |
| 5 | Honda | CBR 650 R | 167 |
| 6 | Honda | CB 750 HORNET | 122 |
| 7 | Honda | CMX 500 REBEL | 116 |
| 8 | Honda | CL 500 | 109 |
| 9 | Honda | XL 750 TRANSALP | 97 |
| 10 | KTM | 790 DUKE | 94 |
| 11 | Kawasaki | NINJA 650 | 91 |
| 12 | KTM | 690 SMC | 91 |
| 13 | Yamaha | MT-07 | 91 |
| 14 | Yamaha | TÉNÉRÉ 700 | 91 |
| 15 | Husqvarna | 701 SUPERMOTO | 88 |
| 16 | Ducati | MULTISTRADA V4 | 76 |
| 17 | Aprilia | RS 660 | 72 |
| 18 | KTM | 890 ADVENTURE | 70 |
| 19 | Honda | CBR 500 R | 68 |
| 20 | BMW | M 1000 R | 68 |
| 21 | BMW | F 900 R | 66 |
| 22 | BMW | F 900 XR | 66 |
| 23 | Honda | CB 500 F | 65 |
| 24 | Honda | CB 650 R NEO SPORTS CAFE | 65 |
| 25 | BMW | F 750 GS | 62 |
| 26 | Harley-Davidson | SPORT GLIDE | 59 |
| 27 | Harley-Davidson | STREET BOB 114 | 58 |
| 28 | Honda | CRF 1100 AFRICA TWIN | 58 |
| 29 | Honda | NT 1100 | 57 |
| 30 | BMW | R 1250 R | 57 |
| 31 | BMW | R 1250 RS | 56 |
| 32 | Honda | CMX 1100 REBEL | 55 |
| 33 | Honda | NC 750 X | 54 |
| 34 | Yamaha | TRACER 900 | 54 |
| 35 | Ducati | MONSTER 950 | 51 |
| 36 | Suzuki | GSX-8S | 50 |
| 37 | BMW | R 18 | 50 |
| 38 | Yamaha | MT-09 | 50 |
| 39 | Ducati | HYPERMOTARD 950 | 49 |
| 40 | KTM | 890 DUKE | 49 |
| 41 | Triumph | STREET TRIPLE 765 MOTO2 | 49 |
| 42 | Kawasaki | VULCAN S | 48 |
| 43 | KTM | 300 EXC | 46 |
| 44 | Kawasaki | Z 900 RS | 44 |
| 45 | KTM | 790 ADVENTURE | 42 |
| 46 | Triumph | TIGER 900 RALLEY/GT | 42 |
| 47 | Yamaha | YZF-R7 | 42 |
| 48 | Honda | CRF 300 X | 41 |
| 49 | KTM | 1290 SUPER DUKE R | 41 |
| 50 | Moto-Guzzi | V85 TT | 41 |