Motorcycle new registrations March 2021
Motorcycle sales pick up again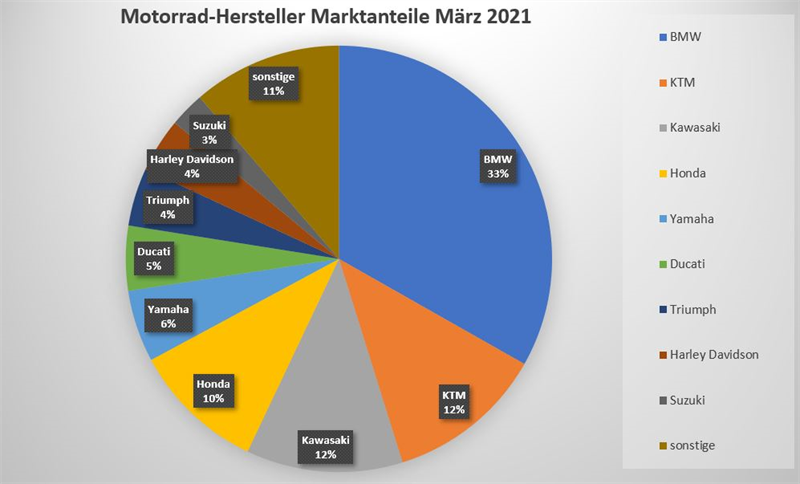 Graphic: Motorradtest.de
March almost makes the bad start of the year almost forgotten
The IVM reports increasing sales of motorcycles of all classes. Overall, the market was up 20.81 percent year-on-year. For motorcycles (all but 125s and scooters), the increase is still 8.21 percent. Cumulatively, the poor figures from January and February are almost catching up.
If only the beginning of the year had not been so bad! Once again, Corona was to blame, or the lockdown that entails it. In absolute terms, however, the first few months of the year are hardly worth mentioning - who buys a new mop in January or February? It's always going to start in March and that's the case again this year. In March, dealers were able to bring almost 18,000 motorcycles to the man and woman. In March 2020, there were 16,581 units.
There has also been some movement in the figures for manufacturers. KTM jumps to 2nd place, Yamaha at least to 5th place. The Japanese, however, are struggling with deliveries because of Corona and could certainly have sold even more bikes without Corona. BMW in particular benefits from this, with a market share of still a whopping 33.14 percent! This can be seen above all in the list of the top 50 models: Six machines from Munich are in the top 10!
Most sold motorcycles January to March 2021 (Top-50)
| Manufacturer | | model | quantity |
| --- | --- | --- | --- |
| 1 | BMW | R 1250 GS | 3.363 |
| 2 | Kawasaki | Z 900 | 1.085 |
| 3 | Kawasaki | Z 650 | 709 |
| 4 | Honda | CRF 1100 AFRICA TWIN | 693 |
| 5 | BMW | F 900 R | 670 |
| 6 | BMW | S 1000 XR | 664 |
| 7 | BMW | R 18 | 617 |
| 8 | BMW | F 900 XR | 578 |
| 9 | KTM | 690 SMC | 511 |
| 10 | BMW | F 750 GS | 418 |
| 11 | Honda | CB 650 R NEO SPORTS CAFE | 416 |
| 12 | BMW | S 1000 RR | 410 |
| 13 | Honda | CMX 500 REBEL | 398 |
| 14 | Honda | CBR 650 R | 398 |
| 15 | KTM | 390 DUKE | 390 |
| 16 | BMW | R 1250 R | 387 |
| 17 | Kawasaki | VULCAN S | 383 |
| 18 | BMW | R 1250 RS | 368 |
| 19 | Yamaha | Ténéré 700 | 368 |
| 20 | KTM | 890 DUKE | 351 |
| 21 | KTM | 1290 SUPER ADVENTURE | 341 |
| 22 | BMW | R 1250 RT | 320 |
| 23 | Suzuki | SV 650 | 284 |
| 24 | KTM | 790 DUKE | 281 |
| 25 | KTM | 1290 SUPERDUKE R | 279 |
| 26 | Husqvarna | 701 SUPERMOTO | 276 |
| 27 | Yamaha | MT-07 | 269 |
| 28 | Kawasaki | Z 900 RS | 267 |
| 29 | triumph | TRIDENT 660 | 264 |
| 30 | BMW | NINE T | 240 |
| 31 | Ducati | MULTISTRADA V4 | 236 |
| 32 | Aprilia | RS 660 | 235 |
| 33 | BMW | F 850 GS | 234 |
| 34 | Kawasaki | NINJA 1000 SX | 233 |
| 35 | Yamaha | TRACER 700 | 231 |
| 36 | Kawasaki | NINJA 650 | 229 |
| 37 | Ducati | Scrambler | 12V |
| 38 | Suzuki | DL 1050 V-STROM | 214 |
| 39 | Royal Enfield | BULLET ELECTRA | 208 |
| 40 | triumph | TIGER 900 RALLEY/GT | 208 |
| 41 | Ducati | STREETFIGHTER V4 | 207 |
| 42 | Suzuki | DL 650 V-STROM | 189 |
| 43 | KTM | 1290 SUPERDUKE GT | 185 |
| 44 | BMW | R NINE T SCRAMBLER | 185 |
| 45 | triumph | ROCKET 3 | 184 |
| 46 | KTM | 890 ADVENTURE R | 183 |
| 47 | Indian Motorcycle | SCOUT BOBBER | 168 |
| 48 | BMW | R NINE T URBAN GS | 150 |
| 49 | BMW | R NINE T PURE | 144 |
| 50 | Royal Enfield | CONTINENTAL GT 650 | 143 |