New motorcycle registrations June 2021
Motorcycle sales increased by 6.5 percent in June 2021.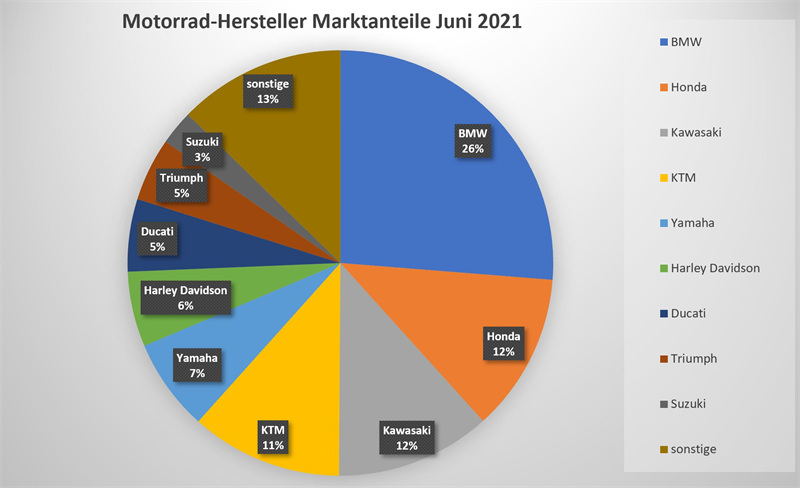 June recovers the losses of May
In May 2021, motorcycle sales were still about 6 percent below the previous year compared to the previous year. In June 2021, sales are now up 6.5 percent. If you only look at the motorcycles (anything over 125 cc without scooters), the plus is even a whopping 10 percent.
A total of 15,422 motorcycles were sold in June. BMW was able to sell most of the bikes, but the market share fell slightly to around 26 percent. Nothing has changed in the rankings of the pursuers: Honda, Kawasaki and KTM are close together with 11.5% to 12%, followed by Yamaha, Harley, Ducati and Triumph with about 5% to 7% market shares. Suzuki continues to languish at about 2.5%.
Top 50 Models (Motorcycles January to June 2021)
Among the best-selling machines, the KTM 690 SMC stands out: With 1,312 bikes sold (accumulated since the beginning of the year), the Supermoto is the most popular model from Austria. The BMW R18 also sells surprisingly well in 12th place in the top 50.
| # | Manufacturer | Model | Quantity |
| --- | --- | --- | --- |
| 1 | BMW | R 1250 GS | 6.583 |
| 2 | Kawasaki | Z 900 | 2.666 |
| 3 | Kawasaki | Z 650 | 2.048 |
| 4 | BMW | F 900 R | 1.395 |
| 5 | Honda | CRF 1100 AFRICA TWIN | 1.390 |
| 6 | KTM | 690 SMC | 1.312 |
| 7 | Yamaha | MT-07 | 1.221 |
| 8 | BMW | S 1000 XR | 1.119 |
| 9 | KTM | 390 DUKE | 1.107 |
| 10 | Yamaha | Ténéré 700 | 1.091 |
| 11 | BMW | F 900 XR | 1.073 |
| 12 | BMW | R 18 | 1.071 |
| 13 | Honda | CMX 500 REBEL | 1.027 |
| 14 | KTM | 890 DUKE | 1.020 |
| 15 | Honda | CBR 650 R | 926 |
| 16 | Honda | CB 650 R NEO SPORTS CAFE | 919 |
| 17 | KTM | 1290 SUPER ADVENTURE | 884 |
| 18 | BMW | F 750 GS | 845 |
| 19 | Honda | NC 750 X | 839 |
| 20 | Kawasaki | VULCAN S | 836 |
| 21 | KTM | 1290 SUPERDUKE R | 819 |
| 22 | Husqvarna | 701 SUPERMOTO | 807 |
| 23 | BMW | R 1250 RT | 777 |
| 24 | KTM | 790 DUKE | 724 |
| 25 | Ducati | MULTISTRADA V4 | 712 |
| 26 | BMW | S 1000 RR | 710 |
| 27 | BMW | R 1250 R | 709 |
| 28 | Kawasaki | NINJA 650 | 703 |
| 29 | Honda | CB 500 F | 691 |
| 30 | BMW | R 1250 RS | 682 |
| 31 | BMW | S 1000 R | 650 |
| 32 | Kawasaki | Z 900 RS | 626 |
| 33 | triumph | TRIDENT 660 | 621 |
| 34 | Aprilia | RS 660 | 620 |
| 35 | Suzuki | SV 650 | 619 |
| 36 | Honda | CB 650 R NEO SPORTS CAFE | 587 |
| 37 | Ducati | Scrambler | 583 |
| 38 | Yamaha | MT-09 | 566 |
| 39 | Moto-Guzzi | V85 TT | 503 |
| 40 | Ducati | STREETFIGHTER V4 | 495 |
| 41 | Kawasaki | NINJA 1000 SX | 495 |
| 42 | Yamaha | TRACER 700 | 490 |
| 43 | BMW | NINE T | 484 |
| 44 | triumph | ROCKET 3 | 453 |
| 45 | Harley-Davidson | SPORT GLIDE | 453 |
| 46 | Harley-Davidson | BREAKOUT 114 | 451 |
| 47 | KTM | 890 ADVENTURE R | 439 |
| 48 | triumph | TIGER 900 RALLY/GT | 432 |
| 49 | BMW | R NINE T SCRAMBLER | 428 |
| 50 | BMW | F 850 GS | 417 |