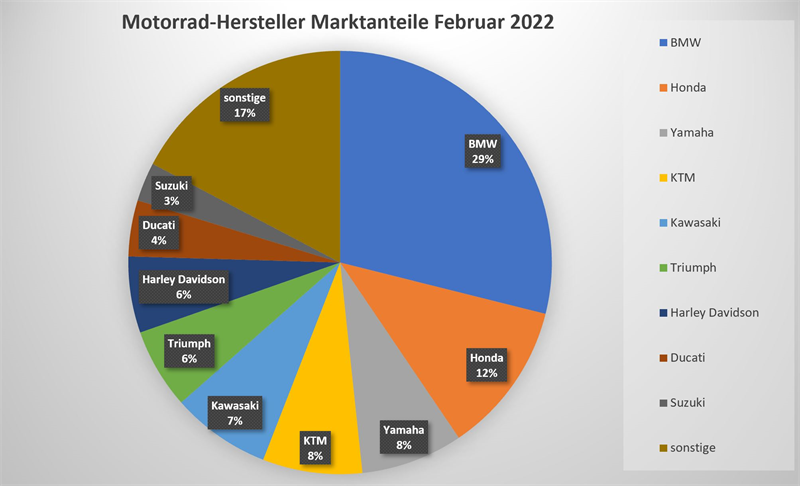 Graphics: motorradtest.de
12 percent increase in new motorcycles sold in February
January's positive trend in new registrations continues. However, the increase compared to the previous year in February was only 12 percent, in January it was still a whopping 57 percent. Nevertheless, dealers should be happy - the run on motorized two-wheelers continues. If scooters and 125cc motorcycles were also included, the increase would be just under 24 percent! A total of 8,731 motorcycles were sold in Germany in February 2022.
There has also been some movement in manufacturers' market shares. BMW still leads with just under 30% percent, but behind Yamaha has crept into 3rd place - despite delivery problems. KTM and Kawasaki are still weakening a little, Triumph is getting better and better and is now just behind Kawasaki with 6.25 percent. Suzuki barely makes it into the top 10 with 3 percent, but Husqvarna and Royal Enfield are already lurking behind them with just under 3 percent.
Among the top 50 motorcycles, places 6, 7 and 8 are particularly striking: three S 1000 models from BMW. Yamaha can also be really happy about the two 700 models MT-07 and Tenere 700 on places 2 and 3. The first KTM in the Top50 is the 890 Duke in 13th place.
Top 50 motorcycles January to February 2022
| # | Manufacturer | Model | Quantity |
| --- | --- | --- | --- |
| 1 | BMW | R 1250 GS | 1.376 |
| 2 | Yamaha | MT-07 | 343 |
| 3 | Yamaha | Ténéré 700 | 270 |
| 4 | Kawasaki | Z 900 | 260 |
| 5 | Honda | CRF 1100 AFRICA TWIN | 252 |
| 6 | BMW | S 1000 R | 236 |
| 7 | BMW | S 1000 RR | 213 |
| 8 | BMW | S 1000 XR | 202 |
| 9 | Honda | CMX 500 REBEL | 178 |
| 10 | Suzuki | SV 650 | 177 |
| 11 | Kawasaki | Z 650 | 168 |
| 12 | Honda | CBR 650 R | 158 |
| 13 | KTM | 890 DUKE | 155 |
| 14 | Triumph | TRIDENT 660 | 153 |
| 15 | Honda | NC 750 X | 152 |
| 16 | Harley-Davidson | SPORTSTER S | 138 |
| 17 | BMW | F 900 R | 136 |
| 18 | BMW | R 1250 R | 136 |
| 19 | Kawasaki | VULCAN S | 131 |
| 20 | BMW | R 1250 RS | 128 |
| 21 | BMW | F 900 XR | 127 |
| 22 | Yamaha | MT-09 | 127 |
| 23 | Husqvarna | 701 SUPERMOTO | 126 |
| 24 | Honda | CB 650 R NEO SPORTS CAFE | 125 |
| 25 | Honda | CB 500 F | 123 |
| 26 | Aprilia | RS 660 | 120 |
| 27 | Royal Enfield | METEOR 350 | 119 |
| 28 | BMW | F 750 GS | 115 |
| 29 | KTM | EXC 300 | 111 |
| 30 | KTM | 1290 SUPERDUKE R | 110 |
| 31 | Kawasaki | Z 900 RS | 106 |
| 32 | BMW | R 1250 RT | 104 |
| 33 | KTM | 1290 SUPER ADVENTURE | 101 |
| 34 | Ducati | MONSTER 950 | 100 |
| 35 | KTM | 890 ADVENTURE R | 97 |
| 36 | Kawasaki | NINJA 650 | 94 |
| 37 | Beta engine | RR 300 | 92 |
| 38 | BMW | F 850 GS | 92 |
| 39 | KTM | 690 SMC | 91 |
| 40 | BMW | R NINE T SCRAMBLER | 88 |
| 41 | BMW | G 310 R | 87 |
| 42 | Honda | CBR 500 R | 86 |
| 43 | Husqvarna | 901 NORTH | 85 |
| 44 | KTM | 390 DUKE | 83 |
| 45 | Triumph | TIGER 900 RALLY/GT | 83 |
| 46 | Ducati | MULTISTRADA V4 | 82 |
| 47 | Triumph | BONNEVILLE T 120 | 82 |
| 48 | Harley-Davidson | STREET GLIDE SPECIAL | 79 |
| 49 | Harley-Davidson | PAN AMERICA | 78 |
| 50 | BMW | R NINE T PURE | 77 |