New motorcycle registrations August 2023
Strong August with 13.5 percent year-on-year growth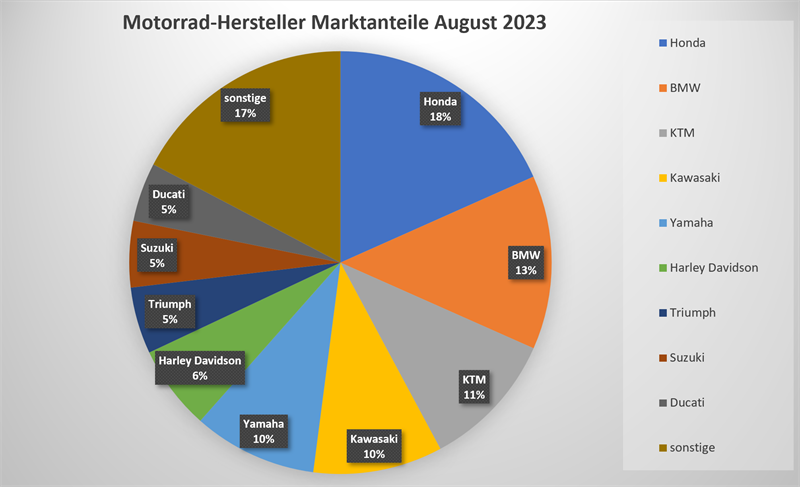 Graphic: Motorradtest.de
The strong middle class makes it possible
The motorcycle market in Germany remains robust in August 2023. A total of 11,147 motorcycles (everything except 125cc and scooters) were registered. This represents an increase of 13.5% compared to August 2022. Once again, the machines of the middle class were particularly in demand.
In terms of market share, Honda's march continues. With a whopping 18.3%, the Japanese are exactly 5 percent ahead of BMW - unthinkable a few months ago! Harley-Davidson and Suzuki can also look forward to quite good sales in August, while Ducati slips to ninth place in August. The smaller brands are at 17 percent. By comparison, in August 2018, this figure was still 8 percent.
BMW has only one motorcycle left in the top 20: the R 1250 GS is in 1st place as always, but sales figures for this bike are also declining sharply. This is no wonder, as the R 1300 GS is in the starting blocks. It's good for BMW that with the
new F models (F 900 GS & Co.),
BMW will soon be following suit in the middle class.
When looking at the top 50, it quickly becomes clear that Honda's success is essentially based on the two new mid-range machines Hornet 750 and Transalp 750. The Hornet even displaced the Kawasaki Z900 from 2nd place in August. Suzuki newcomer GSX-8S sells quite well (12th place), while the V-Strom 800 DE, on the other hand, is strangely still waiting for buyers in 39th place. However, this can also have to do with delivery problems, so these figures should be taken with a grain of salt.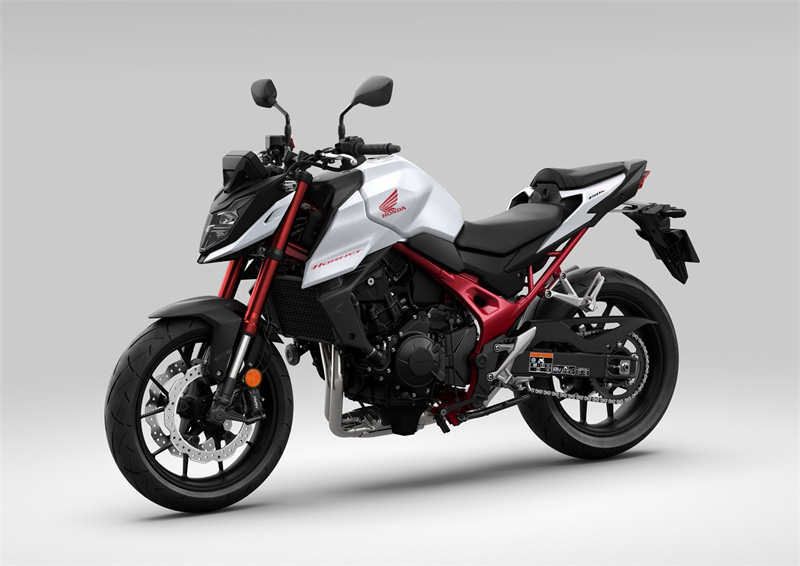 Top 50 new registrations / motorcycles in Germany
| | | | |
| --- | --- | --- | --- |
| Rank | Manufacturer | Model | Piece |
| 1 | BMW | R 1250 GS | 670 |
| 2 | Honda | CB 750 HORNET | 385 |
| 3 | Kawasaki | Z 900 | 307 |
| 4 | Kawasaki | Z 650 | 281 |
| 5 | Honda | XL 750 TRANSALP | 209 |
| 6 | Yamaha | MT-07 | 195 |
| 7 | KTM | 690 SMC | 186 |
| 8 | Husqvarna | 701 SUPERMOTO | 176 |
| 9 | Honda | CBR 650 R | 172 |
| 10 | Yamaha | TÉNÉRÉ 700 | 167 |
| 11 | Honda | CMX 500 REBEL | 156 |
| 12 | Suzuki | GSX-8S | 153 |
| 13 | Yamaha | MT-09 | 144 |
| 14 | KTM | 890 ADVENTURE | 143 |
| 15 | Honda | CB 650 R NEO SPORTS CAFE | 142 |
| 16 | KTM | 790 DUKE | 138 |
| 17 | Aprilia | RS 660 | 137 |
| 18 | Yamaha | TRACER 900 | 135 |
| 19 | Honda | CRF 300 X | 125 |
| 20 | Honda | CMX 1100 REBEL | 124 |
| 21 | Honda | CB 500 F | 122 |
| 22 | Yamaha | YZF-R7 | 121 |
| 23 | BMW | F 900 R | 111 |
| 24 | Kawasaki | NINJA 650 | 103 |
| 25 | Suzuki | SV 650 | 98 |
| 26 | KTM | 390 DUKE | 94 |
| 27 | Honda | NC 750 X | 91 |
| 28 | Kawasaki | VULCAN S | 91 |
| 29 | Honda | NT 1100 | 90 |
| 30 | KTM | 790 ADVENTURE | 88 |
| 31 | Honda | CL 500 | 87 |
| 32 | Suzuki | DL 650 V-STROM | 84 |
| 33 | Honda | CRF 1100 AFRICA TWIN | 83 |
| 34 | KTM | 1290 SUPER DUKE R | 81 |
| 35 | Triumph | TIGER 900 RALLEY/GT | 81 |
| 36 | KTM | 890 DUKE | 80 |
| 37 | Kawasaki | Z 900 RS | 78 |
| 38 | Harley-Davidson | BREAKOUT | 77 |
| 39 | Suzuki | DL 800 V-STROM | 75 |
| 40 | Harley-Davidson | SPORT GLIDE | 74 |
| 41 | Honda | CBR 500 R | 74 |
| 42 | Ducati | MULTISTRADA V4 | 73 |
| 43 | KTM | 350 EXC-F | 73 |
| 44 | Triumph | TRIDENT 660 | 72 |
| 45 | KTM | 300 EXC | 69 |
| 46 | BMW | F 900 XR | 68 |
| 47 | Ducati | SCRAMBLER 803 | 66 |
| 48 | Royal Enfield | CLASSIC 350 | 66 |
| 49 | Ducati | STREETFIGHTER V4 | 65 |
| 50 | Triumph | TIGER 1200 GT/RALLY | 64 |