Curvy overland journey
- by motorcycle through the Amberg-Sulzbacher Land
The Amberg-Sulzbacher Land is popular with motorcyclists. On the one hand because of the curves of the roads, on the other hand because of the varied landscape.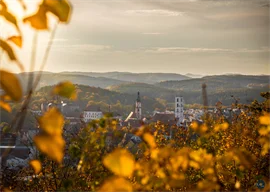 Photo: Amberg-Sulzbach District
The trip starts in Sulzbach-Rosenberg. From the historic centre of the ducal city, you pass the Rosenbachstraße past the historic Maxhütte, and continue along the European road to the B85. At Kropfersricht, the ride leads past the discotheque "Happy Rock", forest-rich via Pürschläg to Illschwang, where the smallest hop-growing area in the world is located. Some wide forests, open fields, light-flooded, meandering roads later, one is soon also in the industrial area Ursensollen. Only a few hundred meters further on, however, idyll is already open again in front of the motorcyclist. Welcome to the Hirschwald Nature Park! In Zant it is worth a stop to visit the beautiful church. Through the sleepy village of Hausen you reach Heimhof with its fairytale castle. From Allersburg, the wildly romantic Lauterach accompanies the road via Ransbach to Kastl. Here it is worth a look into the imposing monastery castle, where the mummy of the "Kastler Kindl" rests. The Lauterachtal, also known as "Bayerische Tuscany", exudes a special charm with its juniper slopes, lean grass and rocks.



Shortly after Kastl, the Amberg-Sulzbacher Land is abandoned for a moment. Via Lauterhofen and Brunn you can return to the district of Amberg-Sulzbach from Schwend. Coffee and cake pleasing? Café Anni has the largest pieces of cake far and wide. There is also a sun terrace. Continue in the direction of Frechetsfeld. If you want to descend here and risk a breath-taking view over the area, drive in Frechetsfeld towards Haslach and set off on foot at the edge of the forest. If you follow the Birglandcircularwanderweg for about 2 minutes, you will reach the Bärenfels, which is considered one of the most beautiful viewpoints in the region. Via Fürnried the tour leads us via Nonnhof and Sunzendorf to the Högenbachtal. The nearest larger place is Neukirchen (refreshment singer- From here it goes to Etzelwang in the Lehenbach valley.

Along the Reinbach you will pass through a wonder land of nature to Unterachtel, where you will find yourself not far from the Franconian border. A sledge over Großmeinfeld, Rupprechtstegen, Velden and Neuhaus (refreshment singer possibilities) makes the Upper Palatinate-Franconian round perfect.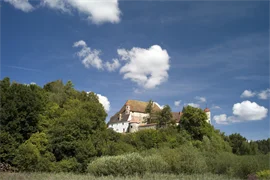 From Königstein, the destination is no longer far away. It goes via Fichtenhof, Steinbach, Oberreinbach back to the B85, which brings excursionists back to Sulzbach-Rosenberg. The beer garden "Zum Kreuzerwirt" on Nuremberger Straße, below the castle, is an excellent terminus. A hearty snack there rounds off the tour. The route can be found at: https://goo.gl/maps/Pfhf5gfEXR52